What is the GST State Code?
GST state code is the first two digits of the number on the GSTIN i15-digit alphanumeric number that the taxpayers receive on successful registration.This code represents each Indian state and varies from one another.
You will receive a temporary state code for 7 days when registering a business for GST. After that, a permanent state code will be allotted to you. GST state code is beneficial for your business as it would be displayed in all invoices you receive and submit.
For example, 10 GST State code in 03AAJCR2207E1Z2 represents a business registered under GST in Punjab. Likewise, following are some more examples:
GST state code 15 is for Mizoram
GST state code 07 represents Delhi
GST state code 11 is for Sikkim
Karnataka has GST state code 29
GST state code 23 represents Madhya Pradesh
The state codes help identify any business's area of operation or headquarters. GST law states that any business under different regions of the same state should register under one state code. We have listed down GST state code list below, check them out.
List of GST State Codes
Here is a list of States and Union Territories with their respective GST state codes
| | | |
| --- | --- | --- |
| States | GST State Code | Alpha Code |
| Himachal Pradesh | 02 | HP |
| Punjab | 03 | PB |
| Chandigarh | 04 | CH |
| Uttarakhand | 05 | UA |
| Haryana | 06 | HR |
| Delhi | 07 | DL |
| Rajasthan | 08 | RJ |
| Uttar Pradesh | 09 | UP |
| Bihar | 10 | BR |
| Sikkim | 11 | SK |
| Arunanchal Pradesh | 12 | AP |
| Nagaland | 13 | NL |
| Manipur | 14 | MN |
| Mizoram | 15 | MZ |
| Tripura | 16 | TR |
| Meghalaya | 17 | ML |
| Assam | 18 | AS |
| West Bengal | 19 | WB |
| Jharkhand | 20 | JH |
| Odisha | 21 | OR |
| Chattisgarh | 22 | CG |
| Madhya Pradesh | 23 | MP |
| Gujarat | 24 | GJ |
| Dadra And Nagar Haveli And Daman And Diu | 26 | DD,DN |
| Maharashtra | 27 | MH |
| Andhra Pradesh | 28 | AP |
| Karnataka | 29 | KA |
| Goa | 30 | GA |
| Lakshadweep | 31 | LD |
| Kerela | 32 | KL |
| Tamil Nadu | 33 | TN |
| Puducherry | 34 | PY |
| Andaman and Nicobar Islands | 35 | AN |
| Telangana | 36 | TS |
| Andhra Pradesh | 37 | AP |
| Ladakh | 38 | LA |
| Other Territory | 97 | 0T |
Objective of GST State Code
1.The GST Code helps the government determine whether IGST, SGST, or CGST should be charged to a taxpayer or business enterprise.
2.The buyer's Goods and Services Tax Identification Number, which appears in the "Place of Supply" section of the GST invoice, can be used to obtain the state code of GST.
3.If the state codes of the customer and the supplier differ, IGST would be levied.
4.If the two-state codes are identical, the SGST and CGST are applied.
5.The code list will be used by a taxpayer to register for GST and enter invoice information in GST returns.
Where Do We Need State Code in GST?
Every GST taxpayer must be aware of the correct GST State codes for each State and Union Territory, as they are widely used in GST compliance and adjudication. GST is important for the following primary reasons:
1. GST Registration
To obtain a valid GST registration, the applicant must provide accurate and complete information. The officer verifies the taxpayer's information and the applicant is assigned a GSTIN that includes the applicable GST state code.
2. GST Invoice and e-Invoicing
Under GST, the GST state code becomes important for accurate invoicing and e-invoicing. Valid GSTINs of the buyer, seller, and consignee include the relevant state codes, which are used to identify the location of the sale. Finally, the place of supply determines the type of GST to be charged based on whether the sale is interstate or intrastate.
3. GSTR-1 and GSTR-3B Return Reporting
Regular taxpayers must include B2B invoice details, including GSTIN, in their monthly or quarterly GSTR-1/IFF. Based on the GSTIN, these details are forwarded to the buyers' respective GSTR-2A/GSTR-2B.
Where Do You Need GST Jurisdiction?
The Indian Government has arranged GST jurisdictions for the processing of tax returns. These jurisdictions are different for different geographical regions and PIN codes. Taxpayers need to register their businesses under a specific jurisdiction depending on where it is located.
The Central Board of Indirect Taxes and Customs allows registered taxpayers to check their jurisdiction in the official portal of CBITC.
Businesses can connect with their respective jurisdiction officer in case of any disputes. These jurisdictions are classified into central and state jurisdictions. 
Classification of GST Jurisdictions
The CGST circular number 21/2017 of September 20 2017, states the manner of central and state jurisdictions as follows:
90% of taxpayers with a total turnover below Rs.1.5 crore falls under state administration while the rest, 10% of taxpayers, fall under central administration.
50% of taxpayers with a total turnover above Rs.1.5 crore belong to the state administration, whereas the Centre takes up the remaining 50%.
GST jurisdictions are classified based on geographical location, size and hierarchy for a convenient and hassle-free registration. The classification of GST jurisdiction is as follows:
Zone
Commissionerates
Range offices
Division offices
How to Find GST Jurisdiction?
Prior to obtaining GST registration, the taxpayer may be required to identify the appropriate State jurisdiction. To determine the State jurisdiction of the department, taxpayers must search the ward and circle on the respective State commercial tax, VAT, or Sales tax website.
For example, consider looking for jurisdiction in the state of Karnataka. We can find the website by searching for 'Karnataka GST jurisdiction' in the web browser http://gstkarnataka.gov.in/Jurisdiction.html.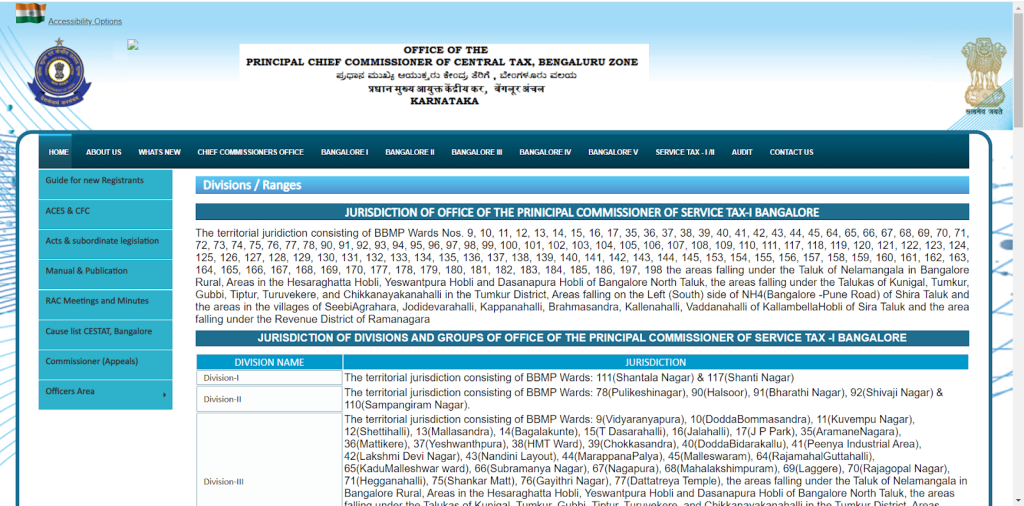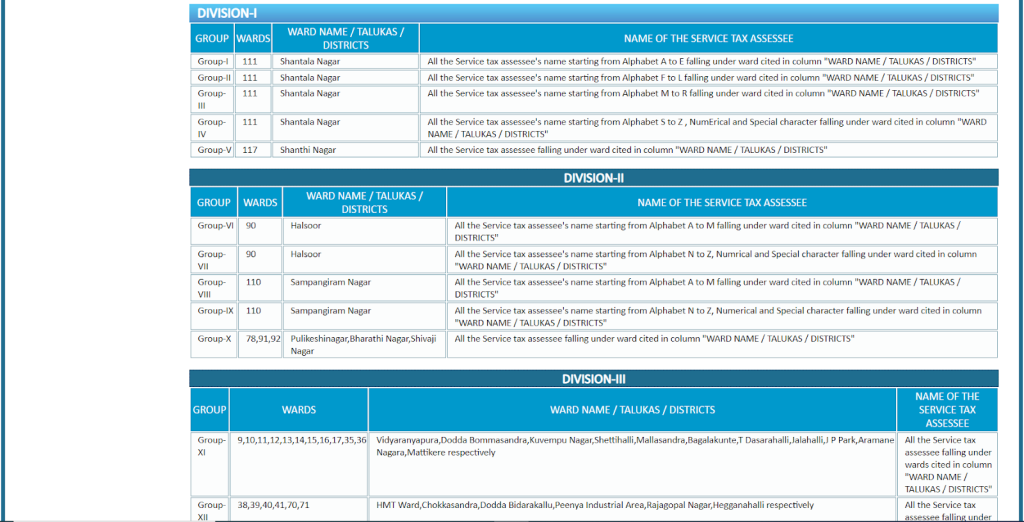 In the same way that the taxpayer must determine his State jurisdiction, he must also determine his Central jurisdiction and range. The CBIC has a dedicated website to search for the Central jurisdiction called "Know your Jurisdiction," which is accessible via any browser at the following URL:https://cbic-gst.gov.in/cbec-portal-ui/?knowYourJuris
Choose your state  from the list of states and union territories on the screen

Choose the zone by clicking on the zone name.

After selecting a zone, a list of commissioners will appear on the screen. Click on the commission rate that applies to you.

The screen will then display a list of sub-commissions/divisions. Select the appropriate sub-commission/division.

You will be given a list of jurisdictional boundaries. More information about the jurisdiction that applies to your business can be found here.
Final Word
The State Code and jurisdiction make the GST collection process convenient and transparent for taxpayers. Knowing the GST State Code is essential for businesses to process invoices successfully. For individual taxpayers, the GSTIN state code is also necessary. It proves that a transaction is happening with a registered institution.
Also, Do you know that you can invest in Navi Mutual Fund starting only @ Rs.10? 
Download the app and invest now!
FAQs
What is the format of a GST Identification Number?
A GSTIN is a 15-digit number consisting of:
• First two digits: Unique state code
• Next 10 digits: Permanent Account Number (PAN number)
• 13th digit: The number of registrations done by the business or person under the same state
• 14th digit: Default alphabet "Z"
• 15th digit: "Check code" to detect errors, could be denoted by an alphabet representing the number
Can I have more than 1 GSTIN?
A business can only register for more than 1 GST if it operates in more than one state.
How can I register for GSTIN?
You can complete your GST registration from the official website of Goods and Service Tax (GST). Upon successful registration, you will receive your GSTIN.
Who needs a GSTIN code?
Companies with an annual turnover of Rs. 20 lakh and more should have a GSTIN.
Where can I register a complaint against a fake GSTIN code?
You can register complaints against false GSTIN codes at [email protected].