The National Pension Scheme or NPS is a retirement saving scheme started by the Government of India. Its main aim is to provide a minimum assured pension for people during their retirement life. Every citizen of India can apply for it and get benefits.
This post discusses how NPS works, eligibility, types and benefits of NPS accounts, how to open an NPS account and things to consider before opening an NPS account. Read on!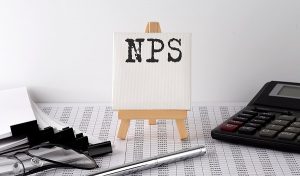 What is NPS or National Pension Scheme?
National Pension Scheme is a voluntary contribution-based retirement benefit scheme introduced by the Government of India in January 2004. It aims to provide a regular and secured pension income to the retired individuals of India. Every person registered under the scheme has to open an NPS account and contribute an amount at regular intervals during their employment years.
All the invested money is pooled into a pension fund. PFRDA (Pension Fund Regulatory and Development Authority), the apex body, regulates this fund. PFRDA hires professional fund managers to invest this corpus in various financial instruments. Interest earned from these investments is credited to the respective NPS accounts of individuals. Individuals registered under NPS are allotted Permanent Retirement Account Number (PRAN).
Also Read: Tax Rebate Under Section 87A Of The Income Tax Act
How does NPS Work?
Follow the below pointers to understand how National Pension Scheme works:
Investors are required to open an NPS account with a minimum of Rs. 500. There is no upper limit on investment. That said, every subscriber has to pay at least Rs. 1,000 annually.
Maturity and Early Withdrawal
Persons registered under the scheme can withdraw only after attaining the age of 60. They can withdraw only 40% of the total corpus available. The remaining 60% will be used for providing regular pension income.
However, there is a provision of premature withdrawal in certain exceptional situations like children's marriage or education, building a house, and medical treatment. Investors are allowed a maximum withdrawal of 25% of the total sum only after completing 3 years under the scheme. They can make a maximum of 3 early withdrawals.
Types of NPS Accounts
There are primarily two types of NPS accounts:
Tier-I account
A tier-I account is a basic account with a restriction on withdrawal. For example, if you have not crossed 60 years of age, withdrawal of only 25% of the contribution is allowed. However, the other 75% must only be for buying the annuity from a life insurer. Annuity refers to the continuous fixed payments made at fixed intervals by the insurer on maturity or death of the insured.
If the individual has reached the age of 60 years, they can withdraw 60% of their contribution. However, the remaining 40% must be utilised to buy annuity from approved life insurance providers.
Tier-II account
This is another voluntary savings option that does not have any limit on money withdrawal. One can only open it if they already have a Tier-I account. There is no minimum yearly contribution requirement in the case of an NPS Tier-II account. That said, the contribution made here must be in multiples of Rs. 250. Furthermore, there is no maximum cap set on the contribution that one can make.
Parameters
Tier-1
Tier-2

Minimum account opening balance

Rs. 500

Rs. 1,000

Minimum Annual Contribution

Rs. 1000

(Above this amount, the account holder has absolute discretion about the amount)

No minimum annual contribution is required

Tax Benefits on Contribution

Tax deductions of up to Rs. 1.5 lakh under Section 80CCD(1)

An additional contribution of up to Rs. 50,000 is also tax free under section 80CCD (1B)

Only government employees are eligible for claiming a maximum tax deduction of Rs. 1.5 lakh

Withdrawal

Only on maturity (Early withdrawals are allowed only under special circumstances)

There is no restriction on withdrawal

Tax Applicable on Withdrawal

The entire corpus amount withdrawn upon maturity is tax-exempt

Any amount taken out at maturity is added to the taxable income and taxed accordingly

Maximum Investment Limit

No limit

No limit
Benefits of NPS Account
Here are some of the benefits of having an NPS account:
PFRDA, the statutory body, regulates the NPS. It ensures transparent governance norms, financial reporting, and safeguards the interest of the investors. NPS trusts another government body to supervise whether the standards and norms are followed.
The National Payment System offers flexibility to its subscribers. They can choose the pension funds and fund managers. If investors are not happy with the returns of one fund and the performance of fund managers, they can switch to another fund.
Easy of Opening and Accessibility
NPS accounts can be opened online anytime and from anywhere. This has helped in avoiding the hassles of physical documentation. Individuals can also access their accounts online and make deposits and withdrawals online.
Investments up to a limit of Rs.2 lakh made in NPS are eligible for tax deductions under Section 80CCD(1) and Section 80CCD(2). Also, for tier-1 accounts, the entire corpus withdrawn at maturity is tax-exempt.
Fund managers who are in charge of these funds are bounded by PFRDA regulations. They cannot invest in very risky assets. The returns from these funds usually hover between 9% and 10%, which is higher than other investment options like PPF.
It is an affordable investment plan, which is why salaried individuals find this to be a very lucrative and safe investment.
Also Read: Best National Pension Schemes (NPS) in India
How to Open an NPS Account?
NPS accounts can be opened online and offline. Let's see how this can be done.
Interested individuals can walk into any government or private sector authorised financial institution and open their NPS account by submitting the required documents and depositing the opening amount.
Investors can open their NPS account by visiting the eNPS website and registering online and through the Aadhaar card. There is also a payment gateway on the website through which individuals can make the opening contribution through various online payment methods. After completing the registration process, the PRAN of the investor will be generated.
What Are the Tax Benefits Available under NPS?
Tax benefits under the National Pension Scheme are available for individuals, employees, government employees, and companies. So, for convenience, we have divided them into different sections:
Tax benefits for individuals
A tax benefit of 20% of the income is available to self-employed individuals. However, the amount cannot cross the limit of Rs. 1.5 lakh as per Section 80C.
There's also an additional tax benefit of Rs. 50,000 available to NPS tier-I account holders under Section 80CCD(1B).
Tax benefits for employees
Employees can claim a tax benefit of 10% of their salary or gross income. Here, salary includes both basic and DA. However, this limit should not exceed Rs. 1.5 lakh as per Section 80CCD(1).
A deduction of Rs. 50,000 is also available to employees under Section 80CCD(1B).
Tax benefits for government employees
Central Government employees also get NPS tax benefits under which they can claim around 14% of their income as deductions u/s 80CCD(2).
If government employees contribute to NPS, they can also avail an additional tax deduction of Rs. 50,000.
Tax benefits for companies
Employer's contribution to NPS (up to 10% of basic salary + DA) is deductible from the taxable income as a business expense.
Other tax benefits
In case an account holder makes a partial withdrawal, a claim of 25% of the subscription amount is available for tax deduction.
The amount subscribers use to avail annuity is free of tax. However, the income one gains on it is taxable under the law.
There is no tax payable on 60% of the corpus value. Apart from this, if the remaining 40% is used to buy an annuity, the total maturity amount becomes tax-free. But still, your income from the annuity will be taxable.
What Are the Conditions for Different Withdrawal Options Available to NPS Holders?
There are different withdrawal options available to NPS account holders. However, for each withdrawal option, there are also individual conditions that one must satisfy. It includes:
NPS Withdrawal from a Tier-I account
The following are the rules for different withdrawal options:
At retirement
Holders must use 40% of their retirement corpus to buy an annuity.
The maximum period for deferring the annuity purchase extends up to three years only.
Around 60% of the corpus amount can be withdrawn as a lump sum. The amount will be exempted under law.
An NPS holder can defer withdrawing their lump sum amount until the age of 70 or up to 10 years after their retirement, whichever comes early.
There are ten instalments available to holders to withdraw their lump sum amount.
If the retirement corpus of an NPS holder amounts to Rs. 2 lakh or is anywhere below it, he/she can withdraw the total amount.
Premature exit
A premature exit option is only available to NPS holders after ten years has passed from the account opening date.
One can withdraw up to 20% of the corpus, while the remaining 80% must be used in annuity purchases.
Partial withdrawal
There is a maximum limit up to which one can partially withdraw funds from an NPS account, which amounts to 25% of the total contribution.
No NPS holder can withdraw partially before the completion of three years after opening the account.
A holder can make a partial withdrawal from an NPS account up to three times only.
There are specific conditions only under which an account holder can withdraw partially:
Child's marriage
Completion of higher education
Providing medical expense
Purchase or construction of a residential house
If any amount is required for starting own business venture
NPS Withdrawal from a Tier-II account
There is no restriction on withdrawal from the Tier-II account.
Withdrawal on death
On the unfortunate demise of the holder, the nominee will get an outstanding amount of the corpus. Also, this amount gets full exemption under the law.
Comparison of NPS with Other Tax-saving Schemes
The other tax-saving schemes available in the market are PPF or Public provident fund, ELSS (Equity-linked saving schemes), and tax-saving fixed deposits. So, to understand how beneficial NPS can be over other options, a comparison is made in the following table:
| | | | | |
| --- | --- | --- | --- | --- |
| Investment | NPS | ELSS | PPF | FD |
| Interest | 9% to 12% | 12% to 15% | Guaranteed 8.1% | Guaranteed 7% to 9% |
| Lock-in period | Up to retirement | 3 years | 15 years | 5 years |
| Risk profile | Market risk | Market risk | No risk | No risk |
Also Read: Income Tax: Allowances, Exemptions And Deductions
NPS Eligibility Criteria
The minimum age limit to avail the benefit is 18 years, and the maximum age for entry is 70 years.

The applicant must be KYC compliant.

Individuals should not have a pre-existing NPS account.
NPS Documents Required
You need the following documents to open an NPS account:
Things to Consider Before Investing in NPS
NPS mainly aims at securing a decent post-retirement life. Investors who want a stable and regular income after their employment years might go for this investment. Individuals who have long-term financial objectives, such as building a retirement home, funding children's higher education, can consider opting for this scheme.
The cap of equity exposure in the case of NPS can range anywhere between 50% and 75%. The higher the equity allocation, the higher the potential returns and financial risk. Hence, it is vital for investors to consider their risk tolerance level before making a decision regarding asset allocation.
Also Read: 9 Best Monthly Income Plans To Invest In 2022
Final Word
NPS scheme offers financial security after retirement. The tax benefits, stable returns and strict monitoring of the working of these funds make it a lucrative investment option. You can easily open an NPS account online or offline and start securing your retirement years starting today!
FAQs on National Pension Scheme
Q1. Is NPS a safe investment option?
Ans: NPS is a Central Government Scheme; there are strict guidelines of PFRDA that every pension fund manager has to adhere to. Returns might be low when there is market turbulence, but the safety of these funds has never been in doubt.
Q2. What are the disadvantages of NPS?
Ans: One of the biggest drawbacks of this scheme is that it has restrictions on withdrawals before maturity. Only a limited amount can be withdrawn and that too in exceptional cases.
Q3. Can NRIs open an NPS account?
Ans: Yes, NRIs can open an NPS account subject to the terms and conditions of RBI and other regulatory bodies. They have to go through a separate application process and submit a specific list of documents required to open the account.
Q4. What kind of tax treatment is followed under EEE?
Ans: Ans: Apart from the deductions available on the investment amount, investors also get exemptions on the maturity amount. This tax treatment is referred to as EEE or exempt-exempt-exempt. However, this applies to only specific financial instruments.
Q5. What are the maximum deductions available under different Sections?
Ans: Different sections offer different maximum deductions as per applicability:
a) Under Section 80CCD(1): 10% of subscribers' salary having a limit of up to Rs. 1.5 lakh
b) Under Section 80CCD(1B): Up to Rs. 50,000
c) Under Section 80CCD(2): 10% of subscriber's salary
Before you go…