Every Indian citizen possessing a Permanent Account Number (PAN) can track their financial transactions. As per the Government regulations, individuals must also link their PAN with several financial instruments.
One can link PAN with an Employees Provident Fund (EPF) account to save taxes. As per the current rules, if individuals with less than 5 years of service withdraw more than or equal to Rs. 30,000, TDS of around 34.608% will be deducted if he/she is not able to submit PAN card details. However, if individuals link PAN with an EPF account, the TDS deduction is only 10%. 
Also, a PAN card serves as an identity proof while making online claims for EPF. Hence, one might consider linking PAN with an EPF account.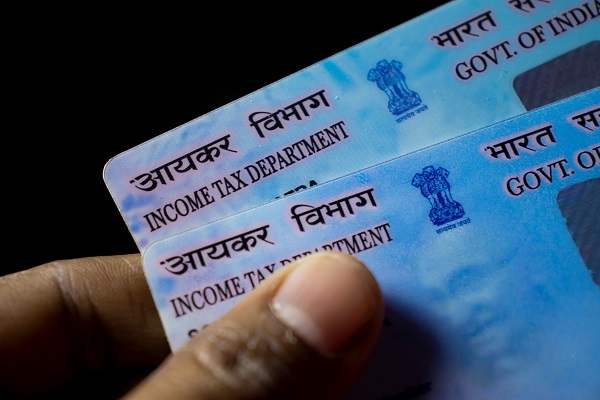 How to Link PAN With an EPF Account Online?
To log in to your PF account, visit the Employees' Provident Fund Organisation (EPFO) portal and submit your Universal Account Number (UAN) and password.
Navigate to "Manage" and click on "KYC."
You will find a list of documents. Select PAN from the list and enter details such as 10-digit Permanent Account Number and name.
Tap on "Save."
After proper verification, your PAN gets linked to your EPF account.
How to Link PAN with UAN Number Offline?
Follow these steps to link your PAN with the EPF account:
Visit your nearest EPFO branch and obtain an EPF-PAN linking form.
Enter details such as PAN card number, name, UAN etc.
Submit the form along with self-attested copies of PAN and UAN.
After proper verification, you will receive status details of your PAN-EPF linking on your mobile number and email ID.
How to Get a PF Account Number by Using Your PAN card?
Go to the EPFO portal and click on "Activate UAN."
Enter your name, date of birth, phone number and CAPTCHA code.
Tap on "Get Authorisation Pin."
You will receive the authorization pin on your registered phone number.
Submit this pin and select "Validate OTP and Activate UAN" to activate your account.
You will receive your UAN credentials on your linked mobile number. Sign in to the portal and view your PF account number under the member profile.
Also read – How To Access Your PAN Card Details Online?
Final Word
Due to the Employees' Provident Fund Organisation's digital initiative, linking your PAN with an EPF account has become hassle-free and seamless.
In case you wish to link your PAN details with a PF account, you might refer to the aforementioned sections for a detailed explanation.
Frequently Asked Questions
Q1. How can I add PAN and EPF details to my bank account?
Ans: To link your PAN and EPF details with your bank account, you can sign in to the official EPFO web portal. On finding the "KYC" tab, you need to click on "Manage". Then, enter your bank account and PAN details. After you click on "Save", the information will be stored in your account.
Q2. How to link a bank account with UAN without an employer?
Ans: Individuals can link their Universal Account Number (UAN) without the intervention of an employer. All they need to do is log in to the EPFO portal. On the home page, an "e-KYC Portal" is available. After clicking on it, employees must select "Manage" and choose the document kind as bank and enter necessary details. Finally, after clicking "Save," they will be able to complete the linking process. 
Q3. How to know if my PAN is linked to UAN?
Ans: Follow these steps to know whether your PAN is linked to UAN:
Visit EPFO's Unified member portal. 
Log in by entering your credentials. 
Under the member profile, check the PAN option. 
The status of PAN linking with UAN will be available on the screen. 
Q4. What will happen if there's a mismatch in the name with regard to the EPF account and PAN card?
Ans: If the name of the PAN and that in the EPF account does not match, there will be a problem while linking the two accounts. This happens because the system will not be able to verify the KYC details. Consequently, you would not be able to claim the PF amount successfully. 
Q5. How to link Aadhaar with my PF account?
Ans: You can link Aadhaar with your PF account by following the steps mentioned below:
Visit EPFO's official portal. 
Enter your login credentials- UAN and password.
From the "Manage" section, select "KYC."
Choose "Aadhaar" from the available options on the next page. 
Enter your Aadhaar number and name. Click on "Save."
Aadhaar verification from UIDAI's data will take place. 
After successful verification, you will find "Verified" written against your Aadhaar details. This means that your Aadhaar is successfully linked with your PF account.
Before you go…
Looking for instant 🚀 personal loans 24*7 anywhere, anytime? Install the Navi app now!
Or, maybe you're looking to buy that house you've been eyeing 🏠 and you need a loan of up to Rs. 5 crores. Install the Navi app now and get your instant in-principle approval right away! Interest rates starting at 6.40% p.a.
How about an affordable health insurance policy 👨‍⚕️ starting at a monthly premium of just Rs. 241? Install the Navi app and get your policy in under 2 minutes
Instead, want to put your savings into action and kick-start your investment journey 💸 But don't have time to do research. Invest now with Navi Nifty 50 Index Fund, sit back, and earn from the top 50 companies.