Linking your mobile number with Aadhaar enables you to avail various Aadhaar services provided by UIDAI (Unique Identification Authority of India) via SMS. For instance, you can download your e-Aadhaar to lock/unlock your biometrics and retrieve your lost Aadhaar card.
This article will help you understand how to link Aadhaar with your mobile number. If you wish to register your mobile with UIDAI, keep reading!
Also read: How To Link PAN Card And Aadhaar Card Online And Via SMS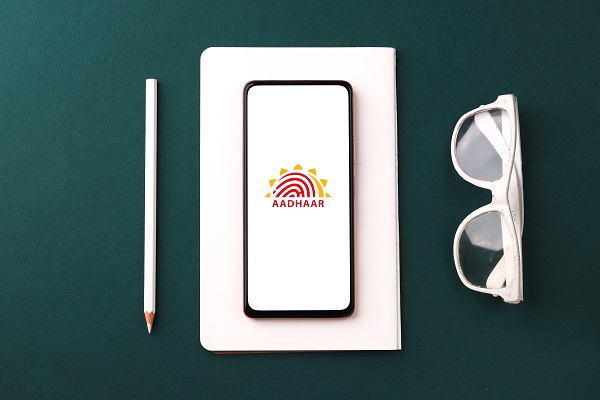 How to Link Mobile Number with Aadhaar at an Aadhaar Enrolment Centre?
Follow the below-mentioned process to link your mobile number and Aadhaar:
Go to a nearby Aadhaar Seva Kendra with your Aadhaar card (you can locate the nearby enrolment centre on UIDAI's website)
Take an application form for updating your mobile number
You will have to pay a fee of Rs. 50 to add or change phone number
After filling out the application form with the right number, submit it
Once your request gets processed, you will get a URN (Unique Request Number)
You can easily track your application status using this URN.
How to Verify Aadhaar with Mobile Number via OTP?
You can link your mobile number offline and online through an OTP-based procedure. For both processes, you will get a one-time password on your registered mobile number. The methods are as follows:
Online mode
Sitting at home, a subscriber can finish the linking procedure. The points below will guide you through this process:
Go to the official website of your telecom operator
Provide the mobile number to be re-verified, verified or linked with Aadhaar
An OTP will be sent to your registered number
Provide OTP and press "Submit" to proceed
The screen will display a consent message. Then, you will enter the 12-digit Aadhaar number.
Your telecom operator will send a message for generating OTP
You will now get a consent message related to e-KYC details.
After accepting all terms and conditions, you will have to enter the OTP
After completion, you will receive a confirmation message for mobile number and Aadhaar re-verification
Offline mode
Two offline procedures were there to verify Aadhaar with mobile number — verification via IVR and SMS-oriented verification.
Through IVR
The Government of India had given a single number for linking a mobile number with Aadhaar via IVR (interactive voice response) services. All postpaid and prepaid subscribers can follow the below-mentioned method:
Dial 14546 (toll-free number) using your mobile
Specify whether you are an NRI or an Indian resident (to re-verify Aadhaar, press 1 in case you are an Indian resident)
Provide your Aadhaar number
Press 1 to verify your Aadhaar number
Enter Aadhaar registered mobile number to get OTP
Give consent to the telecom operator for accessing your photo, name and date of birth from the UIDAI database
Specify the received OTP and press 1 to finish the re-verification procedure
Through OTP
The following pointers will direct you to re-verify Aadhaar with your phone number by visiting a nearby store and giving OTP.
Visit your telecom operator
Furnish a self-attested photocopy of your Aadhaar card
Submit Aadhaar details and mobile number to a store executive
Make use of the re-verification application, and you will get a four-digit OTP
After specifying this OTP to your store executive, you will have to provide biometrics
You will get a confirmation SMS after 1 day. Reply with 'Y' to finish the e-KYC procedure
*Keep in mind that the methods specified above are invalid. Linking your mobile number with Aadhaar is not compulsory anymore.
Also read: How To Download E-Aadhaar Card Using Aadhaar Number, Enrolment Id and Virtual Id?
How Should New Users Link SIM with Aadhaar?
Follow the below-mentioned steps to link Aadhaar with your new SIM:
Go to a mobile store and get a new SIM card
Give a copy of your Aadhaar as address and identity proof
A biometric scanner will scan your fingerprint
The store will issue a new SIM after verifying Aadhaar
Your SIM will be activated within an hour
Final Word
Linking Aadhaar with mobile number enables the government to identify terrorists, criminals, money launderers and fraudsters who keep SIM cards with fake names. If you haven't linked your Aadhaar with your mobile number, do it soon!
Frequently Asked Questions
Which documents are required to link an Aadhaar card with mobile number?
You do not need to submit any document as proof of identity or address proof while linking Aadhaar with mobile number. However, you should carry your original Aadhaar card and its self-attested copy to the nearest Aadhaar Seva Kendra.
I have given my Aadhaar card copy at the time of buying a SIM card. Should I do the linking process again?
If your mobile number is issued post biometric verification, you need not link it with Aadhaar. Customers who have provided thumb impressions and have opted for Aadhaar-based e-KYC while getting a connection can skip the linking procedure. The rest should register again.
Are there representatives to link Aadhaar with mobile numbers at home?
The Government of India has directed telecom service providers to send representatives for specially-abled individuals and senior citizens. No other individual can ask a telecom executive to visit home for linking Aadhaar with mobile number.
Is the verification procedure same for prepaid and postpaid subscribers?
Yes, the method to link a mobile number with Aadhaar is the same for prepaid and postpaid subscribers. A postpaid user will have to visit the mobile operator's store, whereas a pre-paid user has to visit a retailer.
Before you go…
Mutual Fund investments are subject to market risks, read all scheme-related documents carefully.