An income tax assessing officer is an individual employed by the Income Tax Department for the assessment of income tax returns. Their prime functions include checking the correctness of income tax returns and if there is any intentional or unintentional discrepancy. In addition, each jurisdiction has its own assessing officer for taxpayers under that jurisdiction.
Purpose of a Jurisdictional Assessing Officer
A jurisdictional assessing officer holds rights and duties to assess the taxpayers' income tax return under that geographical area. An AO holds a significant role in maintaining transparency in the income tax return process of every individual. They also have sufficient knowledge regarding income tax laws, circulars, notifications, instructions regarding new provisions, etc. An assessing officer also has the authority to re-evaluate the tax calculation and ask for any supporting documents from the taxpayer.
Powers of Assessing Officer u/s 131
The income tax officer holds the following powers under the Code of Civil Procedure, 1908:
Issuing commission
Disclosure and scrutiny
Request the presence of any person for examining on oath
Collection of books of accounts and any other supporting documents
However, there's a safety valve that does not allow authorities to —
Hold books of accounts or any other supporting documents for more than 15 days without obtaining permission from Chief Commissioner or Director General
Get hold of any books or documents without any legitimate reason for doing so
Powers of Assessing Officer u/s 132
Here are the scenarios where the authority can exercise their powers on an individual based on the information collected:
If an individual fails to produce any documents relevant to the IT Act or books of accounts as required by warrant or notice
If an individual fails to produce the above-mentioned documents even after the issue of a warrant or notice and it is considered an act of non-cooperation
If any individual possesses jewellery, money, bullion or any such important document which comes under undisclosed property or possession, then the authority holds the following powers to exercise:
Right to search any property where it is reasonable to suspect any such possession could be kept
Break open any door, lock, or safe for the purpose of search if the keys are not available
How to Find Jurisdictional AO, AO Code, and More
There are two ways in which you can find details regarding your assessing officer of that respective jurisdiction — with or without logging in.
You can find jurisdictional assessing officer's details after logging in to the e-filing portal by following these steps:
Step 1: Log in to IT Department's e-filing portal.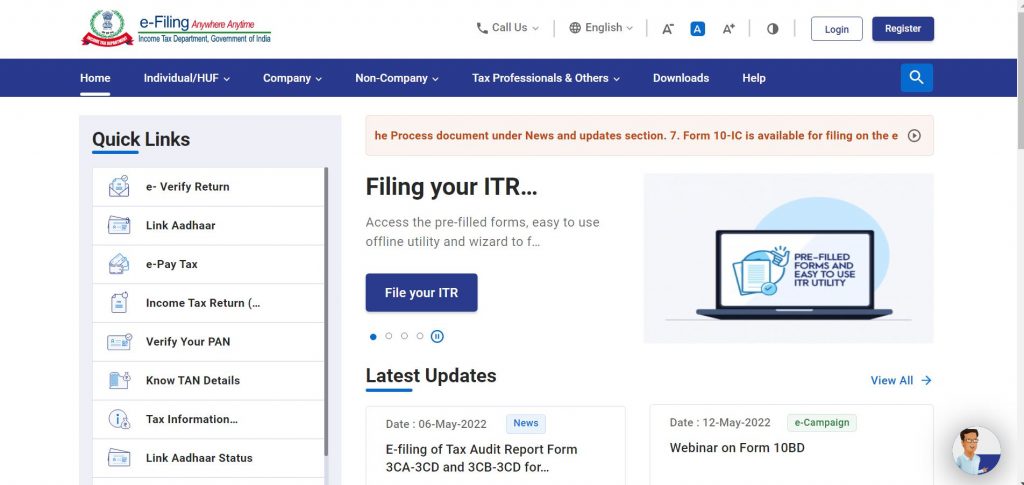 Step 2: Enter your password, PAN details and CAPTCHA.
Step 3: Click on 'My Profile' under 'Profile Settings'.
Step 4: In the next step, you will see the jurisdictional AO details under PAN details.
Alternatively, you can also find the AO details without logging in by following these steps.
Step 1: Visit the income tax portal.
Step 2: Enter your mobile number, and PAN details; then, you will receive an OTP.
Step 3: Upon providing OTP, the next webpage will appear with AO details
How to Change Your Jurisdictional Assessing Officer
The need to change your jurisdictional AO officer occurs when you migrate from one jurisdiction to another. Owing to the change in residential address, details regarding the current jurisdiction need to be updated. You can submit an application regarding changes to the existing jurisdiction to update the current status.
Final Word
Your income tax payment and returns are associated with PAN details, which in turn are connected with the jurisdiction. So, in cases of change in location, you need to inform the IT Department by visiting a nearby IT PAN Service Centre or TIN Facilitation Centre.
FAQs on Income Tax Assessing Officer
Q 1. What are the instances when the jurisdiction of the taxpayer changes directly?
Ans. In cases where the location or residential address of the taxpayer changes, the jurisdiction might change directly. This is done for the following reasons: 
– To keep a consistent structure and maintain the hierarchy 
– Getting a better understanding of IT related frauds
– Maintain the communication channels
– Provide solutions to queries related to ITR
Q 2. What is the Section 127(4) of the Income Tax Act about?
Ans. According to Section 127(4) of the Income Tax Act, 1961, an income tax file can be transferred if needed at the time of processing, even if some assessments are pending. The new income tax officer will be able to make changes accordingly and take decisions on any outstanding amount or refund.
Q 3. What are the details that the Area Jurisdiction of the Income Tax Department includes?
Ans. The Area Jurisdiction of the IT department includes these details:
– Area code
– Range code 
– Assessing Officer number
Q 4. What is an income tax ward or circle?
Ans. For ease of management and better administration, each area is divided into wards or circles. Each ward or circle has its own assessing officer.
Q 5. How will you know if your PAN has been migrated to a new assessing officer?
Ans. To know if your PAN has been migrated to a new AO, you can visit the 'Know Your AO' section on the e-filing portal. You do not have to log in or register to avail of this service.
Disclaimer
This article is solely for educational purposes. Navi doesn't take any responsibility for the information or claims made in the blog.
Read More on Income Tax Act