Has your employer offered an Employee Stock Ownership Plan to you, or have you been wondering what ESOP means? Well, whatever the case, the following article will help you comprehend the working and features of ESOP.
To go beyond offering a competitive salary to their employees and showing appreciation for their contributions, employers in India can offer ownership interest in the company. Under the Employee Stock Ownership Plan, employers can decide to allow certain employees to buy shares of the company's shares at a lower or no additional cost.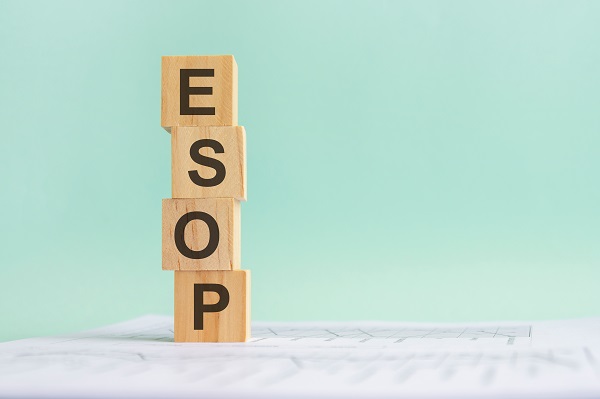 What Is ESOP?
ESOP or Employee Stock Ownership Plan is a type of profit-sharing employee benefit plan. It serves the purpose of aligning the interests of employers with that of employees who are shareholders. Any company can offer direct stock, profit-sharing plans, or bonuses to workers at a predetermined exercise rate or as a percentage of their monthly salary.
An employer enjoys the exclusive power to decide whom to include within this plan. This decision can be based on an employee's salary, designation, years of service, etc. However, it is mandatory to follow the rules and regulations set by the Companies Act, 2013 while granting stock ownership.
How Does an Employee Stock Ownership Plan Work?
ESOP is a corporate finance strategy under which a company establishes a trust fund to hold the shares that it wishes to offer to its employees. After this, employers choose whom to offer these shares on the grant date, i.e., when they enter an agreement.
However, after this grant date, these shares remain in the trust fund for a vesting period. On the vesting date, after this holding period is over, employees can exercise their ESOPs. Thus, they can purchase shares of the company at an exercise price which is lower than the Fair Market Value.
If an employee decides to leave the company after this maturity period, employers have to buy back the shares. They can then distribute these shares amongst newer employees. However, if an employee leaves before the vesting period, they lose their ownership of shares at a lower price. Employers have to buy back ownership within 60 days at Fair Market Value.
Advantages of ESOP for Employers
There are various reasons why employers offer ESOPs to their employees. Let's look at the significance of ESOP for companies:
ESOP's strategy acts as an effective tool to attract employees and retain them for the company's long-term growth. It incentivises staying within the organisation till the end of the vesting period, which is generally four years. Thus, by making them stakeholders, employers can ensure that they remain committed to the company's interest in the long haul.
An employee who becomes a stakeholder stands to gain more when the company makes profits. By giving them a sense of ownership, employers can boost their workers' productivity and generate higher gains.
Better remuneration mechanism
In the age of startups, ESOP is an effective scheme that helps budding companies to hire high-quality employees. Startups are not always in the position of offering attractive remuneration packages and thus, have a high attrition rate. However, with ESOP, startups can lure talented individuals by offering them shares in the company instead of massive salaries.
Also Read: Stocks Vs Mutual Funds
Advantages of ESOP for Employees
More than acting as a source of reward for their accomplishments, ESOP is beneficial for employees in the following ways:
Once employees acquire a stake in the company at a discounted rate, they can sell these shares. They not only acquire ownership within their organisation, but they can also make massive profits through the shares.
Most companies offer dividend payouts to their stakeholders. Thus, as employees own a stake in the company under ESOP, they can earn additional income through dividends.
Taxability
As per the Income Tax Act of 1961, employees under Employee Stock Ownership Plan are subject to different tax implications under these circumstances:
While exercising the right to buy shares in a company
When an employee decides to buy shares in the company, the difference between the exercise price and Fair Market Value on the exercise date is called a prerequisite. As per the taxation rules, tax applies to this prerequisite value.
An employer is liable to deduct tax at the source and deposit it with the government. For tax return purposes, this prerequisite amount falls under the category of "income from salary."
However, to provide a boost to startups, the government does not charge any tax on prerequisite amounts for the exercise year.
While selling these shares
If an employee decides to sell the shares they bought at a higher price than Fair Market Value, they are liable to incur capital gains tax. The percentage of tax varies according to the holding period.
If employees sell their shares within one year of exercising them, they incur a short-term capital gains tax of 15%. Meanwhile, if the sale takes place after 12 months, the applicable tax rate is 10% on gains above Rs. 1 lakh.
Furthermore, if employees have ESOP in foreign companies, their gains fall under their annual taxable income. Thus, taxation is according to their income tax slab.
Final Word
Many Indian companies, especially startups, are very keen on offering Employee Stock Ownership Plans. Through ESOP, they can attract highly talented individuals with impressive wealth creation opportunities. This does not just lead to value addition for companies but also enhances the workplace experience of loyal and hardworking employees.
Also Read: Taxation In Mutual Funds
FAQs On Employee Stock Ownership Plan (ESOP)
Q1. Which companies in India offer ESOP?
Ans: In India, numerous companies have set up massive Employee Stock Ownership Plan pools and trusts. Some of the leading names are Flipkart, Oyo, Nykaa, Zomato, and Paytm. Furthermore, 2021 was a significant year for ESOP; almost 40 companies spent Rs. 3,200 crore on buying back shares.
Q2. Which companies can offer ESOP in India?
Ans: In India, any company can offer ESOP to their employees. There are no restrictions or eligibility criteria. Most organisations that offer ESOP, have long-term objectives. That said, for unlisted companies, selling shares through ESOP can be difficult.
Q3. What is an attrition rate?
Ans: Attrition rate, commonly referred to as churn rate, is the rate at which a company's employees leave. You can determine this percentage by dividing the number of people who leave by the average number of employees.
Q4. Does investing in ESOP mean that I have voting rights in the company?
Ans: No, if you exercise ESOP, it does not mean that you have voting rights within the organisation. Generally, only employees in senior positions or those with significant ESOPs (at least 5% stake) qualify to hold voting rights.
Q5. Who does not qualify for ESOPs in India?
Ans: A company cannot issue ESOP to an individual who is part of the promoter group or is a promoter of the company. A director who holds 10% outstanding shares in a company through themselves or relatives, does not qualify for ESOP.
Before you go…
Looking for instant 🚀 personal loans 24*7 anywhere, anytime? Install the Navi app on Android or iOS now!
Or, maybe you're looking to buy that house you've been eyeing 🏠 and you need a loan of up to Rs. 10 crores. Install the Navi app on Android or iOS now and get instant in-principle approval right away! Interest rates starting at 6.71% p.a.
How about an affordable health insurance policy 👨‍⚕️ starting at a monthly premium of just Rs. 241? Install the Navi app on Android or iOS now and get your policy in under 2 minutes.
Instead, want to put your savings into action and kick-start your investment journey 💸 But don't have time to do research. Invest now with Navi Nifty 50 Index Fund, sit back, and earn from the top 50 companies.
Mutual Fund investments are subject to market risks, read all scheme-related documents carefully.