A corporate bond is sold to investors by a company. The company receives the funds it requires, and the investor gets a certain number of interest payments at either a fixed or variable rate. When the bond "reaches maturity," the prices stop, and the original investment is refunded.
The bond is often backed by the company's ability to repay, which is determined by its future revenue and profitability projections. Physical assets of the corporation may be used as collateral in specific instances.
Check out this list of top-performing corporate bonds of 2022 to start investing!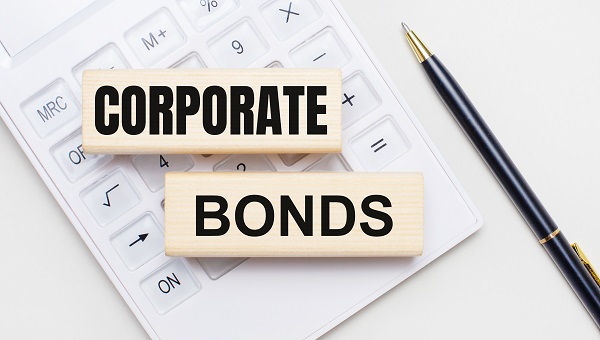 Top 10 Corporate Bonds to Invest in 2022
Below mentioned are ten corporate bonds that you should definitely invest in during the financial year of 2022 – 2023.
| | | |
| --- | --- | --- |
| The Bond | Expense Ratio | AUM |
| HDFC Corporate Bond Fund-Growth | 0.6% | INR 25,998 Cr. |
| ICICI Prudential Corporate Bond Fund-Growth | 0.59% | INR 17,480 Cr. |
| Aditya Birla Sun Life Corporate Bond Fund-Growth | 0.46% | INR 19,695 Cr. |
| Kotak Corporate Fund Growth | 0.61% | INR 11,555 Cr. |
| IDFC Corporate Bond Fund-Growth | 0.6% | INR 19,500 Cr. |
| Franklin India Corporate Debt Fund Growth | 0.84% | INR 801 Cr. |
| Sundaram Corporate Fund Growth | 0.51% | INR 1041 Cr. |
| L&T Triple Ace Bond Fund | 0.63% | INR 9405 Cr. |
| UTI Corporate Fund Growth | 0.49% | INR 25,29 Cr. |
Types of Corporate Bonds
"Security" refers to an underlying asset that backs up the bond issue. It is desirable for investors since it protects them from a possible business default. The bond's investments provide security in addition to the issuer's credit.
Collateral trust bonds are comparable to mortgage bonds, except they are not backed by real estate (houses). Companies that do not possess fixed assets or real estate employ these. Instead, these businesses own the stock of other companies. They pledge stocks, bonds, and other interests they hold in other companies when issuing bonds.
A variety of assets may back Bonds. Mortgage-backed securities, for example, are bonds backed by mortgages (MBS). The opportunity to sell mortgaged properties to satisfy any unpaid obligations to bondholders is provided by a mortgage bond.
Equipment Trust Certificates
The majority of equipment trust certifications are related to the renting of equipment. Assume a railway company requires some vehicles and places an order with a manufacturer. The order will be completed, and the cars will be transferred to a trustee by the manufacturer.
After that, the trustee will sell equipment trust certificates to investors to pay the car manufacturer. The trustee collects rental fees from the railway corporation to continue paying interest on the ETCs. The railway corporation acquires the titles to the cars from the trustee when the debt matures.
Debenture bonds are unsecured bonds that are not backed by any assets, such as real estate or other assets. Treasury bills are a type of debenture bond in the category of government bonds.
Companies frequently issue debenture bonds with good credit ratings and do not have very high-interest rates. Debenture bonds can be offered by companies that have previously issued mortgage or collateral bonds. In such instances, the debenture bonds issued are deemed of lesser quality.
3 Reasons you should Invest in Corporate Bonds
Defend yourself from market volatility
Because they give investors relatively stable cash flows, corporate bonds can be a lower-risk option to obtain exposure to corporations than equities. Corporate bonds and Australian equities are frequently negatively correlated, with corporate bonds falling as share prices rise and vice versa. As a result, allocating a portion of one's portfolio to corporate bonds can make one's portfolio more 'defensive' – returns will be smoother and less unpredictable, especially during periods of market volatility.
Enjoy higher returns
Corporate bonds are likely to offer investors a higher excess yield than term deposits and government bonds in the medium term. However, it should be noted that the AMP Corporate Bond Fund is a managed investment program with a risk profile that differs from a bank term deposit. Furthermore, corporate bonds are well-positioned to gain from the global economy's sustained recovery, thanks to strong company fundamentals.
Reduced risk of capital loss
In a rising interest rate environment, active bond managers deploy a variety of levers to mitigate downside risk. The ability of a manager to modify the 'duration' of a bond portfolio is the most important of these. The sensitivity of a bond's capital value to a change in interest rates over time is measured in years.
As a result, when interest rates rise, portfolios with a longer-term lose more money. An investment manager can seek to minimize the risk of capital loss in a rising interest rate environment by managing the fund's length – or lowering the fund's duration.
Also Read: 5 Technology Mutual Funds 2022
Who should you Invest in Corporate Bonds?
Corporate bonds are an excellent option for investors who want a steady but higher income from a safe investment. Corporate bonds are a low-risk investment vehicle since they guarantee capital protection when opposed to debt funds. These ties, however, are not entirely safe. Corporate bond funds that invest in high-quality debt securities can help you achieve your financial goals more effectively.
When interest rates fluctuate more than expected, long-term debt funds become riskier. As a result, corporate bond funds invest in scrips to mitigate volatility. They usually aim for a one- to four-year investing horizon. If you invest for at least three years, you may receive a bonus. It may also be more tax-efficient if you are in the highest income tax bracket.
Risk Factors & Returns in Corporate Bond Funds
It's always possible that bond issuers will default on their obligations. Low-rated securities have a higher default risk, which increases exponentially with maturities. Expect an average return in the region of 8% to 10% of your fund manager only invests in highly rated firms. The risk is likewise negligible in this case.
Investing in a slightly lower-rated but well-managed fund, on the other hand, can be beneficial. For example, corporations often offer excellent coupon rates to attract investors. However, there is a danger that the fund manager's prediction about a firm will be incorrect. As a result, if a company fails to make interest or principal payments, or if it is downgraded further, it is a setback for investors.
A debt market exists where a variety of bonds are traded. The prices of various bonds can grow or fall in this market, just as they do in stock markets; when a mutual fund buys a bond, its price rises. The company can then generate money in addition to what it would have made from interest income alone. It may, however, go the other way.
Also Read: Best Gold Mutual Funds In India
Final Word
Corporate bonds are rated by companies like Standard & Poor's, Moody's, and Fitch, which determine the risk associated with each bond. The most dependable (and least dangerous) bonds are triple-A rated (AAA). Corporate bonds with high ratings are a stable source of income for a portfolio. Hence, investing in corporate bonds is highly recommended.
If you are ready to invest, visit the Navi Mutual fund to get started today!
Disclaimer: Mutual Fund investments are subject to market risks; read all scheme-related documents carefully before investing.
FAQs on Corporate Bonds
1. Can I lose money while trading in corporate bonds?
Bonds are generally advertised as being less risky than stocks—and they are, for the most part—but that doesn't mean you can't lose money if you invest in them. When interest rates rise, the issuer experiences a negative credit event, or market liquidity dries up, bond prices fall.

2. Is it worth investing in corporate bonds?
That payout ensures a high level of income security. Price is less variable. Bonds are less volatile than stocks, and they fluctuate in response to a variety of factors such as interest rates (more below). Stocks are less hazardous.
3. Are corporate bonds safer when compared to stocks?
Bonds are considered to be less risky than stocks in general for various reasons: bonds carry the issuer's pledge to restore the face value of the instrument to the holder at maturity, whereas stocks do not.
4. Why do investors trade in corporate bonds?
Bonds are considered to be less hazardous than stocks for a variety of reasons, including the issuer's promise to return the face value of the instrument to the holder at maturity, which stocks do not.

5. What is the liquidity for corporate bonds?
Liquidity accounts for up to 14 percent of a corporate bond's yield during calm markets, but over 30 percent during recessions and other periods of financial stress, according to Friewald et al. (2012).
Before you go…
Disclaimer- Mutual Fund investments are subject to market risks, read all scheme-related documents carefully.