Mr Sharma has been an Aadhaar cardholder for the past few years and plans to apply for a Permanent Account Number (PAN) soon. However, he is unsure about the PAN application process and prefers a simple and hassle-free procedure. What can be an ideal solution for him at this point?
Since the launch of Aadhaar by the Unique Identification Authority of India (UIDAI), Aadhaar card holders can opt for several services. One can use an Aadhaar number to authenticate identity via electronic means. Moreover, individuals can avail of a PAN card through an Aadhaar card.
Read on to know the simple process of getting PAN through Aadhaar.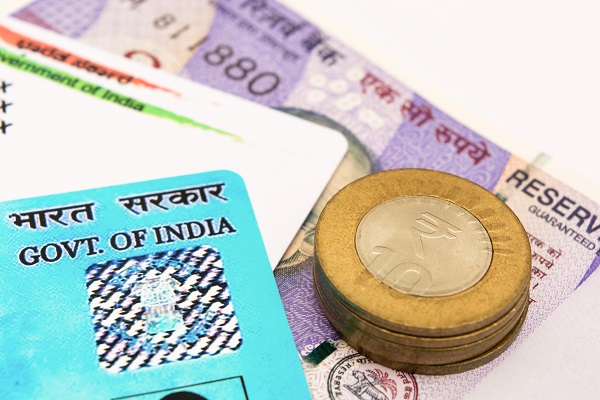 Steps To Avail PAN Card Through Aadhaar
Step 1: Go to the official website of UTI Infrastructure and Technology Services Limited (UTIITSL). Navigate to the PAN card application page and click on "Apply as an Indian Citizen/NRI."

Step 2: After clicking on this, you will find four options. Select "Aadhaar based e-Sign or Aadhaar Holders! Apply using e-KYC option." On clicking this link, you will land on a page where you can fill Form 49A and e-sign it using Aadhaar.

Step 3: At the top of the page, select "Aadhaar holders!" and click on it to opt for an Aadhaar-based e-KYC option. By selecting this option, you can ensure your PAN card form is digitally signed using the Aadhaar-based e-sign facility. Select the status of an applicant to proceed.

Step 4: Now, you can start filling out the form by entering the following details:


Personal details such as name, date of birth, gender, etc.
Contact details
Aadhaar number
Income source details

After entering these details, you need to check the declaration box and upload relevant documents such as birth proof, address proof and identity proof.
Step 5: Check the information before clicking "Submit." After successful submission, you will receive an application number using which you can track your PAN card application.
Also Read – PAN Card Migration
How to Get e-PAN Using an Aadhaar Card?
As per the Budget 2020, the Finance Minister announced a new process of instant PAN allotment on the basis of Aadhaar.
Follow these steps to get a PAN card with your Aadhaar card:
Visit the Income Tax department's e-filing home page
Under the "Quick Links" section, you will find an "Instant E-PAN" option. Click on it to land on the PAN allotment webpage
Tap on "Get New PAN"
Submit your Aadhaar number and choose "I confirm that." Select "Continue" to proceed
You will receive an Aadhaar OTP on your registered mobile number. Once you agree to validate your Aadhaar details with UIDAI, click on "Validate Aadhaar OTP and Continue"
Now you will land on an OTP validation page, where you need to tick the checkbox to agree with the terms and conditions. Click on "Continue"
After OTP validation, select "Validate email ID," tick the disclaimer checkbox and tap on "Continue"
You will receive an acknowledgement number at this point. Furthermore, you can check the PAN allotment status by submitting your Aadhaar number.
What Are The Requirements for an Instant PAN Facility?
One must possess a valid Aadhaar number that has not been linked with PAN before.
An individual must link his or her mobile number with Aadhaar.
Obtaining instant PAN through an Aadhaar facility is a paperless process. Therefore, one does not need to furnish or upload KYC documents.
Applicants must not possess more than one PAN card.
Also Read – Link PAN with Aadhaar Via The New Income Tax Portal
Final Word
A Permanent Account Number (PAN) is a 10-digit alphanumeric identifier that enables an individual to keep track of his or her financial transactions. Moreover, having a PAN is necessary for individuals to file income tax returns.
One can apply for a PAN through an Aadhaar card. In this regard, applicants can go through the aforementioned step-by-step guide and avail of PAN without any hassle. 
Frequently Asked Questions
Before you go…
Looking for instant 🚀 personal loans 24*7 anywhere, anytime? Install the Navi app now!
Or, maybe you're looking to buy that house you've been eyeing 🏠 and you need a loan of up to Rs. 5 crores. Install the Navi app now and get your instant in-principle approval right away! Interest rates starting at 6.40% p.a.
How about an affordable health insurance policy 👨‍⚕️ starting at a monthly premium of just Rs. 241? Install the Navi app and get your policy in under 2 minutes
Instead, want to put your savings into action and kick-start your investment journey 💸 But don't have time to do research. Invest now with Navi Nifty 50 Index Fund, sit back, and earn from the top 50 companies.