Investors who are new to investing and do not want to spend time studying the stock market are considering mutual funds created by various asset management companies. Within mutual funds, there are two major categories – active and passive funds.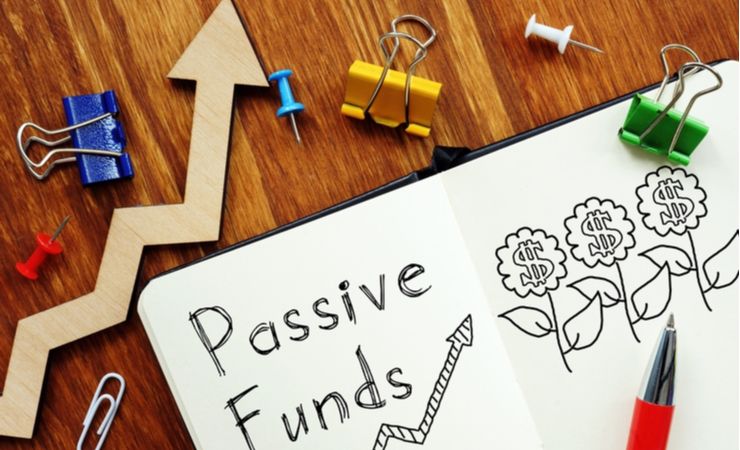 What is a Passive Fund?
A passive fund is a type of fund that tracks a market index such as Nifty, or Sensex and replicates the index composition of shares into the portfolio. Unlike active funds, fund managers don't have much role to play in passive funds. Also, as opposed to active investments, passive investments don't aim to beat the market. Instead, it replicates the market index like the Nifty, the Sensex, etc., to generate maximum returns.
Passive funds are not just good for investors who are just starting out in their investment journey but also for investors with a low-risk appetite. Passive investing broadly is a buy-and-hold strategy for long-term investment horizons, with minimal trading in the market.
Also Read –How To Invest In Multi-Cap Mutual Funds?
What are the Different Types of Passive funds?
Passive funds are primarily of two types:
Index funds
Index funds are open-ended mutual funds that depend on the performance of a particular index. Investors can buy and sell units at the net asset values (NAV) of the fund. An index fund can be an ideal avenue for investors having an investment horizon of 7 years or more.
Exchange-Traded Funds (ETFs)
Exchange-Traded Funds or ETFs trade like a common stock on a stock exchange. An ETF is a basket of stocks that reflects the composition of an Index, like the Sensex or the Nifty. Investors can buy or sell ETFs at real-time prices through their trading accounts. You need to have a trading and Demat account with a broker to invest in ETFs.
Also Read – Hybrid Mutual Funds
What are the Benefits of Passive funds?
Low-cost alternative
Unlike active funds that aim to beat the market benchmark, passive funds simply replicate the market index. This mitigates the role of a fund manager in passive investing. Thus, the expense ratio or the overall cost is significantly lower than active funds, thereby making passive funds a cost-effective alternative for investors looking to diversify their portfolios. 
Ability to withstand market movement
Let's get this right – passive investing is for investors looking for long-term gains. And it's a proven record that passive funds have given excellent returns in the long run. So, if you are someone with an investment horizon of 7+ years, you can try investing in passive funds.
Broader market exposure
Passive funds like index funds are designed are to have an overall market representation, comprising different sectors and segments of the market. This can help you enjoy probable returns from a large market segment through a single investment product.
Who should Invest in Passive Funds?
Passive funds can be a nice alternative for investors who do not have the appetite for high volatility or are relatively new to investments. The low-cost fund (due to its low expense ratio) has the potential to generate decent returns from equities by tracking the benchmark index and/or underlying fund. Also, it's a more transparent option as it doesn't involve any fund manager.
If you're starting out with passive funds, it's recommended that you invest in large-cap indices like the Nifty 50. You can also invest in Nifty Next 50 or Nifty 500 to gain broader exposure across different market segments.
Before you go…
Looking for instant 🚀 personal loans 24*7 anywhere, anytime? Install the Navi app now!
Or, maybe you're looking to buy that house you've been eyeing 🏠 and you need a loan of up to Rs. 10 crores. Install the Navi app now and get your instant in-principle approval right away! Interest rates starting at 6.46% p.a.
How about an affordable health insurance policy 👨‍⚕️ starting at a monthly premium of just Rs. 241? Install the Navi app and get your policy in under 2 minutes
Instead, want to put your savings into action and kick-start your investment journey 💸 But don't have time to do research. Invest now with Navi Nifty 50 Index Fund, sit back, and earn from the top 50 companies.
Disclaimer: Mutual Fund investments are subject to market risks, read all scheme-related documents carefully before investing.