There are two primary categories in mutual funds ─ passive funds and active funds. Passive funds closely track a particular stock market index with an aim to replicate its performance. Fund managers of passive funds are not actively involved in investment decisions, which is why they charge low fund management fees. On the other hand, an active fund manager's primary job is to buy or sell stocks after conduct through market research and analysis. Owing to this reason, the fund managers of active funds charge comparatively higher fees than passive funds.
But that's just the tip of the iceberg. Give this post a read to get the full story regarding the differences between active and passive funds before you start investing.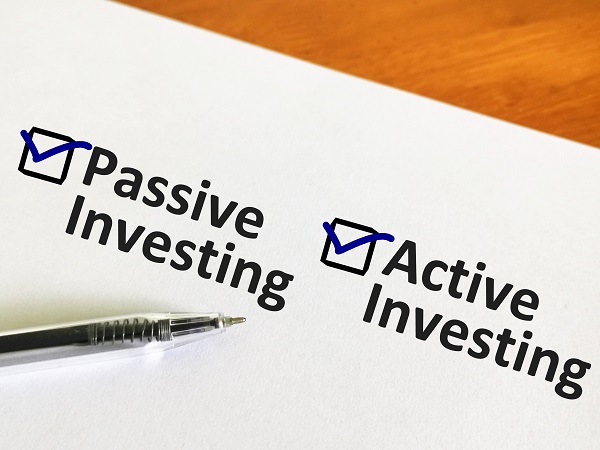 Differences Between Active and Passive Funds
| | |
| --- | --- |
| Active Fund | Passive Fund |
| Active funds are managed by fund managers. | Passive funds do not require a fund manager's active participation. |
| Higher fees for conducting rigorous industry research and shifting funds in various instruments depending on stock market performance. | Lower fees with a reasonable expense ratio. As per SEBI guidelines, the expense ratio of passive funds like index funds cannot go above 1%. |
| The main objective of active funds is to generate market-beating returns | Passive funds aim to replicate the performance of an underlying benchmark index. |
| Example – Equity mutual funds | Example – Index mutual fund |
Also Read: What Is The Minimum Investment Amount For Mutual Funds?
Pros and Cons of Passive Funds
Pros
Low cost of investment: The expense ratio of passive funds is much lower compared to active funds. As per SEBI guidelines, the expense ratio of passive funds like index funds cannot go above 1%. 
Transparency: Investors always have an idea regarding the portfolio constituents of passive funds. 
Cons
Lower returns than the benchmark: Such schemes do not aim to beat the benchmark index. Returns can be similar to the returns of the benchmark or lesser.
Doesn't react to the changing market conditions: Since passive funds mimic a particular index, investors get locked into the holdings irrespective of the changes taking place in the market.
Pros and Cons of Active Funds
Pros
Generates alpha: If investors want to earn market-beating returns, active funds are the right option. The primary goal of these schemes is to outperform the returns of Nifty 50 and Sensex, thus generating alpha. Here, fund managers utilise their time, knowledge and experience for market research before buying or selling the underlying securities.
Active risk management: Fund managers of these active funds makes changes to the portfolio based on the changing market conditions. Thus, they are able to mitigate the financial risk and maximise the returns of investors.
Cons
Risky: Since these funds fetch higher returns, the risk associated is also higher compared to passive funds. After all, the manual decision-making procedure is error-prone.
Costly: Investors need to pay a higher expense ratio than passive funds as the fund manager charges higher fees to manage the portfolio of the scheme.
Consider This before Investing in Active and Passive Funds
Financial Goals and Investment Horizon
You must choose an investment horizon that suits your financial objectives. Before investing in a fund, make sure that the objective of the scheme is in line with your financial goals. For example, let's say you have a short-term or medium-term investment horizon and wish to earn stable returns. In that case, you may opt for debt mutual funds.
You can select between lump sum and SIP mode of investment.  The frequency of investment is different for the two methods. Lump-sum mode is a one-time investment in a mutual fund scheme. SIPs, on the other hand, ensure investment of a fixed amount at regular intervals (monthly, half-yearly, annually, etc.)
Risk denotes uncertainty of returns from investment. It's a shift from the expected or standard value. Based on asset allocation, every mutual fund scheme has a different degree of risk involved. So, examine the risk factor before opting for an active/passive fund.
Tracking error refers to the difference between the benchmark index's returns and the scheme's returns. It is a significant indicator to evaluate a passive fund. Make sure to compare the tracking error of different passive funds before investing. 
Also Read: 5 Things To Keep In Mind Before Investing In Mutual Funds
Final Word
Based on your financial goals and risk appetite, select the most effective mutual fund scheme for yourself. You can diversify your financial portfolio to fetch optimised returns. Hopefully, you now understand how passive funds and active funds differ. Choose wisely!
FAQs on Passive and Active Funds
Q1. How are active funds beneficial?
Ans: Active funds offer higher returns compared to a pre-defined benchmark. A fund manager can buy or sell the underlying securities based on the market scenario. Hence, these funds provide better risk management and are flexible. 
Q2. Do passive funds offer high returns?
Ans: A Passive fund always aims to generate similar returns to its benchmark. The returns can be equal to or less than the returns of the benchmark, but never more. For active funds, the decision-making procedure is subject to human error. There is no certainty that the funds will be able to generate higher returns than the benchmark. 
Q3. How to choose between active funds and passive funds?
Ans: As per industry experts, there's no wrong or right selection between investments in passive and active funds. A risk-averse individual can opt for a passive fund that earns moderate returns. On the other hand, an investor with a high-risk appetite can choose active funds. You can also make partial investments in both funds. 
Q4. How does an index fund work?
Ans: An index fund mimics a stock market index such as the Sensex and Nifty 50. Let's say an index mutual fund tracks the Nifty 50. This scheme will comprise the same 50 stocks in identical proportion in its portfolio. 
Q5. What does NAV mean?
Ans: Net Asset Value (NAV) signifies the market value (per unit) of all the securities that a mutual fund portfolio holds. It is computed by subtracting the expenses and liabilities from the total assets divided by the number of outstanding units.    
Before you go…
Looking for instant 🚀 personal loans 24*7 anywhere, anytime? Install the Navi app on Android or iOS now!
Or, maybe you're looking to buy that house you've been eyeing 🏠 and you need a loan of up to Rs. 10 crores. Install the Navi app on Android or iOS now and get instant in-principle approval right away! Interest rates starting at 6.46% p.a.
How about an affordable health insurance policy 👨‍⚕️ starting at a monthly premium of just Rs. 241? Install the Navi app on Android or iOS now and get your policy in under 2 minutes.
Instead, want to put your savings into action and kick-start your investment journey 💸 But don't have time to do research. Invest now with Navi Nifty 50 Index Fund, sit back, and earn from the top 50 companies.
Disclaimer: Mutual Fund investments are subject to market risks, read all scheme-related documents carefully.