Mutual fund schemes that primarily invest in blue chip stocks are known as blue chip funds. A blue chip stock is not about high yields, but performance and pedigree throughout the years. This post tells you how blue chip funds work, features, benefits, things to consider before investing and if you should invest in them. Keep reading!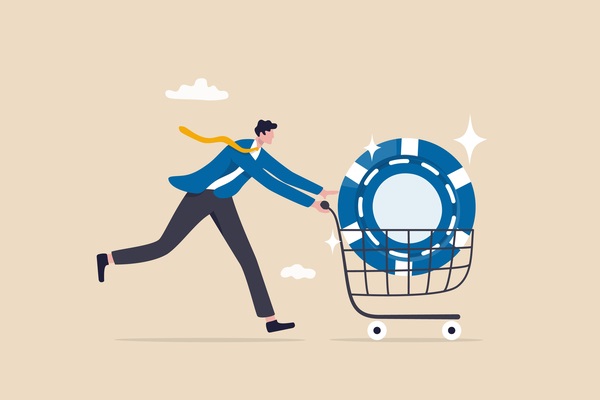 What are Blue Chip Funds?
Blue Chip Funds (a synonym for large cap funds) are equity mutual funds. They invest in stocks of companies with large market capitalisation. These companies have a good track record over many years and are established in the market.
How Does It Work?
Also referred to as large cap funds, blue chip funds allocate at least 80% of the fund corpus to the top 100 stocks in India with regard to market capitalisation. This protects them from the market risks of mid and small-sized companies. Although large-cap stocks usually generate lower returns than small cap or mid cap stocks, they are associated with lower financial risk.
Large cap companies have a strong market position and a proven track record in terms of performance. They have the ability to offer steady capital appreciation and regular dividends. Individuals seeking low-risk equity exposure can consider investing in blue chip funds.
Also Read: Small, Mid And Large Cap Funds: A Detailed Comparison Before You Invest!
Benefits of Investing in Blue Chip Funds
Here are some noteworthy benefits of investing in blue chip:
Offers Stability

These funds invest in companies having a favourable track record from a financial standpoint. Such mutual fund schemes balance out returns and risks effectively. Even during volatility in the market, large cap funds can provide stability to the portfolio.
Steady Capital Appreciation

Since blue chip companies deliver stable earnings and profits, their stock price doesn't fluctuate much. Accordingly, blue chip funds have the ability to provide capital appreciation to their investors who have a medium to long-term investment horizon.
High Liquidity

These funds offers high liquidity to investors. Individuals can redeem their units easily as per their convenience as there is no lock-in period. To initiate the redemption process, one simply needs to place a request with the fund house.
Diversification

These funds invest in large cap stocks across different sectors. This multi-sector diversification mitigates portfolio risk. Furthermore, investors do not have to invest in different sectors individually to build a diversified portfolio.
Expert Fund Management

Investors allocating their funds to blue chip funds get access to the expertise of the fund managers. These highly-skilled professionals take all buying-and-selling decisions after conducting thorough research and analysis. Owing to this reason, investors do not need to monitor the market regularly.
Who Should Invest in Blue Chip Funds?
The following may consider investing in blue chip funds:
Individuals looking to invest in top stocks of India with a small amount
Investors seeking higher returns than debt instruments
Individuals who are looking to add stability to their portfolio
Investors who don't have time to track the market regularly
In case you think that these funds are a suitable investment option for you, visit Navi Mutual Fund and start investing with an amount as low as Rs. 500.
Things to Consider Before Investing in Blue Chip Funds
The following parameters must be kept in mind before investing in:
Investment Goals

These funds are suitable for those who have a medium to long-term investment horizon. For individuals, it is essential to identify their investment objectives before allocating their savings to such schemes.
Expense Ratio

Just like other mutual fund schemes, blue chip funds also charge an expense to effectively manage your investment. This is known as expense ratio, which includes, advertising costs, management fees, and administrative costs, distribution fees, etc. A low expense ratio can help to fetch more returns.
Investment Risks

These funds are risky owing to the equity exposure. That said, if you compare these schemes with mid cap or small cap mutual fund schemes, the NAV (Net Asset Value) movement is relatively small. Make sure assess your risk profile before investing in these mutual fund schemes.
Direct/Regular Plan

When you directly purchase mutual fund units from a fund house, you invest via a direct plan. Contrarily, when you invest in these funds through distributors or brokers, you invest via a regular plan. Regular plans involve a commission for the intermediary, which is why they have a high expenses ratio.
Mode of Investment

An investor can start investing in mutual funds through SIP (Systematic Investment Plan) or lump sum mode. Under SIP, you can invest a certain amount at regular intervals (such as monthly, yearly, half-yearly or quarterly). On the other hand, lump sum mode allows you to invest in one go.
Also Read: Dividend Yield Funds: Benefits, Risks & Things To Consider Before Investing
Final Word
Blue chip funds are suitable for your long-term financial goals, such as retirement, child's education and marriage. That said, before investing in these funds, make sure to consider your risk appetite as these schemes are associated with significant risk owing to the equity exposure.
FAQs on Blue Chip Funds
Q1. Do blue chip stocks offer higher returns than mid-cap stocks?
Ans: Small-cap and mid-cap stocks usually generate higher returns than blue chip stocks. However, the underlying large cap stocks are less risky than small cap and mid cap stocks. This is because most blue chip companies have a significant market share, and they are able to deliver strong financial performance consistently.
Q2. How are blue chip funds taxed?
Ans: When an investor sells the units of a blue chip fund before 1 year from the date of purchase, short term capital gains tax at the rate of 15% is levied on the realised returns. 
On the other hand, when an investor redeems his/her units after 1 year, long term capital gains tax at the rate of 10% is imposed on the profits. Note that no tax is levied on long term capital gains of up to Rs. 1 lakh. 
Q3. Can I get tax benefits from blue chip funds?
Ans: No, blue chip funds do not provide any tax benefits. However, ELSS funds offer a tax deduction of up to Rs. 1,50,000 per annum to its investors. Such a benefit is applicable under Section 80C of the Income Tax Act, 1961.
Q4. How long should I stay invested in blue chip funds?
Ans: The investment time horizon of individuals depends upon the financial goals of investors. That said, keep in mind that one should stay invested for as long as possible to benefit from the power of compounding.
Q5. How can I calculate returns from blue chip funds?
Ans: To compute the returns from blue chip funds, you can use a mutual funds return calculator for SIP and lump sum investments. Simply enter the investment amount, expected rate of return, and the period of investment. The online tool will display the estimated returns and the total value.
Before you go…
Mutual Fund investments are subject to market risks, read all scheme-related documents carefully.