Cryptocurrencies have gained wider outreach in recent times, owing to their heightened security, ease of fund transfer and much more. At present, the global crypto market cap stands at $1.20 trillion. A huge section of this crypto growth occurred the previous year when investors were looking for alternative investment avenues to diversify their portfolios. However, if you are new to the world of cryptos, the various players in this industry might overwhelm you. From Bitcoin to Litecoin, there are thousands of cryptocurrencies circling. But which are the top cryptocurrencies worth the discussion?
Read on to find out!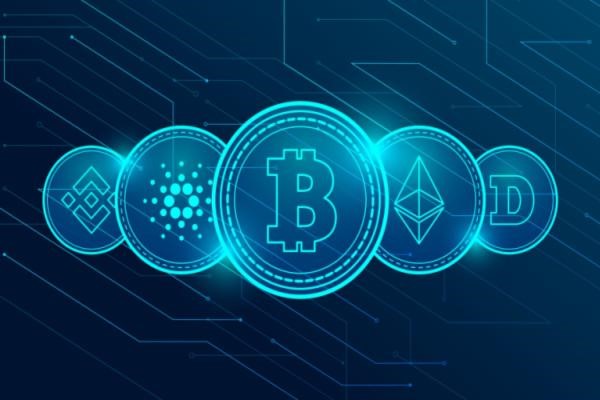 What is Cryptocurrency?
Cryptocurrency, or crypto, is a digital currency that works as an exchange medium via a computer network, which does not rely on a regulatory body. Cryptos use cryptography for verified and secured transactions.
They are built on blockchain technology. It is a distributed ledger carried out by a distributed computer network. These virtual currencies differ from fiat currencies, as no central authority issues them. This makes cryptocurrencies potentially impenetrable to government manipulation or interference.
You can use cryptos for trading purposes, conduct transactions or simply purchase goods and services via them.
Top 10 Cryptocurrencies in India
Cryptos have attained wider usage, going far beyond the basic buying and holding. For example, Ethereum is on the verge of creating "the Merge", Ripple is planning to top the world of consistency, and Bitcoin wants to simply become a transaction mode. With so many names in the industry, you must wonder about the top cryptocurrencies in India. That said, mentioned below is the top cryptocurrencies list that you might find useful:
1. Bitcoin
Bitcoin is the oldest and the most well-known cryptocurrency in India. Experts often refer to Bitcoin as the 'gold standard' of cryptos. This is because it is the longest-lived crypto featuring a higher value.
The coin forms up to 46% of the overall cryptocurrency market capitalisation. Bitcoin was developed for individuals to send money easily over the internet. The virtual currency provides an alternative form of payment system that operates free of any regulatory body. Moreover, Bitcoin's underlying technology makes its value jump, attaining traction in the crypto world.
2. Ethereum
Ethereum comes second in the list of top 10 cryptocurrencies in India. It is the technology behind Metaverse and NFTs. The Ethereum network is being used to create financial products that will remove the need for intermediaries.
Ethereum emerged as a top player in 2021 in the realms of NFTs and decentralised finance (DeFi). Experts believe Ethereum is the perfect collateral in decentralised finance and NFT marketplaces. This could further drive the coin to attain a massive portion of the global money supply.
3. Tether
As the name suggests, the coin is tethered to the Dollar's value. This makes it a stablecoin, which features minimum volatility in its value. This makes it the top cryptocurrency in India. This coin is particularly famous among investors who are otherwise doubtful about investing in volatile cryptocurrencies but, at the same time, would like to invest in the crypto market. Since Tether is a stable crypto whose value does not fluctuate as often, it is also used as an exchange medium and a storage mode of value.
4. Binance Coin
Binance Coin is one of the top cryptocurrencies you can utilise to pay fees and trade on Binance, one of the most significant global crypto exchanges. However, since it came into existence in 2017, Binance Coin has stretched past just clearing trades on the Binance exchange platform. You can now use the coin for payment processing, trading and booking travel plans. Moreover, you can also use this coin to trade or exchange for other types of cryptocurrencies, such as Ethereum or Bitcoin.
5. XRP
XRP is yet another sensation in the crypto market. It is an open payment network under which you can transfer various currencies.
The coin features ties with a private company – Ripple, which aims to overcome the limited mode of financial networks. Ripple features its roots back in 2017, and since then, the company has emerged as a major player in the Indian crypto industry.
Interestingly, Ripple does not work on the PoW or PoS system. Instead, the coin uses a distributed consensus mechanism to confirm different transactions. This makes it one of the distinct and top cryptocurrencies in India.
6. Terra
Terra is specifically a blockchain payment platform for stablecoin. It relies on maintaining a balance between two types of cryptos. Moreover, stablecoins of Terra, such as TerraUSD, feature ties to the value of physical currencies. Luna powers this platform, which also helps in minting more Terra stablecoins.
That said, Luna and stablecoins of Terra work hand in hand as per the supply and demand. For instance, when the price of a stablecoin jumps ahead of its currency's value, the platform encourages users to burn their Luna and create more stablecoins. Similarly, as the value of stablecoin falls, users burn their Terra and create more Luna.
7. Cardano
Cardano comes in the top cryptocurrencies list because of its early hold for proof-of-stake validation. This method facilitates transaction time and results in lesser energy usage. In turn, this reduces environmental impacts by controlling the competitive transaction verification aspect of platforms like Bitcoin.
This coin also functions similar to Ethereum, which participates in enabling smart contracts and decentralised applications (dApps). That said, Cardano's native coin, ADA, powers all such functions.
Moreover, investors constantly justify its price by considering the coin's real-world usage. These include retail plagiarism, tracing farm supply chains and more.
8. Solana
Solana showcases immense use in the developing DeFi sector. It also attracts developers with over 500 dApps built on the blockchain. Solana functions on a unique hybrid proof-of-history and proof-of-stake mechanisms. This helps it in processing transactions quickly and efficiently. Moreover, the coin features in the list of top cryptocurrencies for investors who no longer want to experience the volatile transaction fees of Ethereum. Considering that the demand for NFTs and DeFi will continue, Solana's price could hit an ATH in the coming times.
9. Polkadot
Featuring a launch in 2016, Polkadot is a unique interoperability protocol that connects various chains. It also enables data exchange and transaction processing for parallel blockchains. It does all of these without compromising on security. Moreover, developers can conveniently create their own blockchain using this platform's security.
Interestingly, Polkadot has generated as much as $200 million from investors. This makes it one of the most significantly funded projects. Its value is expected to rise in the coming year, owing to its unique innovations.
10. Litecoin
Litecoin is the first ever altcoin, which traces its roots back to 2011. It came into existence two years after the launch of Bitcoin by Charlie Lee. It is decentralised crypto-based on blockchain technology. The primary idea behind the creation of this coin was to address the limitations of Bitcoin.
Despite many similarities with Bitcoin, this crypto features a faster transaction speed. In addition, the significant overall stock of Litecoin makes it a lucrative investment. You can utilise this coin for different purposes, including purchasing goods and services, sending money overseas and much more.
Further, you can conduct all such transactions on this platform without intermediaries. This results in lesser transaction fees.
Is Investing in Cryptocurrency Safe?
Investing in cryptocurrency often churns in better returns as compared to traditional trading methods. Besides, cryptos are extremely secure, owing to cryptography. Transactions through such platforms include no intermediaries, reducing the overall transaction costs.
At the same time, the crypto market is extremely volatile. Thus, investors are at a higher risk of losing money. The scalability of such coins remains a current issue around the world. Moreover, they do not feature any government regulations, which raises certain trust issues.
Final Word
Although investing through cryptocurrencies is risky, considering the above-mentioned top cryptocurrencies can provide you with better returns. However, ensure to conduct thorough market research before making a decision.
If you are looking for investment options other that Crypto, visit Navi Mutual Fund to get started!
*Mutual Fund investments are subject to market risks, read all scheme-related documents carefully.
Also Read: List Of 7 Most Popular Types of Cryptocurrencies In India
FAQs on Top 10 Cryptocurrencies
Q1. What are the various components in the network of Polkadot?
Ans: Polkadot contains an ecosystem of decentralised blockchains. Thus, any user can create his/her own blockchain on this network. You can create three types of blockchain through this blockchain, which include parachains, the relay chain and bridges.
Q2. How do cryptocurrencies get their values?
Ans: Cryptocurrencies experience gain or loss in value as per the demand and supply. That said, crypto supply depends on the mining of coins and how many individuals are willing to sell their coins. A crypto's demand depends on several factors, including its usefulness. 
Q3. What are the future predictions relating to the crypto market?
Ans: As per reports, the global cryptocurrency market may reach a value of $2.73 billion by 2025. As of now, there are more than 8,000 cryptocurrencies in the world, with a rising market cap of over $2 trillion.
Q4. What are stablecoins?
Ans: Stablecoins are a form of cryptocurrency whose values feature ties with a fiat currency, such as the US dollar or gold. This is primarily done to control the price of the coin. Thus, stablecoins, unlike other cryptocurrencies, do not experience much volatility in their value.
Q5. What is the difference between Bitcoin and Ethereum?
Ans: The primary difference between Bitcoin and Ethereum is that the former is simply a virtual currency, whereas the latter is a ledger technology that various firms are utilising to create new programmes. Both these cryptocurrencies operate on blockchain technology. However, Ethereum is considered more robust.
Disclaimer: Crypto products and NFTs are unregulated and can be highly risky. There may be no regulatory recourse for any loss from such transactions.
This article has been prepared on the basis of internal data, publicly available information and other sources believed to be reliable. The information contained in this article is for general purposes only and not a complete disclosure of every material fact. It should not be construed as investment advice to any party. The article does not warrant the completeness or accuracy of the information, and disclaims all liabilities, losses and damages arising out of the use of this information. Readers shall be fully liable/responsible for any decision taken on the basis of this article.
Before you go…
Instead, want to put your savings into action and kick-start your investment journey 💸 But don't have time to do research. Invest now with Navi Nifty 50 Index Fund, sit back, and earn from the top 50 companies.
Mutual Fund investments are subject to market risks, read all scheme-related documents carefully.