Mid cap funds primarily invest in shares of companies between 101th and 250th rank. Equity funds are classified as large cap, mid cap and small cap based on the market capitalisation of their stocks. As per SEBI (Securities and Exchange Board of India) guidelines, large cap companies are the top 100 companies. Companies below the 250th rank are small cap companies.
There are many benefits of investing in mid cap funds, especially if you are a relatively new investor. This post will help you understand about mid cap funds, their benefits, limitations, taxations and factors to keep in mind before investing. Read on!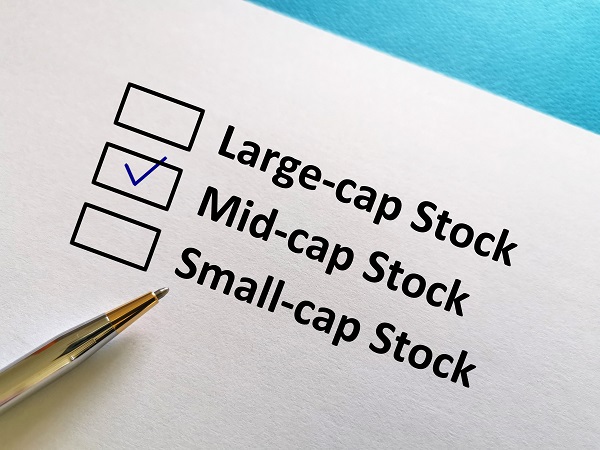 What are Mid Cap Funds?
Mid-cap funds are open-ended equity funds that invest at least 65% of their corpus in mid-cap stocks. The rest gets invested in small-cap or large-cap companies as stated in the relevant Scheme Information Document (SID). Mid-cap companies have a market capitalisation between Rs. 16,900 crore and Rs. 47,400 crore. 
Market capitalisation is one of the main criteria for selecting equity investments as large-cap, mid-cap and small-cap stocks carry different risks/rewards. While large-cap funds are known for being the least volatile, small-cap stocks can offer the highest growth potential. A mid-cap fund falls between the two; it offers a balance between risks and returns.
Mid-cap mutual funds invest in companies with fairly high growth potential but without the risks of small-cap funds. These companies have certain stability and scale that helps to provide resilience against short-term shocks. Individuals investing in mid-cap funds tend to benefit from their underlying growth opportunities.
Also Read: Small, Mid And Large Cap Funds: A Detailed Comparison Before You Invest!
Benefits of Investing in Mid Cap Funds
Potential for High Returns: Mid-cap companies that have decent profit margins and growth volumes attract investors' attention. With time, these organisations may enter the large-cap category, thus generating significant returns for investors. 
Professional Fund Management: Qualified and experienced fund managers are responsible for research and investment decisions. Their expertise reflects on the fund's performance.
Portfolio Diversification: Investors seeking to diversify their portfolios may invest in mid-cap funds for additional growth potential. The fund managers invest in various mid-cap stocks across different sectors. This mitigates portfolio risk. 
Growth and Expansion Opportunities: Mid-cap companies, especially internet-based and consumer retail companies, cater to niche markets. That is why they have huge potential for expansion, making them interesting investment options.
Also Read: How To Grow Your Money With Mid Cap Funds
Who can Invest in Mid Cap Funds?
Successful mid-cap companies can grow to become large-cap companies. They have the potential to offer above-average returns. Some mid-cap stocks are undervalued and under-researched providing an opportunity for high growth. Investors looking to capitalise on the growth potential of these companies may want to invest in mid-cap funds.
However, these equity funds are also highly volatile and carry considerable risks. Some of these companies are relatively new and carry risks of failure. If you can bear short-term volatility for long-term wealth accumulation, these funds can be a suitable option for you.
Mid-cap funds work best for those willing to take considerable risks for high potential growth. These also work well for individuals seeking portfolio diversification. 
Investors looking to participate in the growth of India's emerging mid-cap companies may want to take a look at Navi Nifty Midcap 150 Index Fund. Its total expense ratio (TER) of 0.12% is one of the lowest among index funds. Visit Navi Mutual Fund and start investing with an amount as low as Rs. 500.
Mutual Fund investments are subject to market risks, read all scheme-related documents carefully.
Also Read: List of Best Value Mutual Funds To Consider in 2022
Factors to Consider before Investing in Mid Cap Funds
Past Performance: While a fund's past performance is no guarantee for its future performance, it can indicate its quality. You will want to check if it outperforms its peers in both the bull and bear phases of the market. 
Investment Horizon: Equity funds usually require you to wait for at least 5 years to get decent returns. An economic downturn can be detrimental, requiring a few years for recovery. So, investors might want to have long-term investment goals for these funds.
Returns: Although these funds tend to be volatile owing to the equity exposure, they can deliver market-beating returns over the long term. In the short term, they may underperform, so investors need to have the patience to power through periods of high volatility. 
Expense Ratio: This is an annual fee charged by the Asset Management Company (AMC) on an annual basis. You will want to try and pick a fund with a low expense ratio and a proven track record.
Risks: Although many mid-cap companies have established themselves, not all can grow indefinitely. In a tough market, it is possible that a company may not deliver gains. In extreme cases, a company may go bankrupt, leading to considerable losses.
Limitations of Mid Cap Funds
Limited high-quality mid-cap stocks: One risk these funds have is that there is a shortage of high-quality mid-cap stocks in the country. When these funds start having more in-flows, fund managers can either increase allocation to large-cap stocks or pick ones with higher speculation.
Volatility: Fluctuating market movements can have a moderate to high impact on mid-cap stocks. In a non-favourable market scenario, the price of the underlying stocks can plummet. Accordingly, investors will need to have a high risk appetite to invest in these funds.
Costs: Similar to other mutual funds, these schemes charge a certain expense ratio from investors for operating and management costs. As the fund managers have to alter portfolios based on market scenarios, mid-cap funds tend to have a higher turnover ratio and expenses.
Final Word
Mid-cap funds invest in listed companies ranked between 101 and 250 in terms of full market capitalisation. They display higher growth potential than large-cap funds without exhibiting high risks associated with small-cap funds. Before investing in mid-cap mutual fund schemes, you should check the scheme's performance against a benchmark as well as its investment objective and risk profile.
FAQs on Mid Cap Funds
Before you go…
Looking for instant 🚀 personal loans 24*7 anywhere, anytime? Install the Navi app on Android or iOS now!
Or, maybe you're looking to buy that house you've been eyeing 🏠 and you need a loan of up to Rs. 10 crores. Install the Navi app on Android or iOS now and get instant in-principle approval right away! Interest rates starting at 6.46% p.a.
How about an affordable health insurance policy 👨‍⚕️ starting at a monthly premium of just Rs. 241? Install the Navi app on Android or iOS now and get your policy in under 2 minutes.
Instead, want to put your savings into action and kick-start your investment journey 💸 But don't have time to do research. Invest now with Navi Nifty 50 Index Fund, sit back, and earn from the top 50 companies.
Disclaimer: Mutual Fund investments are subject to market risks, read all scheme-related documents carefully.