In 2010, Aadhaar became the first document to carry an individual's biometric details, such as fingerprints and iris scan data. While this helped secure Aadhaar-linked transactions and services, it also increased the chances of identity theft. On account of this, the Unique Identification Authority of India (UIDAI) introduced a procedure through which Aadhaar card owners can lock and unlock their biometrics.
This article deals with the detailed process of locking and unlocking Aadhaar biometric details. To know all about it, keep reading!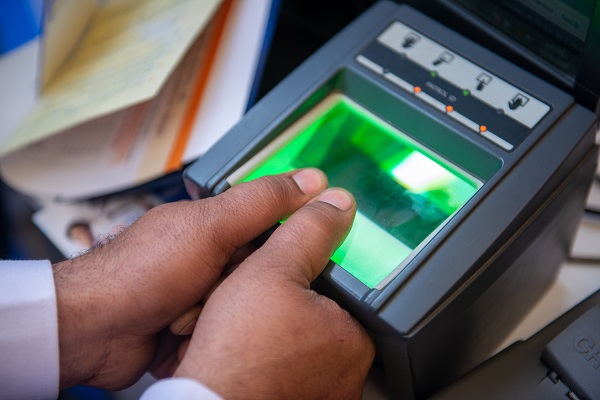 Procedure of Locking Aadhaar Biometrics Information
The procedure of locking the biometric information present in your Aadhaar card is straightforward. The steps you have to follow for that are as follows:
Step 1
Go to the online portal of UIDAI to begin the procedure of locking your biometric data.
Step 2
Under the 'My Aadhaar' tab, you will find the 'Aadhaar Services' option. You need to select 'Aadhaar Lock/ Unlock' from there to proceed further.
Step 3
After clicking on it, a secure UID authentication channel will open. Over there, you will find two choices — lock UID and unlock UID. Choose the former one.
Step 4
Now, you will have to provide certain details here, such as your UID, full name, security code, etc.
Step 5
After filling in these details, you need to tap on 'Send OTP' to get a one-time password on your registered number.
Step 6
Submit the OTP to verify your information, and the process of locking your Aadhaar biometrics will be complete. 
Procedure to Lock Aadhaar Number
Note that not just the biometrics, you can also lock your Aadhaar number to strengthen your privacy. You can use the SMS procedure to do that. Know the complete process in the following section:
Step 1
Type GETOTP and then the last 4 digits of your Aadhaar number and send this message to 1947. However, you need to make sure that you are sending this SMS from the phone number that is registered with UIDAI.
Step 2
After that, you will receive the 6-digit one-time password on your phone. Now, to go ahead with the locking process of your Aadhaar biometric data, you have to send another message from your phone.
Step 3
You need to type LOCK UID, and then the last 4 digits of your Aadhaar, and then the 6-digit OTP. Send this message to 1947 again to lock your Aadhaar data.
Also Read: How To Track Aadhaar Card Update Status?
Process of Unlocking Aadhaar Biometric Data
You may have locked your Aadhaar biometrics previously for a reason, but if you intend to unlock the information, you can do so by following these simple steps:
Step 1
Go to the web portal of UIDAI. Under the 'My Aadhaar' tab, you will find 'Aadhaar Services'.
Step 2
Choose the 'Aadhaar Lock/ Unlock' option from there. It will redirect you to another page.
Step 3
Now, you need to select 'Unlock UID' and provide mainly your UID and security code. After entering these, click on 'Send OTP' to proceed further.
Step 4
Once you get the OTP on your phone, enter that and click on 'Submit'. By doing this, you will be able to unlock your Aadhaar number successfully.
Note that UIDAI allows individuals to lock their biometrics information present in their Aadhaar card to prevent any kind of fraudulent activities. That said, remember that you will only be able to lock your Aadhaar number if you have a virtual ID (VID) generated under your name. 
Process to Generate a Virtual ID
In case you do not already have a virtual ID, you can generate it by following these steps :
Step 1
You will need to visit the web portal of UIDAI to retrieve or generate a Virtual ID.
Step 2
In the 'Aadhaar Services' section, you have to select 'Virtual ID (VID) Generator'.
Step 3
Now, on the next page, you will have to provide your 12-digit Aadhaar number, including a security code for verification purposes.
Step 4
After providing these details, you need to click on 'Send OTP'.
Step 5
After submitting the OTP, you can either click on 'Generate VID' or 'Retrieve VID'. After choosing your preferred option, click on the 'Submit' button to finish the procedure.
Within a few minutes, you will receive your 16-digit virtual ID on your registered phone number. Note that you can generate this for both yourself and your family members if you have relevant information with you.
Also Read: A Complete Guide To Link Aadhaar With Mobile Number
Final Word
Aadhaar has strengthened the overall safety and security related to one's identity. However, your biometrics data may still be compromised under certain situations. To nullify such threats, you can lock your Aadhaar biometric details at your convenience and unlock them later on.
Frequently Asked Questions
Q1. How much do I need to pay to lock and unlock Aadhaar biometrics?
Ans: Aadhaar locking and unlocking are procedures that secure your identity. The UIDAI does not charge any fee for locking your Aadhaar card biometrics. Similarly, you do not need to bear any charges when unlocking this information. 
Q2. Can I unlock my locked biometrics temporarily?
Ans: You can unlock your biometric information on Aadhaar temporarily. A user can do this for authentication. However, keep in mind that you will only have a 10-minute window to complete your authentication before the data is locked again. 
Q3. What are the prerequisites for locking Aadhaar biometric details?
Ans: To avail of the Aadhaar biometric locking and unlocking services, a card owner must have two things. First, you will need to have access to a virtual ID. Moreover, your mobile number should be registered with UIDAI and linked with Aadhaar. 
Q4. Can you specifically lock or unlock Aadhaar biometrics offline?
Ans: Presently, the UIDAI does not offer an offline procedure for locking or unlocking biometric details. You can lock/unlock the information using one of two ways. Either you can use the UIDAI website or the official mobile application for Aadhaar, known as mAadhaar. 
Q5. When should you lock your Aadhaar biometric information?
Ans: Even though the biometric information is mostly safe, they are still susceptible to misuse. If third parties get access to this data, they can misuse the same to acquire your bank account details or personal information. When you think that someone may have accessed your biometrics, you should lock the same information as soon as possible.
Before you go…
Looking for instant 🚀 personal loans 24*7 anywhere, anytime? Install the Navi app now!
Or, maybe you're looking to buy that house you've been eyeing 🏠 and you need a loan of up to Rs. 10 crores. Install the Navi app now and get your instant in-principle approval right away! Interest rates starting at 6.46% p.a.
How about an affordable health insurance policy 👨‍⚕️ starting at a monthly premium of just Rs. 241? Install the Navi app and get your policy in under 2 minutes
Instead, want to put your savings into action and kick-start your investment journey 💸 But don't have time to do research. Invest now with Navi Nifty 50 Index Fund, sit back, and earn from the top 50 companies.