When we need money for various requirements or financial situations, getting a personal loan could be a viable choice. Lenders offer a variety of loans, including Personal Loans, Home Loans, Car Loans, Gold Loans, and so on. Repayments are done in the form of EMIs or Equated Monthly Installments. Customers may, however, encounter financial difficulties as a result of unanticipated events, which may result in not paying the loan on time. The Loan Overdue Amount refers to a loan amount that a customer fails to repay on time.
Assume you have an EMI of Rs.9,000 that has to be paid within a specific date. If you fail to pay or miss your EMI within the due date, the amount will be recognised as a Loan Overdue Amount.
In such cases, the lender might charge an overdue interest rate or late payment fee on the due amount. If you miss EMI payments on a regular basis, the Loan Overdue Amount can significantly increase due to various penalties and additional interest that the lender may impose on late payments. Banks often charge late fees and an additional interest rate of 2% per month (Penal Interest Rate).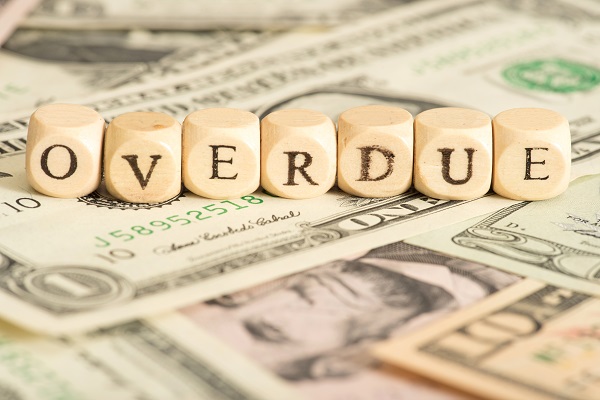 How Loan Overdue can Affect Your Financial Health?
Credit Score: Assume you take out a 20-year home loan and make on-time EMI payments. However, after 5 years, for the first time, you miss your EMI. Each of your missed transactions will be reported to several credit bureaus.
A single missed payment has little impact on your credit report. However, if you haven't paid your EMIs in the last three months, it will severely impact your credit score.
This may result in the rejection of future credit applications since lenders constantly review a person's credit record to assess their repayment history before disbursing a loan or providing a credit card. As a result, it is always a good idea to pay your loan on time. You must select the loan amount based on your needs and repayment capacity.
Also Read: Personal Loan Vs Credit Card
Late Payment Penalty
Before taking out a loan, you should make sure that you have a well-defined repayment strategy. Failing to pay your EMIs on time can affect your credit score, and that's a given. But that's not all, you may have to pay a penalty fee to your lender for late payment.
Depending on the type of loan, this additional Penal Interest Rate may vary from one lender to the next. For personal loans, it's usually 2% per month on the overdue loan amount.
Loss of security
If you have a Home Loan or any other secured loan, such as a Gold Loan, a Loan Against Property, or a Loan Against Securities (Shares, Mutual Funds, Bonds, and so on), the loan's late amount might lead to the loss of your collateral. Let's break this out a little more.
If the loan overdue amount has increased for the past three months, i.e., the borrower has not paid the EMIs for the previous 90 days, the loan could be categorised as a non-performing asset (NPA). In such cases, lenders typically send reminders and 60-day warnings about the Loan Overdue Amount.
If you do not pay the Loan Overdue Amount within the notification period, the lender has the right to liquidate the assets you pledged as collateral. However, lenders usually give a 30-day notice before the auction.
How can Personal Loan Help Clear Outstanding Payments?
It is how a personal loan can assist you in paying off past-due bills:
Debt Consolidation: In case you are paying multiple EMIs on different personal loan accounts, you can consolidate your debt under one personal loan with lower interest rates. This will help you close other loan accounts while you pay EMIs only for a single personal loan account.
An easier way to clear outstanding payments: Personal loans are more accessible than ever. All you need to make sure is to meet your lender's eligibility criteria. Once the loan is transferred into your account, you can clear your outstanding dues conveniently. However, note that you will still be in debt. Hence, gauge your repayment capacity before taking a loan.
Delay in paying the overdue sum increases the amount of interest that must be paid, resulting in a mountain of debt. Delaying payments lower your credit score and increase your chances of having your loan denied in the future.
Also Read: What Is Personal Loan Disbursal?
Final Word
Integrate healthy financial habits into your lifestyle so that you can pay your dues on time. Always ensure that you have a separate fund set aside for your EMI obligations.In case you're looking for a personal loan to clear your dues, you can download the Navi app. The loan application process is simple and 100% paperless, and you can get loans up to Rs.20 lakh at competitive rates starting at 9.9% p.a. Within minutes.
FAQs on Loan Overdue
Q1. How do I clear the outstanding loan amount?
Ans: If you're thinking about repaying debt, your savings account is the first place you'd look. You can use your savings to foreclose on the debt, but you'll need a significant amount of money to do so. Keeping your focus on a loan with the highest interest rate is a fantastic method to start paying off your obligations.
Q2. Can I take a loan to pay off another loan?
Ans: While you may utilise one loan to pay off another, be sure to read the tiny print of your loan terms and conditions carefully. Also, most importantly, gauge your repayment capacity before taking another loan.
Q3. Is it reasonable to clear a personal loan early?
Ans: Prepaying your current personal loan in full or foreclosing it can reduce the debt burden off your shoulder. However, it's your call entirely, whether you want to prepay your loan. Lenders like Navi doesn't charge any fee for personal loan pre-closure.
Before you go…
Disclaimer- Mutual Fund investments are subject to market risks, read all scheme-related documents carefully.