Aadhaar Card was introduced by the Unique Identification Authority of India (UIDAI) in 2010 to provide a unique identification number (UIN) to every Indian citizen.
If you have not applied for an Aadhaar card yet, you may want to do so as soon as possible. Many benefits such as government schemes, pensions and LPG subsidies can be availed with the Aadhar card.
Follow the given step-by-step guide to apply for an Aadhaar card now.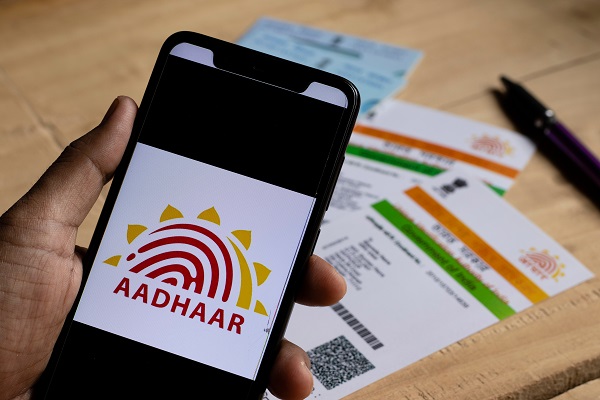 How to Apply for an Aadhaar Card?
Locate an Aadhaar Enrollment Centre Online
UIDAI (Unique Identification Authority of India) has authorised different entities to collect biometric and demographic data for the enrollment process. You can go to either an Aadhaar Enrollment Centre/Aadhaar camp or a Permanent Enrollment Centre to apply for an Aadhaar card. 
To locate an Aadhaar Enrollment Centre near your location, follow these steps:
Visit UIDAI's official website, go to the 'Aadhaar Online Services' section and click on 'Locate Enrollment and Update Centres'.
Fill out the name of the state, district, sub-district, city and enter the captcha code. 
Click on the name of the nearest Enrollment Centre to view its address, status (temporary/permanent) and updates in the last 30 days.
Visit the enrollment Centre with supporting documents
You will need to carry several documents as proofs of identity and age to enrol for an Aadhaar card. Make sure to carry the original documents and photocopies to the enrollment centre. 
The following is a list of documents required to apply for a new Aadhaar card.
Identity proof
Voter ID card, PAN card, passport, driving license, ration card, pensioner photo card, disability ID card, CGHS/ECHS card, ST/SC/OBC certificate with a photograph. 
Address proof
Water/electricity/telephone/gas bill, PAN card, passport, bank statement, passbook, driving license, Voter ID card, property tax receipt, credit card statement.
Age proof
Birth certificate, PAN card, government board/university issued mark sheet, SSLC book/certificate.
Proof of relationship documents
Marriage certificate, pension card, MNREGA job card, CGHS/ECHS/ESIC card, PDS card, any government family entitlement document, certificate of identity issued by village panchayat head. 
Process of Aadhaar Card Enrollment
Once you have all the required documents, follow these steps to enrol for an Aadhaar card:
Take a printout of the Aadhaar card enrollment form or collect the form at the enrollment Centre.
Fill out all relevant details such as name, DOB, gender, address and mobile number.
Check the form to make sure that there are no mistakes and submit it along with supporting documents and photographs.
Next, record your biometric information at the Centre. This includes a photograph of your face and your fingerprints & iris scans.
For children below the age of five, a parent/guardian has to submit their name, Aadhaar and biometrics information.
Make sure to collect the acknowledgement slip before leaving. This will contain the 14-digit Aadhaar enrollment number that you can use to track your application.
Also read: How To Apply Loan On Aadhar Card and Pan Card
How to Check the Status of Your Aadhaar Card Enrollment Online?
After you have received the acknowledgement slip, there is a turnaround time of 90 days for the Aadhaar generation. If you want to check the status of your application within this time, follow these steps:
Check the Enrollment ID in the mentioned slip. This is a 28-digit number with a 14-digit enrollment number and a 14-digit date and time stamp. You will need only the first 14 numbers to check the application status.
Go to UIDAI's website and click on 'Check Aadhaar Status' from the 'My Aadhaar' menu.
Click on 'Check Enrollment and Update Status'.
Enter the Enrollment ID and security code.
You can make corrections in the enrollment data within 96 hours or 4 days of applying for the new Aadhaar card. If you cannot do them within this period, you will have to wait till your Aadhaar card gets generated.
How to Download the E-Aadhaar Card Online?
After around 15 working days of enrollment, your Aadhaar application will be processed, and you will receive an update on your registered mobile number. This is when you can download a soft copy of the Aadhaar card called the E-Aadhaar card.
It is a digital and password-protected copy of your Aadhaar, which can be used for verification purposes. To download the E-Aadhaar copy online, follow these steps:
Go to UIDAI's official portal and select 'Download Aadhaar' from 'My Aadhaar'.
Select any of the given options- Enrollment ID, Aadhaar number or Virtual number.
Enter the 28-digit enrollment ID, 16-digit virtual ID or 12-digit Aadhaar number and security code.
Click on 'Send OTP' and enter the One Time Password you have received on your mobile number.
Click on 'Validate and Download' to get a copy of your e-Aadhaar card. It will be a password-protected PDF file, with the password being the first four letters of your name and birth year in YYYY format.
Also read: All You Need To Know About The Aadhaar Card Correction Form
Final Word
These days having an Aadhaar card is a necessity as the government requires it when availing of various services/benefits. Fortunately, the process to apply for an Aadhaar card is easy as you can get it done from any authorized enrollment Centre in India. 
Frequently Asked Questions
Q1. Can I make corrections to the details of my Aadhaar card?
Ans: Yes, you can make corrections both during and after the enrollment process. If you fail to submit corrections within the first 4 days, you will have to wait till the new card is issued. However, make sure that you have submitted a valid phone number as it will allow you to make corrections online.
Q2. Who can apply for an Aadhaar card?
Ans: Any Indian citizen residing in the country, regardless of age or gender, can apply for an Aadhaar card. As long as you have stayed here for 182 days or more, you can apply for it. NRIs and foreigners can also apply if they fulfil this condition. 
Q3. How can I update my residential address on the Aadhaar card?
Ans: You can update your residential address online via the official portal of UIDAI, provided that you have a registered and valid mobile number. To do so, log in with your Aadhaar Number, make a data update request and upload the necessary documents.
Q4. What is the Aadhaar enrollment procedure for children?
Ans: You can enrol children below five years of age, including infants, for the blue coloured Aadhaar card, called Baal Aadhaar card. When they become older than five years, you need to update their biometric details to keep the card valid.  Once they reach 15 years, you will need to update the biometric details again.
Q5. How can I lock the details of my E-Aadhaar card to prevent its misuse?
Ans: Follow the given steps to lock your E-Aadhaar card:
Step 1: Visit the official website of UIDAI.
Step 2: Enter your UID or VID, followed by the security code.
Step 3: Enter the OTP received on your mobile number.
Step 4: Pick a password for your Aadhaar card and click on 'Enable'.
Before you go…
Looking for instant 🚀 personal loans 24*7 anywhere, anytime? Install the Navi app now!
Or, maybe you're looking to buy that house you've been eyeing 🏠 and you need a loan of up to Rs. 5 crores. Install the Navi app now and get your instant in-principle approval right away! Interest rates starting at 6.40% p.a.
How about an affordable health insurance policy 👨‍⚕️ starting at a monthly premium of just Rs. 241? Install the Navi app and get your policy in under 2 minutes
Instead, want to put your savings into action and kick-start your investment journey 💸 But don't have time to do research. Invest now with Navi Nifty 50 Index Fund, sit back, and earn from the top 50 companies.