In 2019, UIDAI announced that Indian citizens can update certain details in their Aadhaar card only once or twice. However, your mobile number can be changed without any limitations using the online facility, or you can obtain the Aadhaar card mobile number update form by visiting the Aadhaar Enrolment Centre for the same.
The following steps talk about the procedure to get it done without any hassle.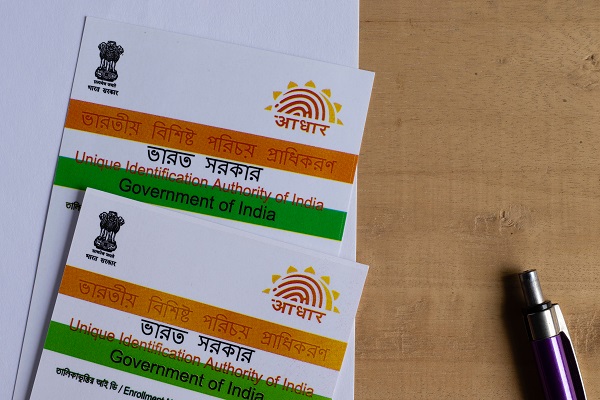 Process to Change Mobile Number in Aadhaar Card Online
Individuals need to follow these steps to update their phone number with Aadhaar:
Step 1: Visit the official site of UIDAI
Step 2: Enter your phone number that you want to update and submit the captcha code as well.
Step 3: Now, click on 'Send OTP' to get the one-time password on your phone.
Step 4: Submit the OTP and click on the 'Submit' button to proceed further.
Step 5: You will find a drop-down menu that notes 'Online Aadhaar Services', where several options such as name, email ID, address, mobile number, etc. can be found.
Step 6: You need to choose 'Mobile Number' from there and submit relevant information to update it.
Step 7: After that, you will be redirected to another page where you have to enter the captcha code.
Step 8: Next, you will get another OTP on your phone, which you need to verify.
Step 9: Click on 'Save and Proceed' to complete the process.
After completing the above-mentioned steps, you need to book an appointment at an Aadhaar Enrolment Centre. Also, make sure to carry your Aadhaar card while visiting the Aadhaar Seva Kendra, where you will have to pay a nominal fee to get the work done.
Note that those who do not have their mobile number linked with their Aadhaar card will not be able to use this procedure to change their number. However, there is an alternative way for that.
Also read: All You Need To Know About The Aadhaar Card Correction Form
Process to Change Mobile Number in Aadhaar Card without OTP
You need to follow these steps when your phone number is not registered with your Aadhaar card:
Step 1: To begin the process, you have to visit an Aadhaar Enrolment/ Update Centre.
Step 2: Collect an Aadhaar card mobile number update form and fill it up with necessary information.
Step 3: Here, you will not have to enter the previous contact number; just enter the new one.
Step 4: After the registration of your application request, you will receive an acknowledgement slip comprising the URN.
Step 5: To complete the process, pay a fee to the executive, and your number will be updated.
However, thanks to easy access to internet facilities, you can pretty much get all the official work done from the comfort of your home. To save your time and avoid unnecessary hassle, link your mobile number to an Aadhaar card online at home by using the online facilities offered by UIDAI.
Also read: List Of Supporting Documents Required For Aadhaar Card Registration
Final word
Since the Aadhaar card serves as the most important identification source, one must ensure that all details it contains are accurate. So, while changing your phone number, make sure you are providing all the required details in the Aadhaar card mobile number update form correctly; otherwise, your application might get rejected.
Frequently Asked Questions
Q1. How much time does it take to update the new phone number on the Aadhaar card?
Ans: Generally, after submitting the request, the new phone number gets updated in Aadhaar's database within 90 days. However, you have the online portal of UIDAI, where you can keep checking the status of your application online. 
Q2. Can UIDAI reject my update request?
Ans: Note that your update request can get rejected if you do not submit supporting documents that validate the change or due to a transliteration error. UIDAI will also reject the application if the submitted document is not self-attested. Make sure to keep these pointers in mind to avoid unnecessary hassle.
Q3. What is the process of checking my mobile number on the Aadhaar card?
Ans: You can simply send an SMS to 51969 after typing "UID STATUS – space – 14-digit enrolment number – on your mobile to check your contact number on the Aadhaar card. Here is an example for your reference: UID STATUS 0000000000
Q4. Do I have to pay any charges to change the mobile number at the Aadhaar Enrolment Centre?
Ans: Yes, you are liable to pay a nominal charge to get your phone number updated on your Aadhaar card. A fee of Rs.50 will be levied as a service charge which you need to pay to the executive at the Aadhaar Kendra Seva. 
Q5. Can I update my contact number on my Aadhaar card through the post?
Ans: Yes, for that, you will have to download the Aadhaar card mobile number update form, fill in the necessary details and send the form along with the self-attested document to any of the following addresses: 
Address 1: UIDAI
Post Box No. 10, Chhindwara, Madhya Pradesh – 480001, India
Address 2: UIDAI
Post Box No. 99, Banjara Hills, Hyderabad – 500034, India
Before you go…
Looking for instant 🚀 personal loans 24*7 anywhere, anytime? Install the Navi app now!
Or, maybe you're looking to buy that house you've been eyeing 🏠 and you need a loan of up to Rs. 5 crores. Install the Navi app now and get your instant in-principle approval right away! Interest rates starting at 6.40% p.a.
How about an affordable health insurance policy 👨‍⚕️ starting at a monthly premium of just Rs. 241? Install the Navi app and get your policy in under 2 minutes
Instead, want to put your savings into action and kick-start your investment journey 💸 But don't have time to do research. Invest now with Navi Nifty 50 Index Fund, sit back, and earn from the top 50 companies.