Personal loans are a type of unsecured loans which carry more interest rates in comparison to secured loans like home loans. After taking personal loans for the need of the hour, it is best to repay the loan quickly.
But why is that important? Scroll down to find out!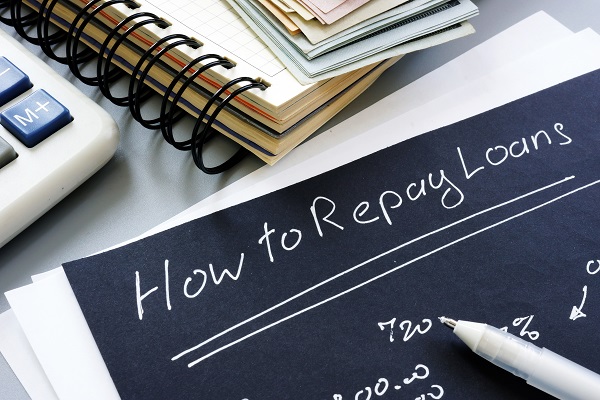 Why Repaying Personal Loans Is Important?
You may take a loan when you need to buy a home, during a medical emergency, etc. However, monthly repayments of these loans may restrict your day-to-day life.
Getting through a longer loan term may inhibit your other financial goals and hinder your ability to take another loan, if needed.
Hence to get your financial life more stable, paying off personal loans quickly is important.
In this post, we have shared a few points with you which may help you to repay your personal loans quickly. Take a look.
How To Repay Personal Loans Quickly?
You May Pay Over And Above Your Usual EMI
In order to fulfill your target of pre-closing your personal loan liability, you could try to pay a little above your usual EMI (Every Month Instalment). For example, if your monthly EMI comes to be ₹2300, then you could pay ₹3000 every month.
This would strictly depend on your ongoing financial situation and is recommended only if you could afford to do the same.
Calculate your average monthly expenses before drawing out extra money for paying the loan. Set an affordable EMI amount against your personal loan without compromising on your everyday essentials. Use Navi's EMI calculator to calculate monthly EMIs.
Also Read: What Is No Cost EMI And How Does it Work?
Transfer Your Personal Loan
Let's say, currently, you're paying 18% p.a. on your personal loan. To reduce your interest burden, you can always choose to transfer your loan to a new lender with a lower interest rate at 12% p.a. This means your EMI will reduce drastically. As a result, you will be able to repay your loan sooner. However, this process would need you to have a good credit score.
Use Bonus Cash For Loan Prepayment
If you somehow receive a bonus in your salary or any unexpectedly good returns from your investment, then divert a piece of that cash towards repaying the loan. This may help you to repay your personal loan earlier.
Also Read: Personal Loan Prepayment Calculator: Benefits & Steps To Use
Tweak Your Financial Habit
Curb your spending habits and control yourself from indulging in luxury when your personal loan account is still active. Instead, transfer the money to pay off your debt. Make up your mind to repay the debt first before spending the money elsewhere.
Tweak your plans of travelling, vacations, and other big and small spends until the debt is entirely paid off. Changing your financial habits could help you in achieving your target of paying off your personal loan earlier.
Start Making An Additional Pot
Put aside some money from your wallet daily. It's like building a piggy bank. This is the process of creating an additional fund to clear up the remaining dues earlier. By making a habit, you would be passively helping out yourself. Creating this fund would also restrain you from doing any not-needed expenses, as building up this pot would be squeezing additional money from you.
Final Word
Personal loans are helpful during a financial need or emergency. However, the interest rates are higher. That's why it is best to repay the personal loan quickly. Follow the 5 points mentioned above so that you can plan and save money in the long run by repaying the personal loan quickly.
Before you go…
Looking for instant 🚀 personal loans 24*7 anywhere, anytime? Install the Navi app on Android or iOS now!
Or, maybe you're looking to buy that house you've been eyeing 🏠 and you need a loan of up to Rs. 10 crores. Install the Navi app on Android or iOS now and get instant in-principle approval right away! Interest rates starting at 6.46% p.a.
How about an affordable health insurance policy 👨‍⚕️ starting at a monthly premium of just Rs. 241? Install the Navi app on Android or iOS now and get your policy in under 2 minutes
Instead, want to put your savings into action and kick-start your investment journey 💸 But don't have time to do research. Invest now with Navi Nifty 50 Index Fund, sit back, and earn from the top 50 companies.