Are you Looking for investments in your new venture? Or going through any financial difficulties or overspent last month because of a special occasion? Whatever be the reason, a personal loan can be obtained in any situation and help you solve any of your financial woes or investments that you are looking for. 
The best part about Personal loans is that they give you the flexibility to use the funds as per your requirements to plan your EMIs at your convenience. Personal loans are often unsecured and are quickly approved. 
Some common purposes for taking a personal loan: 
Education: be it for yourself or any of your family members. Can be used to repay college or school fees. 
Marriage expenses 
Vacations 
Home renovation 
Buying a vehicle (new or old) 
Buying new gadgets/ home appliances 
Investments for your upcoming business venture
Consolidating debt
Any other reason
Documentation required for availing personal loans: 
Getting a personal loan from Navi is very easy and straightforward. All we ask for is minimal documentation, once submitted you would be receiving personal loans in hours, here's the list of documents required for obtaining a personal loan: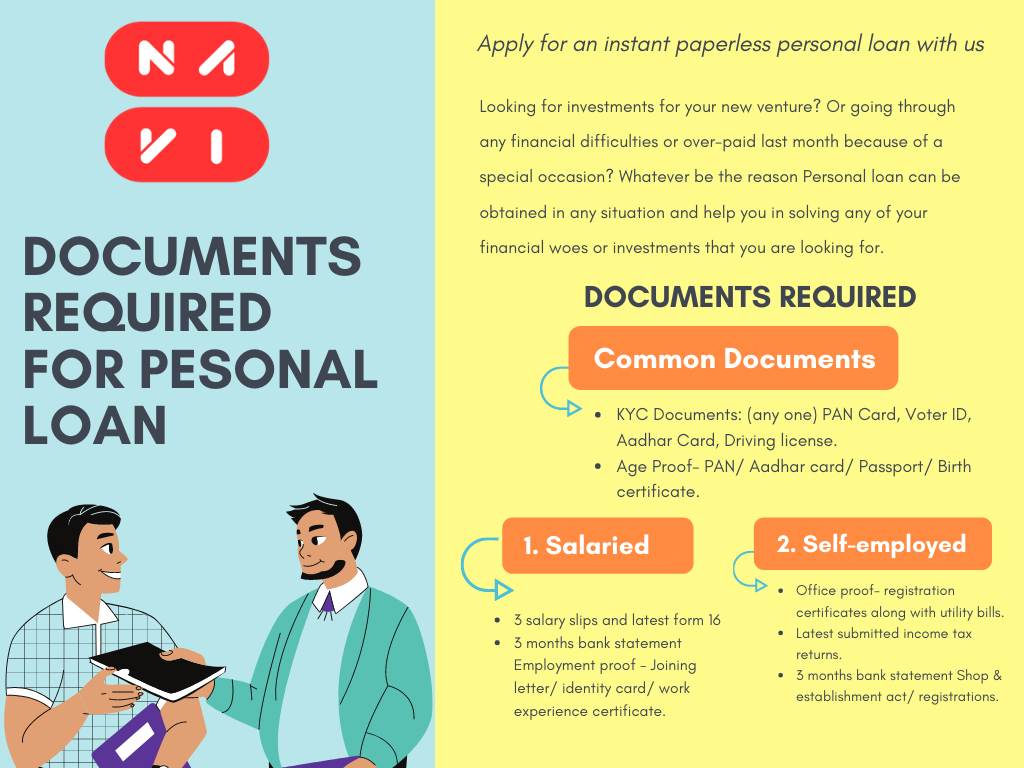 Personal loan documents required by salaried individuals for obtaining a personal loan: 
Income proof: salary slips for the last three months.
Latest from 16 (It's a certificate issued to salaried individuals from their employer when he deducts tax from the employee salary).
Last 3 months bank statement (where salary is credited). 
Employment proof – Joining letter/ identity card/ work experience certificate.
Passport size photograph.
Proof of identity: PAN Card/ Aadhar Card/ Voter's ID/ Driving license.
Proof of residence: Utility bills (not older than three months).
Personal loan documents required by self-employed/ entrepreneurs/ startup founders for obtaining personal loan: 
Income proof: Latest submitted income tax returns along with audited financials for the past 2 financial years. 
Last 6 months bank statement 
Office address proof-  incorporation documents/ registration certificates/ MSME/ GST registration/ Shop & establishment act certificate
Passport size photograph 
Proof of identity: PAN Card/ Aadhar Card/ Voter's ID/ Driving license
Proof of residence: Utility bills (not older than three months) 
Proof of continuity of business. 
Importance of loan documentation while applying for a personal loan:
Proper documentation is very important while borrowing money. When applying for a personal loan, the required documents are KYC documents + income documentation generally, which help lenders evaluate a prospective borrower's creditworthiness. 
It's really important to submit the proper documents needed for a personal loan, as even one incorrect document can result in the rejection of your loan application. The loan documents play a very important role, and if there are any deficiencies in the loan documents, the same needs to be corrected to assure full repayment. 
Apply for Instant Personal Loan with NAVI that too without any income proof:
Yes, you heard us right, no income proof is required. Yes, it's possible to avail a personal loan without furnishing any income proof. Features & benefits of personal loan when applied through Navi: 
Quick & easy 
Wide range starting at just Rs. 10,000 to Rs. 500,000/-
100% Paperless 
Instant approval within minutes 
No collateral 
No income proof needed
No hidden charges 
Minimal documentation 
Free EMI calculator 
Instant disbursal
Flexible payment terms
Tax benefits on interest payments*
5 Steps to avail of personal loan instantly: 
Enter basic details (name, residence, DOB, and likewise)
Enter your gross monthly income along with your repayment details: tenure (longer the tenure, better the chances of securing loans, lower the EMIs) 
Upload documents
Enter other EMI's if any
Get a quick disbursal of the loan in just minutes

Frequently Asked Questions
Purpose for what you can take a personal loan?
As the name says for itself, it can be taken for any reason as mentioned above also. From financing your marriage to going on a vacation, or can be used for debt consolidation or any financial emergencies.
Is income proof necessary to submit for a personal loan?
Not at all. You can easily apply from our website/ application paperlessly at your convenience.
How to apply for a personal loan without income proof?
You can apply directly through our website or application.
Is there any limit on the amount of loan I can apply for?
Is there any limit on the amount of loan I can apply for?
How much interest rate do I need to pay for availing the personal loan?
Ideally, the interest rate varies from 10% to 25% depending on your CIBIL score, income sources, and documents provided. 
Does a personal loan require any collateral?
No collateral or security is required for personal loans. Just minimal documents are required to be submitted when you apply through us.
Can you get a personal loan without a salary slip?
Yes, you can still apply for the same, especially if you are self-employed.