Does intraday trading interest you? Want to know what intraday trading is? To begin with, it is a trading mechanism on stock exchanges that has a huge earning potential within a short span of time. Intraday traders engage in buying and selling the same stock and use their price movements to book profits.
This article provides a detailed overview of the basics of intraday trading, how it works, how to select stocks, strategies you can use to maximise profits and the best indicators of intraday trading. Read on!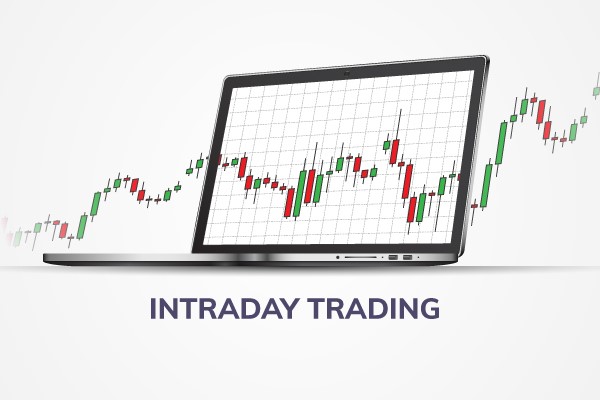 What is Intraday Trading?
Intraday or day trading refers to buying and selling stocks on the same day before the end of an exchange's trading session. The shares of a company face fluctuations or movements in terms of their prices throughout the entire day. Traders who speculate on the price fluctuations use it to their advantage and earn profits.
It is important to note that intraday trading requires one to complete his/her transaction before the closing of the markets, and failure to do so will allow brokerages to square off the investor's position.
How Does Intraday Trading Work?
Intraday trading functions on the principle of taking advantage of short-term increases and decreases in the price of stocks. Stock markets are highly volatile, and they exhibit dynamic fluctuations in their prices during a trading session. Traders engaging in day trading do not wish to own stocks; their primary target is to benefit from the price movements of particular stocks.
Let's understand how it works with the help of an example:
Suppose a trader wants to trade in shares of Reliance Industries on a particular day. At the beginning of the trading session, shares of Reliance Industries were trading at Rs. 2,240 per unit. He/she buys 500 shares of Reliance Industries at Rs. 2,240 per share.
Now, after 3 hours of trading, the stock price rose to Rs. 2,295. In such a case, the trader can indulge in intraday trade and sell all the shares bought by him. In doing so, he earns a profit of Rs. 27,500 (500*55).
Also Read: Things To Know Before Choosing A Mutual Fund Scheme In India
How to Do Intraday Trading?
Here are the steps you can follow to do intraday trading:
Create a trading account on a brokerage platform of your choice. You must carefully analyse the brokerage charges before selecting a broker.
After opening a trading account, continue buying the stock of a company of your choice. While placing an order, categorise your trades as "intraday". This will allow you to buy and sell the same stock in the same quantity during trading hours.
Intraday Trading for Beginners
Traders who are new to intraday trading are advised to look for stocks with high liquidity. These stocks must respond aggressively to any news or event.
The basic rule of day trading is buying at a lower price and selling at a higher price. Traders might also first sell stocks at a higher price and then buy them back at a lower value. Another advantage of day trading is that it comes with low brokerage fees and hence gives more margins to traders.
How to Select Stocks for Intraday?
Traders wanting to go for day trading must be careful with their stock selections. They are advised to choose stocks that have high liquidity so as to have any chance for decent returns. One must also decide the stop-loss and maximum profit he/she wants to achieve.
How to Make Profit in Intraday Trading?
Individuals engaging in day trading should approach it practically. They are advised to align their trades as per the market sentiments. One must swim along with the prevailing market trends to be profitable. If the markets are bullish, traders can buy and sell frequently so as to earn several small profits. It is an ideal approach rather than waiting for one big move.
On the other hand, if the stock market is bearish, one can short sell the stock and purchase it again at lower prices to earn small amounts of gain. Traders can do more than one trade a day to reach optimum levels of profit.
Intraday Trading Strategies
Here are some intraday trading tips that traders must adopt if they wish to be successful in intraday trading:
Time your trade
One of the most important strategies that traders can follow while engaging in day trading is timing their trade as efficiently as possible. The goal should be to enter markets in a low-risk position and formulate better stop-loss strategies.
Every trading pattern offers some kind of entry and exit signals that denote when you should enter a trade and when you must exit the same. Individuals must adhere to these signals and decide their entry and exit strategies. After entering a trade, traders can exit when their desired gains are achieved, or maximum loss is breached. There has to be a clear and definite exit plan once a position is taken.
Careful selection of stocks
Another strategy that one must earnestly follow is the proper selection of stocks for trading. The right stocks will help mitigate the risks involved with day trading while minimising capital erosion.
Initially, traders can start with one or two stocks in order to understand the risks, patterns and characteristics of intraday trading. One should choose stocks with high liquidity as they can be bought and sold easily. Small cap stocks which are unpredictable should be avoided.
Prepare and follow a plan
Another thing that people must follow is preparing a comprehensive intraday trading plan and following it diligently. Traders should have their targets in mind while trading. There should be a profit target and stop-loss target to which traders must strictly adhere.
It is imperative to not be greedy in search of excess profit and breach their stop loss figure as well. Traders are advised to follow a disciplined method of trading and not take impulsive and emotional decisions. Non-adherence to their plan can lead to heavy losses.
Advantages and Disadvantages of Intraday Trading
First, let's consider the advantages of day trading:
Individuals can take advantage of the price movements of the stocks and thereby take suitable positions which will allow them to earn significant profits.
Intraday trading comes with lower brokerage costs. One can completely avoid the delivery charge that firms levy on traders.
Now let's focus on the disadvantages:
There is no actual delivery of shares in intraday trading. It means he/she will not become the owner of the shares at the end of the trading session.
Intraday trading is a risky affair. It may give individuals an opportunity to generate profit, but at the same time, if market conditions are not favourable, it may lead to huge losses.
Also Read: Hedge Fund vs Mutual Fund: Where Should You Invest In 2022?
Best Indicators for Intraday Trading
Here are some indicators for intraday trading that one must look for:
Moving average: Offers information about the trends in the market
Bollinger bands: Indicates the volatility in the market
Relative Strength Index: Indicates whether a stock is overbought or oversold in the market
Commodity channel index: Indicates new trends in the market
Stochastic oscillator: Compares the closing price of a stock to a range of prices over a period of time
Final Word
Day trading or intraday trading is a popular trading method in the stock market. The potential for high returns in a short span of time is a major factor in enhancing its popularity. However, traders should follow some of the basic strategies of intraday trade to generate profits. This detailed guide about what is intraday trading, how it works and tips for trading will help investors in making an informed decision.
FAQs on Intraday Trading
Q1. Is a Demat account necessary for intraday trading?
Ans: No, a Demat account is not mandatory for day trading. This account is only required for the physical delivery of stocks. In intraday trading, the trades are settled in cash and one does not receive shares at the end of the day. A trading account with a stock broker is sufficient to start intraday trading.
Q2. What is the moving average in day trading?
Ans: The moving average is an important indicator of day trading. It helps traders get information about market trends, directions and stop-loss targets. One can prepare suitable trading strategies by assessing moving averages.
Q3. What is stop-loss order?
Ans: A stop-loss order is a tool used by intraday traders to avoid huge losses. A trader can direct stock brokerages to initiate a stop-loss order if the price of a stock has fallen to a minimum that an investor can endure. Selling procedures will get triggered once the stock reaches the minimum price value.
Q4. What is the difference between intraday and delivery trading?
Ans: The stocks bought during delivery trading are delivered to the buyer's Demat account. He/she can hold these stocks or sell them. On the other hand, in intraday trading, individuals do not receive actual delivery of shares in their accounts.
Q5. What is fundamental analysis?
Ans: It is about understanding the true worth of a company and its stock. One has to carefully analyse a company's balance sheet, profitability, financial ratios, etc., to analyse the value of its shares. This helps traders to decide whether a particular stock is worth it for a long or short-term investment.
Before you go…
Want to put your savings into action and kick-start your investment journey 💸 But don't have time to do research? Invest now with Navi Nifty 50 Index Fund, sit back, and earn from the top 50 companies.
Disclaimer: Mutual Fund investments are subject to market risks, read all scheme-related documents carefully.
This article has been prepared on the basis of internal data, publicly available information and other sources believed to be reliable. The information contained in this article is for general purposes only and not a complete disclosure of every material fact. It should not be construed as investment advice to any party. The article does not warrant the completeness or accuracy of the information and disclaims all liabilities, losses and damages arising out of the use of this information. Readers shall be fully liable/responsible for any decision taken on the basis of this article.