The tenure for short term loans generally ranges from about a month to a year. They are usually unsecured, which is a plus point. This means that you don't have to pawn any property as a security to avail them. This is beneficial for people who are not able to get a loan from financial institutions for a longer tenure for several reasons. You can download the Navi App to avail of short term loans quickly and easily.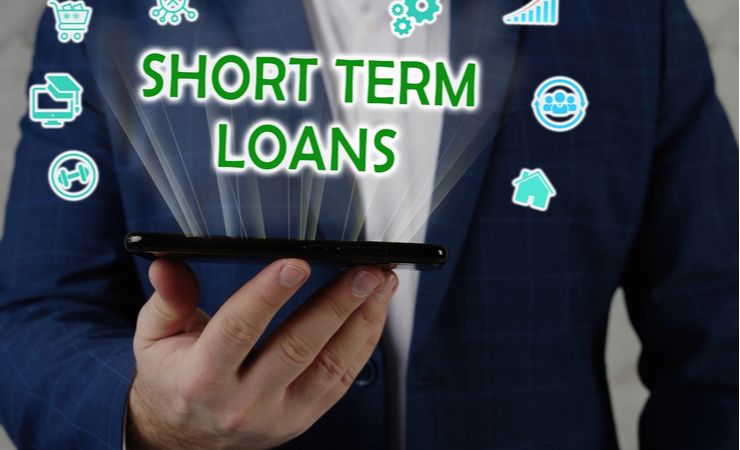 Types of Short – term loans
Trade Credit
Trade credits are extended for 30 days and can be procured at no additional cost to meet short term commitments for trade-related purposes. The lender allows you to complete the payment for the credit, without charging you extra for it. Some lenders also offer flexible payment plans for this.
Personal Loan
You can procure a personal loan to meet personal needs such as travel, renovation of your home, education needs, and so on. Personal loans are often extended based on your income, credit score, and ability to repay. Many personal loans don't require any collateral.
Overdraft
This privilege exists for current accounts where you can withdraw money or undertake expenses despite not having a sufficient account balance for it. An interest rate is levied on the overdraft amount.
Demand Loans
Demand loans can be procured to meet an urgent financial needs. You can pledge your life insurance policy or other financial instruments in order to procure it.
Features and benefits of a short term loan
Short term loans do not require you to pledge collateral in order to procure them.
A lower amount of documentation is needed in order to apply for a short term loan.
Many short term loans have a flexible payment option where you can set up your own repayment plan. In long-term loans, usually, you have a fixed repayment plan.
It's easier to procure a short term loan, and you can procure them through a completely online process through apps like Navi.
short term loans get quickly approved and have a faster disbursal.
Among short term and long-term loans, short term loans tend to be more for personal use in nature.
The amount borrowed through short term loans can get credited straight away to your bank account, allowing you to use the money as you please.
You can avail of short term loans, and pay them back on time to improve your credit score.
What do financial institutions look for during a loan approval process?
Following are the eligibility criteria for a short term loan application.
Credit Score: A credit score of 650 or above is needed.
Occupation: They should be self-employed or on a salary.
Loan Application Age: Starts between 18-25 years, and usually goes up to 65 years.
Minimum Income: The individual must have met the minimum income criteria highlighted by the lender.
The ability to repay is essential in both short term loans and long-term loans.
Documents that you require for short term loans through Navi:
To sanction a short term loan, the following documents are required:
Proof of identification
Proof of age
PAN card
Address proof (Driver's license/Voter's ID/Passport/Electricity bill or Phone)
Income proof
Recent coloured photographs
There might be some additional documents required in rare cases. It is advisable that you check the document requirements thoroughly before applying.
Short term v/s long-term loans
| | |
| --- | --- |
| Short term Loans | Long-Term Loans |
| Short term loan period is generally from a month to a year. | For a long-term loan, the tenure is longer and can range from a year to almost 25 years of time. |
| Certain short term loans let the borrower pay back in their own stride. | Long-term loans have fixed EMIs and regular payments. |
| Short term credit can be availed for a variety of personal reasons. | Long-term loans are disbursed based on a particular requirement that needs to be proven before acquiring the loan. |
| It is simple to get short term loans if you have the repayment capacity and the minimum credit score. | Long-term loans have a lot of terms and conditions that need to be met before they are disbursed. |
| short term loans generally range between INR 5000 and INR 3 Lakhs. | Long-term loans can be well over 3 lakhs. |
| Extensive documentation and collateral are not necessary. | Extensive documentation and collateral are needed. |
How to put up an application for a short term loan through Navi?
To apply for a loan through Navi, you first need to download the app.
Their approval process is entirely online.
You pick a short term loan as your preference.
Submit the documentation for the relevant approvals.
You can even call on available customer care numbers in case of any issues.
You don't have to pledge any collateral, and you will seamlessly receive your personal loan!
With this information, you're all set to apply for a loan through Navi. It also offers you an internal loan calculator that allows you to accurately determine the cost you will incur and the right amount you need to apply. Navi's inbuilt tools can significantly aid you in your quest to acquire easy and affordable short term loans. Go ahead and explore the wonders of Navi and meet your financial commitments. All that remains is for you to head over to Navi and download now to avail the benefits!