A loan paid over an extended period of more than 3 years is called a long-term loan. This time period can be anywhere between three to thirty years. Car loans, home loans, and certain personal loans are a few examples of long-term loans.
In the financial industry, long term loans are the most preferred and popular method of sanctioning loans. This post discusses types, features, benefits, eligibility, documents needed and how to apply for a long-term loan. Read on!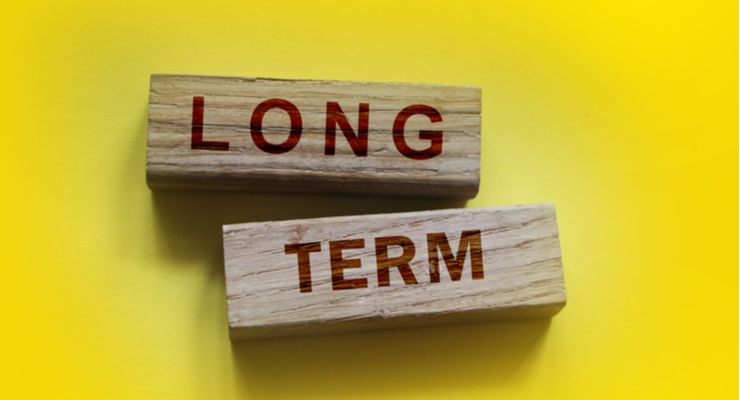 Types of Long-Term Loans
There are many types of long-term loans:
Home Loans

: One of the most well-known examples of long-term loans is home loans. The term of a home loan is usually much longer than three years, and the loan amount is substantial. Collateral must be supplied to the bank, and the loan application must be signed by a guarantor. Home loans also give the buyer the option of choosing between fluctuating and fixed interest rates.

Car Loans

: In recent years, car loans have gradually become the most necessary loan product. Taking car or auto loans has increased significantly since banks made it easier to secure credit for the purchase of vehicles. Because automobiles are considered luxury commodities, the interest rates on these loans are greater than those on housing loans.

Personal Loan:

Personal loans that offer a repayment term of more than 3 years come under the category of long-term loans. These long-term personal loans can be taken for marriage and other personal needs.

Education Loan:

An education loan is a sum of money borrowed to pay for post-secondary education or expenses associated with higher education. Education loans are designed to pay the costs of tuition, books and supplies, as well as living expenses while a student is pursuing a degree. Payments are frequently deferred while students are in college, and depending on the lender, they may be extended for another six months after graduation. A "grace period" is a term used to describe this time period.

Small Business Loan:

A small business loan is a fixed amount of money borrowed from a lender by a business owner or co-owners. Both parties sign a predetermined agreement that specifies the amount lent as well as the interest you'll pay back over time.

Long Term Payday Loans:

A payday loan is a sort of short-term borrowing in which a lender lends you money at a high interest rate based on your salary. The loan's principal is usually a percentage of your next paycheck. Payday loans have high interest rates since they are used for short-term credit. They're also known as check advance loans and cash advance loans.
Features of Long-Term Loans
Low Interest Rate:

Because long-term loans have a longer repayment period, banks and other lending institutions charge lower interest rates on these loans. As a result, vehicle and home loans have lower interest rates than personal loans.

High Loan Amount:

Long-term loans are typically for larger sums of money. As a result, compared to short-term loans like personal loans, home loans, auto loans, and other large loans are available. Because these loans are typically backed by the submission of collateral, banks are not hesitant to provide large loan amounts to long-term loan applicants.
Tax Benefits: Long-term loan repayment is eligible for tax benefits. This, however, is dependent on the loan kind. For example, a vehicle loan is a luxury loan that does not qualify for a tax break, whereas a home loan is a loan for the essential requirement of dwelling and thus qualifies for a tax break on loan payback. These tax advantages are governed by the Income Tax Act.
Eligibility Criteria for Long Term Loan
There are certain eligibility parameters that are laid down by the lenders and out of those most common ones include:
| | |
| --- | --- |
| Age | Between 18 and 65 years of age. The minimum age can also be increased to 21, 23, or 25 years in some cases. |
| Interest rate | Starts at 6.64% p.a. |
| Credit Score | Your credit score should be at least 720. If your score is below 720, the loan application might get rejected. |
| Employment | You should either be salaried or self-employed. |
| Income Level | There is a minimum income that you should earn every month to qualify for the loan. The level varies across lenders. |
Documents Required for Long Term Loan
A collection of documentation must be submitted to the lender in order to apply for a personal loan:
PAN Card, Aadhar Card, driving license or voter ID.

Salary slips.

Three months bank statements.

Recent photos.
However, it is important to understand that banks may levy some charges. We have listed the same below.
| | |
| --- | --- |
| Processing Charge | INR 700 to INR 2500 |
| Stamp Duty | As applicable |
| Prepayment Charge | At 2% to 6% of the outstanding principal loan amount. |
| Interest on overdue EMI | At 2% per month of the overdue tenure |
| Swapping of cheque | INR 500 per instance |
| Other legal charges | As applicable and non refundable |
| Change schedule for amortization | INR 200 |
How to Apply for a Long-Term Loan?
Applying for a long-term loan has become easier and hassle-free with Navi. Here's how you can apply for a personal loan at Navi:
Fill in your PAN card details and other basic details.

The 3rd and final step is the approval and the validation of the loan which is done instantly by Navi, without keeping the user on edge for a long time.

The loan amount will be transferred to your bank account after the PAN card and other KYC details are verified.
Benefits of Long-Term Loans at Navi
Easier & Hassle Free Disbursal Process:

With evolving technology and developing marketing trends, the mindset of the consumers are also evolving each day. Today, consumers are no longer interested in standing in long queues just for banking assistance. Navi with a vision and an idea of 'loan at one touch' is revamping the financial industry and redirecting it to instant, easier, and hassle-free disbursal of long-term loans.

Faster Disbursal Process:

The Navi application makes the loan application procedure easy and less time-consuming. Navi has made it possible that consumers do not need to overburden themselves with the paperwork and file loads, they can carry their loan application in their pockets and get smooth credit assistance in less than 48 hours to dive in towards their dreams and aspirations. The best part is that you can avail personal loans for business needs as well.

Minimum Documentation:

To obtain loan financing, only the bare minimum of documentation is required. The lender processes your loan application promptly, and you can get funds in the shortest time possible. If your credit score is high, you can avail loans at lower interest. That's one of the perks to add to the list.
Also Read: Loan To Purchase Land: Features, Eligibility And Documents Required
Final Word
Long-term loans have become one of the most popular financial instruments as banks offer various options that help you choose the correct loan that suits your financial requirement. Whether you need it for buying a house, car or for a small business or any other personal purposes, a long-term loan is one of the beneficial financial help you can bank on. To get fast and easy long-term loans, down the Navi app on Android or iOS now!
FAQs on Long-Term Loans
Q1. What impact does my income play in obtaining a long-term loan? 
Answer: In order to secure long-term financing, an applicant's income is critical. Banks grant loans to consumers depending on a variety of factors, including regular income. The amount of a loan you are qualified for is determined by the size of your annual wage.
Q2. Are only individual clients eligible for long-term loans? 
Answer: No, it is not. Long-term loans are available to business customers for a variety of objectives relating to the operation or expansion of their company. Business clients, on the other hand, will have slightly different documentation requirements and eligibility criteria.
Q3. How do long-term loan interest rates compare to short-term loan interest rates? 
Answer: In comparison to short-term loans, long-term loans often have lower interest rates. Long-term loans, such as mortgages, may also give customers the option of fixed or fluctuating interest rates.
Before you go…
Looking for instant 🚀 personal loans 24*7 anywhere, anytime? Install the Navi app on

Android

or

iOS

now!

Or, maybe you're looking to buy that house you've been eyeing 🏠 and you need a loan of up to Rs. 10 crores

. Install the Navi app on Android or iOS now and get instant in-principle approval right away! Interest rates starting at 6.46% p.a.
How about an affordable health insurance policy 👨‍⚕️ starting at a monthly premium of just Rs. 241? Install the Navi app on Android or iOS now and get your policy in

under 2 minutes.

Instead, want to put your savings into action and kick-start your investment journey 💸 But don't have time to do research. Invest now with

Navi Nifty 50 Index Fund

, sit back, and earn from the top 50 companies.