Time for carols, plum cake, gifts and unlimited happiness! Christmas holiday on 25th December is a much-awaited National holiday every year for adults and kids all over the world as well as in India. This Holy day marks the birth of Jesus to Mother Mary and Joseph. From decorating the Christmas tree and indulging in lavish food to attending Mass – Christmas is one of the most joyous occasions.
Christmas Holiday 2022 Date and Other Significance
Christmas Holiday Date (2022)
25th December (Sunday)
Also known as
Nativity, Noel or Nowell, Midwinter, Geola, Natiuiteo
Significance
Commemoration of the nativity of Jesus, the birth of Jesus Christ
Celebrations
Midnight Mass, Christmas tree decoration, light paper lamps in star shape, gift exchange, feast, etc.
Observances Date
December 25(Western Christianity and part of the Eastern churches)
January 7 (O.S. Dec. 25)(Most Oriental Orthodox and part of the Eastern Orthodox churches)
January 6(Armenian Apostolic Church and the Armenian Evangelical Church)
January 19 (O.S. Jan. 6)(Armenian Patriarchate of Jerusalem)
Related to
Christmas eve, Boxing Day, Baptism of the Lord, Nativity Fast, Christmastide, Advent, St. Stephen's Day, Annunciation, Old Christmas, Epiphany, Yule
Significance of Christmas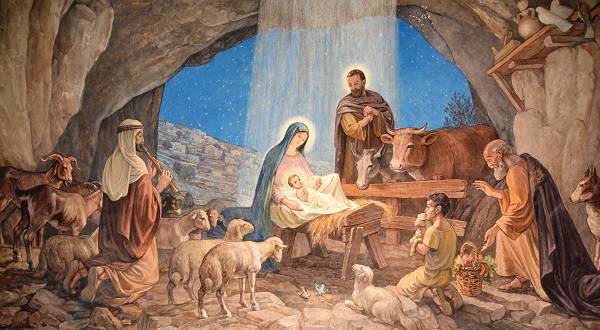 The word 'Christmas' originates from the word Ctistes Maesses or Mass of Christ. The day Jesus Christ, the son of God was born is celebrated as Christmas. Jesus was born in Bethlehem, Jerusalem. Magi brought him gifts and angels proclaimed that Jesus is the saviour of people.
In AD 336, Christmas was first celebrated on 25th December (the date of winter solstice for Romans). And, it was exactly nine months after 25th March, the date of the vernal equinox, the conception of Jesus (celebrated as Feast of the Annunciation).
Also Read: Diwali 2022: Diwali Holidays – The Festival of Lights
Why is Christmas Celebrated on December 25th?
December 25th is an auspicious day for Christians around the world. It is the day when Jesus Christ was born. While there are many dates that are thought to be the true date of Jesus' birth, 25th December is the date of the winter solstice for Romans.
A tradition started in AD 336 to celebrate Christmas on December 25th, which is celebrated to date. This is perhaps because it was exactly nine months after 25th March, the date of the vernal equinox, the conception of Jesus. March 25th is celebrated as the Feast of the Annunciation.
The grand Christmas festival during the winter months has become a part of every culture. Christmas holidays are especially a happy time for kids who receive gifts and get to eat Christmas desserts.
How is Christmas Celebrated in India?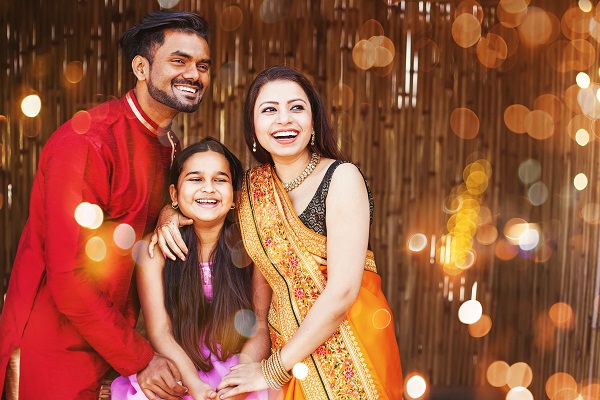 Christmas celebration in India is with family and friends exchanging gifts and decorating the Christmas tree, the house and the altar with lights and mistletoe. Some also decorate the grotto with Mother Mary holding baby Jesus on her lap.
Citizens who follow Christianity attend the midnight Mass on Christmas eve (24th December) as well as the special Mass on 25th December. Prayers and Mass in English and regional languages take place with huge gatherings inside churches. Christmas mass is open to all irrespective of their faith and belief.
Kids sing carols in the Church and at home. On Christmas eve, they hang a sock in the window to receive gifts from Santa Clause. Adults take part in plum cake baking that they also distribute amongst friends, family and neighbours. Usually, the gifts are wrapped and placed near the Christmas tree. The gifts are opened before a lavish three-course meal with family and friends.
In some cities in India, roads are decorated with lights, and the traffic police work to keep the roads leading to famous churches clear. Some roads are closed to vehicular traffic after a particular time to give pedestrians space to move freely and enjoy this beautiful festival that anyone is welcome to celebrate.
State and local government offices are closed on Christmas. Most private companies, schools and colleges are also closed. Banks are closed on Christmas day.
During the Christmas holiday, most businesses, especially bakeries, malls, etc. play carols, which add to the warm festive vibe.
Christmas Traditions in India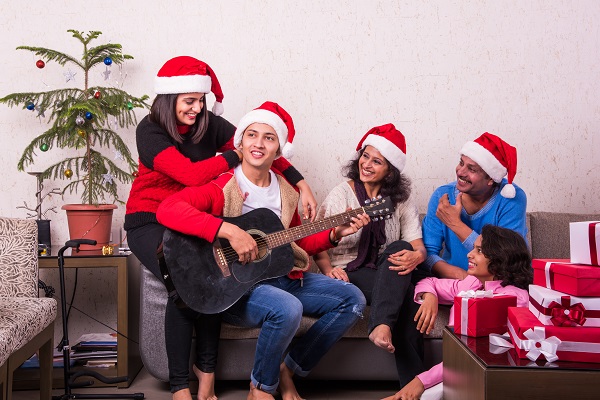 Popular Christmas traditions in India are:
Attending the Midnight Mass
Wish 'Merry Christmas'
Decorate the house with mango and banana leaves
Decorate Christmas tree
Decorate the Mother Mary grotto
Bake plum cake
Make biriyani and kheer
Exchange gifts and cards
Light clay lamps
Sing carols
Hang star-shaped paper lanterns
Have roasted chicken on Christmas eve
Hang sock for Santa Clause to drop gifts
Where is Christmas Celebrated the Most in India?
While Christmas is celebrated all over India, in some states the population of Christians is higher compared to others. According to a survey, 23% of the Indian population is Christian. And the state with the highest number of Christians are:
Goa
Kerala
Tamil Nadu
Pondicherry
Manipur
Maharashtra
Nagaland
Assam
Mizoram
Meghalaya
Arunachal Pradesh
5 Best Places to Celebrate Christmas Holiday in India in 2022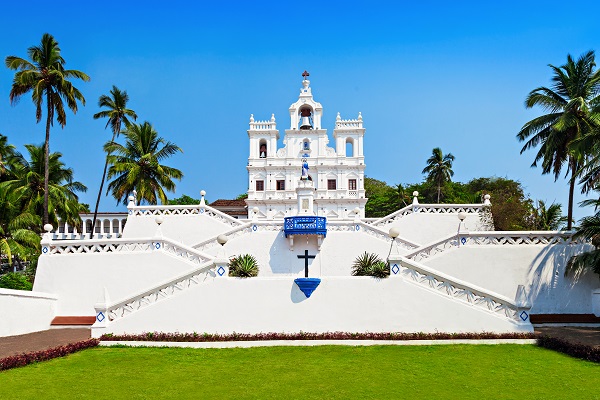 1. Pondicherry – The Indian Riviera
With a French Colonial past, Pondicherry has become one of the best travel destinations during Christmas. Cathedrals and gothic churches are decorated with lights and traditional banana and mango leaves.
The pleasant weather during December is also perfect for visiting Pondicherry and enjoying the beaches, checking out White Town, cafes and bakeries and not to forget the Instagram-worthy vibrant walls for people to click pictures.
Must-visit Church – Domus Dei Cathedral
Places to stay – Anantha Heritage, Nomad House
Things to do – Attend Midnight Mass, visit Paradise beach, check out bakeries
Nearest Railway Station – Puducherry Railway Station
Airport – Pondicherry airport, Lawspet, Pondicherry (U.T) – 605008
2. Mumbai – City of Dreams
Glittery Christmas trees in the malls, shops, sidewalks, cafes and bakeries with carols floating in the air – Christmas has an urban vibe in Mumbai. December weather, festivities and lights make Mumbai worth visiting before or on the 25th of December.
Must-visit Churches – St. Thomas Cathedral, Basilica of Our Lady of the Mount and Afghan Church
Places to stay – Holiday Inn, Backpacker Panda Hostel
Things to do – Attend the Mass, visit cafes and beaches
Nearest Railway Station – Mumbai Central
Airport – Chhatrapati Shivaji Maharaj International Airport, Mumbai, Maharashtra 400099
3. Goa – The Land of Sun, Sea & Surf!
If there's any place you want to be at this time of the year, it is Goa! Why? From gothic churches and cathedrals to beaches and pubs – everywhere there's an undeniable joyous Christmas vibe that will make you love this holiday destination even more. Kids singing carols, beach parties, Christmas trees, paper stars in every house and the sleepless neighbourhood would definitely help you have a good time on Christmas.
Must-visit Churches – Santa Cruz Church, Se Cathedral, Basilica of Bom Jesus
Places to stay – Cosy Woods Hill Resort, Lemon Tree Hotel, Golden Tulip Grand View Resort
Things to do – Visit churches, beer on the beach, Jazz shows, check out local art
Nearest Railway Station – Vasco-da-Gama and Margao
Airport – Goa International Airport, Airport Rd, Dabolim, Goa 403801
4. Kerala – God's Own Country
If you are looking to celebrate Christmas minus the conventional party vibes, Kerala is the place to be! Kerala is not just beautiful with its lush green valleys and backwaters, during Christmas, the lights, decorations and festivities make Kerala one of the top destinations.
Enjoy the cloud-covered hills, beautiful sunsets and mouthwatering food to celebrate Christmas this year in Kerala.
Must-visit Churches – Edathua Church, Basilica of our Lady of Dolores Church, St. Francis Church
Places to stay – Wayanad Silverwoods Resorts, Zostel Kochi
Things to do – Visit Churches, explore food, stay in boathouse
Nearest Railway Station – Ernakulam Junction, Trivandrum Central
Airport – Cochin International Airport, Cochin-682 031
5. Shillong – Scotland of the East
If you prefer mountains, Shillong in Meghalaya is the best place to visit during Christmas holidays. Lush green mountains, blue lakes, fresh air and mesmerising sun rises blend beautifully with the Christmas vibe that people of Shillong celebrate with pomp.
With talented musicians in every house, good food and wine – for sure Shillong during Christmas is not going to let you down.
Must-visit Churches – Shillong Baptist Church, Cathedral of Mary Help of Christians
Places to stay – La Tngenlang Homestay, Roinam Retreat, The Heritage Club, By The Way Hostel
Things to do – witness the lighting of the century-old fir tree, attend Midnight Mass, explore cafes and food, visit Umiam Lake
Nearest Railway Station – Guwahati Railway Station
Airport – Shillong Airport, Umroi, Meghalaya 793103
5 Traditional Christmas Desserts in India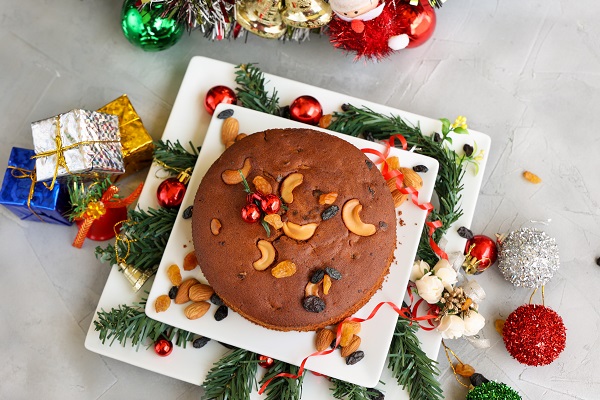 What's Christmas, err…, any celebration without dessert, right? But Christmas calls for special desserts that are inspired by Indian as well as foreign influences. Here's a list of 5 traditional Christmas desserts in India:
Kulkuls: This traditional Christmas dessert from Goa looks like Conchiglie pasta. Kulkuls are a variation of Portuguese Filhoses Enroladas. With less than 10 ingredients, you can make Kulkuls at home with family, kids and friends in just 30-45 minutes.
Plum Cake: Traditionally, a month before Christmas, cut dry fruits are soaked in rum for a month before adding them to flour, butter, sugar and egg batter and baking. Rum cake is moist, sweet and spongy. Even if you do not soak dry fruits in rum for a month, you can soak them overnight to make delicious plum cake on Christmas.
Badam Halwa: Almond, ghee, sugar, milk and saffron – just 5 ingredients for this delectable Christmas dessert from India. Also known as almond fudge, this halwa smells, looks and tastes heavenly. Especially on a cold December night, you would enjoy a few spoons of warm badam halwa.
Kheer: Kheer is a delicious Indian dessert made of rice, milk, ghee, sugar, dry fruits and saffron. It's easy to make and can be stored for a couple of days. Tastes great, warm or cold! For Christmas, kheer is one of the most loved desserts that Indians love to cook and eat.
Perad: Made of pink guava, Perad is made with butter and lemon juice. This delicious guava cake tastes nothing like you have ever had before. This Goan sweet is soft and chewy and smells unworldly! Cut Perad into cubes and serve them. Perad can also be stored for a few days.
Also Read: List Of Holidays In India (2022) To Plan Your Trips Ahead!
Final Word
Christmas holiday 2022 is an upcoming festival on 25th December, which is a Sunday. Start planning your Christmas so that you can enjoy the Christmas weekend with friends/family or just with yourself in the way you want to. With so many places to visit, things to do, gifts to choose and food to cook, for sure Christmas is going to be busy for you. Hope you and your loved ones have a Merry Christmas 2022. Don't forget to hang a sock for Santa to drop the gift you are so wishing for!
Last minute travel plans during Christmas but you're short on cash? Don't worry, we have you sorted. Get an instant cash loan with Navi and plan your Christmas celebrations tension-free. Enjoy loans up to Rs.20 lakh at attractive interest rates. Instant disbursal in less than 20 minutes with ZERO paperwork. Download the Navi app today!
FAQs on Christmas Holiday
Q1. When is Christmas celebrated?
Christmas is celebrated on the 25th of December every year. The entire Christian community of the world comes together to welcome baby Jesus with prayers and Mass. In India too, Christmas is celebrated by singing carols, decorating the house and indulging in a lavish feast.
Q2. Does Christmas have Pagan roots?
Historians believe that Christmas may not fully have Pegan roots. But a few Christmas traditions come from pre-Christian Paganism, according to historian Ronald Hutton of Bristol University, UK. In the first century AD, when Christianism was spreading through Europe, Christian missionaries ran into people who lived by various regional and local beliefs. These people were grouped together and termed as 'pagan'. 
The Latin meaning of the word is 'field'. So, Paganism is an integral part of Christianism and Christmas celebrations. For example, decorating the Christmas tree is derived from the Pagans, as per historian Ronald Hutton. The significance of the Christmas tree is that it symbolises eternal life.
Q3. What is Christmas eve?
December 24th is known as Christmas eve. Prayers and Midnight Mass are held in churches to welcome Jesus Christ. The Festivities for 25th December begin on Christmas eve. People in India of Christian religious belief start preparing for their biggest festival. Decorating the house, baking plum cake, singing carols, etc. are all part of Christmas eve.
Q4. Which country celebrates Christmas in summer?
We know Christmas as a winter festival. However, due to their geographic location, a few countries have the summer season during Christmas! They are:

Australia
Newzealand
South Africa
Argentina
Madagascar
Bolivia
Q5. Why is Boxing Day celebrated?
Boxing Day is celebrated on 26th December in the UK and a few European countries. Traditionally, on this day, the poor received gift boxes from well-to-do families. Today, it has become more of a shopping day. If Boxing Day is on a Saturday or Sunday, the following Monday is declared a public holiday. However, Boxing Day is not celebrated in India.
Q7. Do Indians celebrate Christmas?
Yes, Indians celebrate Christmas on 25th December every year. The Christian community celebrates Christmas as a religious festival by praying and attending church Mass. Different parts of India celebrate Christmas in their own way. But the central theme and customs remain the same. Other communities are also welcome to take part in the festivities such as decorating the house, eating plum cake and other Christmas special food and dessert, taking part in Christmas carols, wishing their Christian friends "Merry Christmas", etc.