The 'Festival of Lights' is one of the biggest and most anticipated festivals in India. This is a festival of new beginnings and signifies the triumph of light over the forces of evil and darkness.
Do you wish to celebrate the Diwali holidays in 2022? Read along to find out the rich history of this festival and think of ideas for vacations.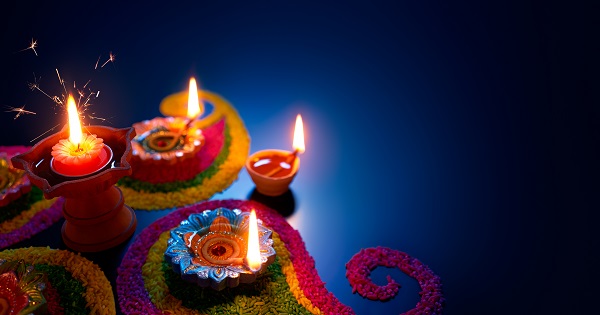 Background of Diwali (Deepavali)
The name Diwali is derived from the Sanskrit word Deepavali, which literally means 'rows of lighted diyas'. According to Ramayana, this festival started when Lord Ram and Sita returned home after 14 years of exile. The people of Ayodhya lit up the whole kingdom with diyas, which is why it is an integral part of this festival.
This is also the day of worship for Goddess Lakhsmi and God Ganesha for good luck and prosperity. After lighting up their homes with diyas, people participate in the 'puja'.
This is also a day of celebration for Sikhs and Jains. Sikhs celebrate the release of Hargobind Singh (their sixth guru) from prison, while Jains celebrate the moment when Lord Mahavira reached Nirvana.
When Will Diwali Be Celebrated in 2022?
This festival's date changes every year on the international calendar (Gregorian calendar) as it is based on the Hindu lunar calendar. It is observed on the 15th day of the month of Karthik (8th month) on an Amavasya (new moon day). Diwali in 2022 will be celebrated on Monday, October 24.
Days of Celebration
The days before and after Diwali coincide with festivals like Dhanteras, Hindu New Year and Bhai Dhuj etc. These are the Diwali holidays in 2022.
Saturday, October 22 2022: Dhanteras
Business owners worship Lakhsmi, the goddess of wealth, while people buy gold or new kitchen utensils to bring wealth and prosperity.
Sunday, October 23 2022: Choti Diwali
Many people start decorating their homes with string lights and create rangolis (intricate designs on floors)
Monday, October 24 2022: Diwali and Lakhsmi Puja
The day of the new moon is the official day of Deepavali. People light up every corner of their homes with diyas (clay oil lamps) and worship Goddess Lakshmi.
Tuesday, October 25 2022: Padwa
On this day, celebrations are dedicated to the bond between spouses. On this day, a wife prays for the prosperity, wealth and long life of her husband.
Wednesday, October 26 2022: Bhai Duj
On this day, sisters perform a special ceremony for the protection of their brothers. This is the fifth and last day of the Diwali celebration. 
Public Life during Diwali Holidays in 2022
The day of Diwali is a public holiday for most Indians. Most self-employed and salaried people either take some days off or do not have to go to work.
As various regions in India have distinct festivals during this time, public holidays may be on distinct days. However, many Indians prefer taking the entire week off work to enjoy time with their families.
Banks, post offices and government offices remain closed during these days. Commercial outlets like shops and restaurants may be closed or have reduced working hours throughout the week.
Best Indian Destinations for Diwali Holidays in 2022
Varanasi
This holy city is a great destination to enjoy the cultural and religious side of this festival. The streets, stairs and Ghats of Ganga are decorated with thousands of diyas. Other attractions include a spectacular display of fireworks over Ganga and the ritual of Ramlila.
Jaipur
The Pink City would be one of the most popular destinations for the Diwali holidays in 2022. The markets and homes of the city would be beautifully decorated with colourful string lights while the roads would be lit up with electric lights. 
Delhi
This is a great holiday destination for shopping during the Diwali holidays. The capital city is famous for Diwali markets and fairs. Dilli Haat is one of the biggest bazaars, famous for its traditional handicrafts and various other items.
Kolkata
In the 'City of Joy', people celebrate Kali Puja during the time of Deepavali. Many temporary 'pandals' are made all over the city, which countless people visit to look at statues of Goddess Kali.
Amritsar
In Amritsar, Sikhs from all over India celebrate Bandi Chhor Divas. This was the day when Guru Hargobind Sahib was released from unjust imprisonment. The famous Golden Temple in Amritsar looks spectacular as it is draped in lights and oil lanterns.
Final Word
Diwali is the most widely celebrated festival in India, with more than a billion people participating in its celebrations. People light lamps, enjoy feasts, visit their relatives and exchange gifts, creating happiness and prosperity for all. To make the most of your Diwali holidays in 2022, you may want to plan a vacation well in advance.
Frequently Asked Questions
Q1. Is Diwali a popular festival outside India? 
Ans: Yes, Diwali celebrations take place across the world for Hindus and non-Hindus alike. The festival is an official holiday in countries such as Sri Lanka, Nepal, Singapore, Fiji, Myanmar, Mauritius, Pakistan etc. In the UK, Leicester claims to hold the biggest Diwali celebrations outside India. 
Q2.  How do people in Tamil Nadu celebrate Diwali?
Ans: People in Tamil Nadu usually clean their homes and decorate them with rangoli patterns. Many take an oil bath before sunrise with the belief that it is the same as a bath in River Ganga. After this, they wear new clothes and distribute sweets among family members. 
Q3.  What is the festival of Naraka Chaturdashi in Goa?
Ans: In Goa and other regions of Western India, people celebrate the day before Diwali as Naraka Chaturdashi. As per mythology, this is the day when Goddess Durga and God Krishna defeated the evil demon Narakasura. For this, they make and burn the effigies of the demon. 
Q4. What is the Dev Diwali festival?
Ans: People of Varanasi celebrate Dev Diwali 15 days before Diwali. According to mythology, the gods gather at the Ganga River at this time. People celebrate this day by lighting clay lanterns and setting off fireworks. 
Q5. What are some of the popular regional holidays in India?
Ans: Some popular regional holidays in India are as follows: 
Sonam Losar (Sikkim)
Telugu New Year (Telangana)
Vishu (Kerala)
Puducherry Liberation Day (Pondicherry)
Seng Kut Snem (Meghalaya)
Garia Puja (Tripura) 
Maharashtra Day (Maharashtra) 
Ramdev Jayanti (Rajasthan)
Before you go…
Looking for instant 🚀 personal loans 24*7 anywhere, anytime? Install the Navi app now!
Or, maybe you're looking to buy that house you've been eyeing 🏠 and you need a loan of up to Rs. 5 crores. Install the Navi app now and get your instant in-principle approval right away! Interest rates starting at 6.46% p.a.
How about an affordable health insurance policy 👨‍⚕️ starting at a monthly premium of just Rs. 241? Install the Navi app and get your policy in under 2 minutes
Instead, want to put your savings into action and kick-start your investment journey 💸 But don't have time to do research. Invest now with Navi Nifty 50 Index Fund, sit back, and earn from the top 50 companies.