The Aadhaar card issued by UIDAI (Unique Identification Authority of India) is an ID card that contains a 12-digit unique identification number and all your details such as name, age, address, gender and more. It is accepted everywhere for verification purposes. You can easily update/change the details of your Aadhaar card online using UIDAI's portal.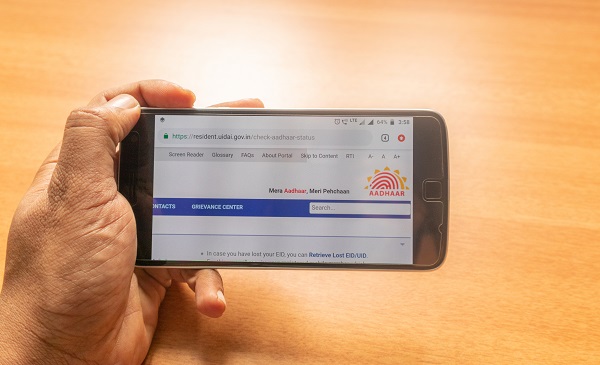 How to Update Details of Your Aadhaar Card Online?
To update/change any details such as name, address, date of birth, gender or language in your Aadhaar card online, you can do it using UIDAI's self-service portal. All you need is your Aadhaar number and registered mobile number.
Here are the steps to change data to update your details:
Step 1: Go to the Self Service Update Portal (SSUP) of UIDAI.
Step 2: Click on the 'Login' option, enter your Aadhaar number and click on 'Send OTP'.
Step 3: Enter the One Time Password received on your registered mobile number and click 'Login'.
Step 4: Select 'Update Demographics Data' on the next page.
Step 5: Select the fields you want to update and fill in the latest details.
Step 6: Submit the form by clicking 'Proceed' to get the URN (Update Request Number) which you can use to track status changes on the website.
Step 7: Select the BPO to get a review of the update.
Step 8: Now, you will need to upload scans of the original supporting documents, which will be verified at a later stage.
Step 9: Check the Aadhaar update status using the URN.
How Can You Update Your Address in Aadhaar Online?
You can change your residential address on your Aadhaar card on the official portal of UIDAI if you have a registered mobile number. Follow the given steps to do this:
Step 1: Visit the UIDAI's official Self-Service Update Portal (SSUP).
Step 2: If you have supporting documents for address proof, click on 'Update Address in your Aadhaar'
Step 3: On the new page, click on 'Proceed to Update Aadhaar'.
Step 4: Enter the Aadhaar number and captcha and click on 'Send OTP'.
Step 5: Fill in the received OTP and click on 'Update Demographics Data'.
Step 6: Add the new address and submit the data by clicking on 'Proceed'.
Step 7: Upload scans of the documents to validate the address change.
Changing Your Aadhaar Card Details at a Permanent Enrollment Centre
Certain changes such as biometric data, mobile phone numbers in Aadhaar etc., cannot be done online. In that case, you will want to visit a Permanent Aadhaar Enrolment Centre near your location.
Aadhaar holders who have turned 15 years old should visit the place to update their biometric details- fingerprints, iris scans and photographs. You can also update all sorts of demographic details, including address, DoB and gender at the centre.
A UIDAI/Registrar authorised verifier is responsible for the collection of the documentary evidence at the time of processing the request. You will get an acknowledgement slip with the URN after you submit the form, which you can use to track the request.
Also read: List Of Supporting Documents Required For Aadhaar Card Registration
How to Update your Mobile Number on Aadhaar?
You will need a mobile number registered with your Aadhaar card to access the online services or the mAadhaar application. If you do not have a registered number, you will also not be able to get an OTP (One Time Password) on it for authentication purposes.
If your previously registered number has been deactivated or you want to add a new number, follow these steps. Note that there is no need for documents for this update.
Step 1: Visit a nearby Permanent Enrolment Centre.
Step 2: Fill up the Aadhaar card update/correction form.
Step 3: Make sure you have entered a current and active phone number. Next, submit the form to the Aadhaar operative.
Step 4: After manual verification of proof, pay the necessary fees for the update service.
Step 5: The operator will enter the details and provide a biometric sign off for every update.
Step 6: After confirmation of changes, you will get an acknowledgement receipt with the URN.
Also read: All You Need To Know About The Aadhaar Card Correction Form
Things to Remember While Updating Your Aadhaar Details
You can update your name on the Aadhaar card only twice in your lifetime. Hence, you should be careful when applying for a name change.
You can change your date of birth and gender only once. Moreover, a change in DoB is possible only if it is unverified.
Double-check any changes you have entered to ensure that the data and spelling are correct.
Note down the URN somewhere just in case you lose the acknowledgement slip.
Make sure to provide documentary evidence for the updates you have requested.
For changes due to life events (marriage, change of residence), make sure to update your Aadhaar card details.
Final Word
You can use UIDAI's official portal to update various demographic details on your Aadhaar card, provided that you have a mobile number that is registered with UIDAI. For some changes, you will have to visit an Aadhaar Enrolment Centre in person. It is also recommended that you update your biometric details once every 10 years to keep your Aadhaar card up to date.
Frequently Asked Questions
Q1. What documents are required for online updates? 
Ans: For a change of name, you will need to upload a scanned copy of proof of identity. You will need to provide age proof to update your date of birth and provide OTP authentication for updating your gender.
Q2. Do children's Aadhaar cardholders need to update their biometric details?
Ans: Yes, children holding Blue Aadhaar cards (Baal Aadhaar) need to update all their biometric data once they reach 5 years of age. Furthermore, after they reach 15 years of age, they will need to provide new biometric data again. 
Q3. Are there any provisions for exemption for biometric data for specially-abled citizens?
Ans: Yes, if you have ill-defined or missing fingerprints, the person capturing your biometrics will note your exemption. Similarly, people with cataracts, retina damage, and partial or complete blindness can get an exception for the iris scan. 
Q4.  What is the e-Aadhaar facility?
Ans: An e-Aadhaar is a password-protected digital copy of your Aadhaar card, which you can use for all purposes. To download this soft copy, visit UIDAI's website and provide your Aadhaar number or Enrolment ID to download the electronic copy of your Aadhaar card. 
Q5. What factors can cause the rejection of my Aadhaar card correction?
Ans: The following are some possible causes of rejection in relation to your Aadhaar card correction:
Absence of adequate documents for verification of changes
Documents sent for verification were not self-attested
Incorrect information was provided
Details mentioned in the form did not match with the documents attached
Before you go…
Looking for instant 🚀 personal loans 24*7 anywhere, anytime? Install the Navi app now!
Or, maybe you're looking to buy that house you've been eyeing 🏠 and you need a loan of up to Rs. 5 crores. Install the Navi app now and get your instant in-principle approval right away! Interest rates starting at 6.40% p.a.
How about an affordable health insurance policy 👨‍⚕️ starting at a monthly premium of just Rs. 241? Install the Navi app and get your policy in under 2 minutes
Instead, want to put your savings into action and kick-start your investment journey 💸 But don't have time to do research. Invest now with Navi Nifty 50 Index Fund, sit back, and earn from the top 50 companies.