A New Fund Offer or NFO is the introductory offer made by an asset management company (AMC) when it launches a new mutual fund scheme. It is through such offers that fund houses raise the initial capital required to purchase financial instruments such as stocks, bonds, etc.
If you are interested to invest in NFOs, learn what are NFOs, how they work, their types, benefits and risk factors, read on!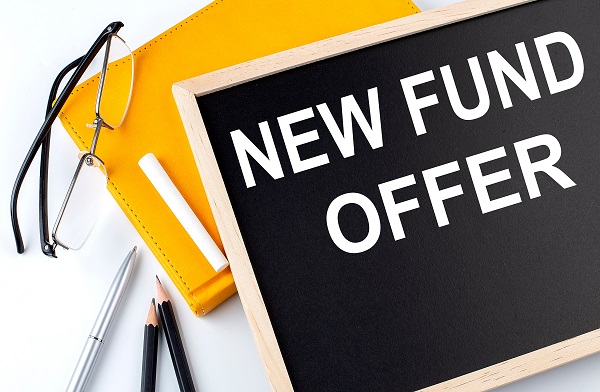 How Do New Fund Offers (NFOs) Work?
Post-launch, NFOs are open for subscription for a limited period. During this timeframe, individuals can invest in the mutual fund scheme at the offer price. As per regulations of the Securities and Exchange Board of India (SEBI), NFOs can remain active for not more than 15 days. Moreover, in general, the offer price of a new fund offer is fixed at Rs. 10 for each unit.
Once an NFO mutual fund closes, existing as well as new investors have to buy units of the scheme as per the applicable net asset value (NAV).
Also read: List of Upcoming New Fund Offers (NFO) in 2022
Types of New Fund Offerings (NFOs)
Here are the different types of NFO funds: 
Open-ended Funds
As the name suggests, open-ended funds are always open for investment and redemption. In other words, once the NFO period is complete, you can enter or exit the scheme anytime you like.  
Close-ended Funds
In the case of close-ended mutual fund schemes, you will not be able to enter or exit the scheme even after the NFO mutual fund period is over. You can redeem the units post completion of the maturity period, which usually ranges from three to five years.
How long does an NFO stay open for
As per SEBI regulations, a New Fund Offering can remain active in the market for a minimum period of 30 days. The offer price to subscribe to the NFO is Rs.10. The collected revenue can be utilised in procuring securities of various publicly traded companies that are listed on a stock exchange. 
Benefits offered by New Fund Offers (NFOs)
Now that you understand the NFO meaning and are aware of its different types, it's imperative to know the benefits of investing in them. So, here are some advantages of subscribing to NFOs:
Possibility of earning higher returns
As mentioned above, the price of each unit of an NFO mutual fund is usually Rs. 10. It is likely that the NAV increases post-completion of the NFO period. Thus, investors can benefit if there's a significant difference between the net asset value and the NFO price of the fund.
Instils investment discipline
Many individuals invest in mutual fund schemes; however, they end up redeeming their units within a few years. Then, they are not able to achieve their investment objectives. However, close-ended NFOs make individuals much more disciplined at investing as one has to remain invested in a scheme for a specific period owing to the lock-in period.
Thus, investors have a higher chance of fulfilling their financial goals. However, there's also the factor of flexibility when it comes to NFOs. If investors want to avoid lock-in periods, they can opt to invest in an open-ended new fund offer.
Also read: Aggressive Growth Mutual Funds: Benefits & Top 5 To Invest In
New investment strategies
Asset management companies are launching various innovative schemes these days that involve the use of new hedging strategies to maximise portfolio value. By subscribing to NFOs, you can get the chance to enter such schemes before they open to all investors.
How to invest in new fund offers
It is possible to invest in new fund offerings both online and offline. You need to have completed your KYC, failure to which the application will get rejected. 
An offline mode is wherein you fill up the physical form, and sign with your folio number / other details after verifying your KYC status.
An online mode is wherein you fill up the NFO application online. You can verify KYC status and then proceed to invest online. 
Risk and Returns
Unlike existing mutual fund schemes, new fund offers do not have a performance history. It could become difficult for investors to estimate future returns owing to the unavailability of past returns and other key metrics. On account of the uncertainty, NFO funds can be risky. That said, if investors are looking to subscribe to any of the ongoing or upcoming mutual fund NFOs, they must consider certain crucial aspects, some of which have been explained below…
Reasons to invest in new fund offers
The NFO is used by the fund house to raise capital from the public to invest in securities, bonds, shares, etc.
NFO is attractive to investors as it is available at a low price.
NFO is cheaper than the existing funds as it is new to the market.
Who should invest in new fund offers
Most investors look for investment opportunities when the market reaches a particular height. Whether it is gold or real estate, they desire to enter the market, expecting it to rise further. They prefer investments that are available at a cheaper rate. The AMCs price the NFO at a discount to attract investors, and investors see this as a buying opportunity and as a value for money subscription to it.
Things to Keep in Mind while Investing in NFOs
Here are some vital aspects investors need to take into account before subscribing to NFO mutual funds:
Nature of financial instruments
Investors must refer to the offer document that an asset management company files with the SEBI. It consists of all key details related to the upcoming mutual fund scheme. From here, investors can get to know the nature of the underlying financial instruments.
Individuals can also find the objectives of the fund in the offer document. It gives an idea regarding vital details, such as asset allocation, estimated returns, liquidity and more.
The reputation of the fund house
Individuals should also look into the credibility of an asset management company before deciding whether to subscribe to any of its NFOs. Also, investors must ensure to check the backgrounds of the fund managers, especially in the case of actively-managed mutual fund schemes.
Investors have to pay a minimum subscription amount to invest in a new fund offer as per the terms and conditions. This is one of the most vital factors to consider when deciding whether to invest in NFO mutual funds or not.
Also read: How To Compare Mutual Fund Schemes Before Choosing The Right One?
How is a mutual fund NFO different from an IPO?
First and foremost, an IPO is an initial offer made by the company to the public for a subscription of its shares. While an NFO is the first offer of units in a mutual fund scheme just launched and shown to the investors.
IPOs have separate quotas for retail investors and even offer additional discounts. However, there are no such special benefits to retail investors in the case of mutual fund NFOs.
In an IPO, the usage of funds is very important as that will determine whether the IPO money will add value to the investor or not. NFOs decide the level of the market and will determine at what valuations the fund will invest.
The IPO price is indicative of the perceived value of the company. When it comes to NFOs, most of the fund NFOs come out at a price of Rs.10.
An IPO can list at a premium to the issue price or at a discount depending on the demand, market conditions and news flows. However, NFOs normally open with a discounted NAV.
The IPO price is determined by forces of demand-supply while NFO only has an indicative unit value.
Final Word
While NFOs can be highly rewarding for investors, there's no certainty whether they'll deliver substantial returns, just like any other market-linked instrument. It is, thus, imperative that you consider various important aspects, such as the scheme's objectives, returns generated by similar funds, etc. before subscribing to an NFO. To start investing, visit the Navi Mutual Fund.
*Disclaimer: Mutual funds are subject to market risks. Please read the offer document carefully before investing.
FAQs on New Fund Offers (NFOs)
Q1. What is the minimum subscription amount for NFOs?
Ans: The minimum subscription amount of an NFO usually ranges from Rs.500 to Rs.5,000. Post completion of the KYC process, individuals can invest an amount that is equivalent to or more than this amount.
Q2. How risky is it to invest in new fund offers?
Ans: Investing in NFOs could be risky. NFOs don't have a performance history where one can check the asset allocation and risks involved.
Q3. What is the allotment process of new fund offers?
Ans: Once the NFO period of a new scheme closes, the mutual fund company allots the units of the new scheme within five days. If you don't get an allotment due to mistakes in application forms or incomplete KYC, the fund house refunds the application money
Q4. What happens after I subscribe to an NFO?
Ans: Once the NFO closes, the asset management company allots units of its new mutual fund scheme within a period of five days. Do note, that if you do not get an allotment, it might be because of errors in the application or unsuccessful KYC verification.
Q5. What is the maximum number of NFOs that a fund house can launch?
Ans: SEBI's regulations do not allow asset management companies to go overboard when it comes to NFOs. Fund houses cannot have more than one mutual fund scheme in each category.
Before you go… 
Looking for instant personal loans 24*7 anywhere, anytime? Install the Navi app on Android or iOS now!
Or, maybe you're looking to buy that house you've been eyeing and you need a loan of up to Rs. 10 crores. Install the Navi app on Android or iOS now and get instant in-principle approval right away! Interest rates starting at 6.71% p.a.
How about an affordable health insurance policy starting at a monthly premium of just Rs. 241? Install the Navi app on Android or iOS now and get your policy in under 2 minutes
Instead, want to put your savings into action and kick-start your investment journey But don't have time to do research. Invest now with Navi Nifty 50 Index Fund, sit back, and earn from the top 50 companies.
Disclaimer- Mutual Fund investments are subject to market risks, read all scheme-related documents carefully.