Meticulously planning loan repayments can help you manage your monthly budget carefully. Today, with tools like EMI calculators available for customers to use, you also have the option of figuring out your repayment tenure to ensure that repaying your loans is not stressful.
Here are some simple tips that will help you plan your home loan, business loan, or personal loan repayments easily: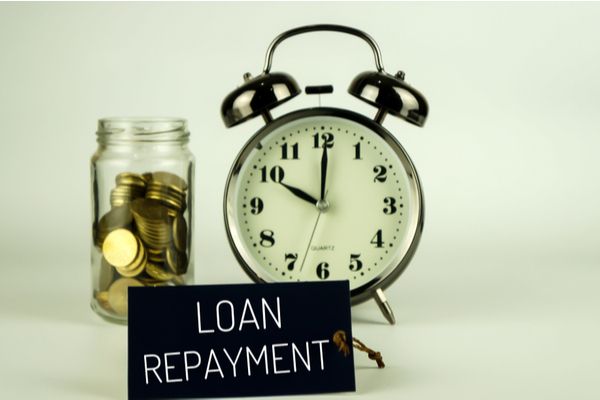 What Is a Loan?
A loan is a financial instrument that helps you get financial assistance when needed. These loans may be secured or unsecured. There are two types of loans— secured and unsecured. In the case of secured loans, you have to provide assets as collateral. Unsecured loans are provided even without any collateral. No matter what the type of loan is, making sure that credit repayment is timely can help you maintain a good credit score for any future financial assistance.
What Is Loan Repayment?
Loan repayment is paying back the principal amount borrowed along with interest charged by the bank. Borrowers have the option of repaying in the form of a monthly instalment over the loan tenure, called EMI or equated monthly instalment.
The simplest option is to check the EMI payable using an EMI calculator. Alternatively, you can ask your bank or the financial institution that you choose to give you an amortization chart that provides a detailed account of the loan's entire tenure.
This information helps you decide if repaying a particular loan is affordable or not.
Also read: 5 Ways To Quickly Repay Your Personal Loan
Types of Loan Repayment
Since there are different types of loans available, types of loan repayment are different too. Here are some of the loan repayment options available in India:
Home Loan Repayment
This specifically caters to paying your home loan. Home loan EMI repayments usually come with longer tenures – ranging between 10 years and 30 years. The interest rates are also on the lower side because of the bigger ticket size compared to personal loans.
2. Personal Loan Repayment
Personal loan repayments have shorter tenures, usually up to 7 years. The interest rates are also in the higher bracket compared to home loans because of the smaller ticket size and the fact that personal loans are unsecured loans, as in you don't need collateral or a guarantor to avail of one.
3. Auto Loan Repayment
This is applicable for auto financing – car loans or bike/two-wheeler loans. Auto loans usually have a tenure more than a personal loan but less than home loans. Auto loan interest rates usually start from 7.50% p.a. but can differ from lender to lender.
Point to note: Always use an EMI calculator before taking a loan. It will help you plan better.
How does Loan Repayment work?
If you opt for an EMI or a bullet payment for your credit repayment, the amount is deducted from your bank account automatically each month on a given date. While applying for the loan, you must provide the bank account details that you want the EMI to be deducted from. An Electronic Clearing System or ECS enables loan repayments.
In the case of prepayments, you can say that the options for repaying are net banking services, cheques, or DDs as per the loan provider's guidelines.
Ensure that the necessary EMI amount is available in the bank account before the due date every month. If the ECS bounces, the borrower is liable to pay a late payment fee. This fee is as per the guidelines mentioned in the loan sanction letter.
When you apply for any loan, you need to consider a few factors that will help you budget repayment carefully:
Your Monthly Income and Expenditure:

You need to factor in mandatory expenses like rent, food, other EMIs, education fees, etc. This will help you choose a loan with an EMI that fits your budget to make repaying easier.

EMI Payable:

EMI or equated monthly instalment refers to the monthly credit repayment that you need to make towards the loan. This depends on the principal amount and the interest rate.

Tenure of the Loan:

Also known as the term of the loan, this is the time that you have for repaying the loan. The higher the tenure, the lower the EMI. However, early repayment loans are a better choice as you can save on making payments towards the interest.
Why Repaying a Loan on Time Is Important?
Avoid late payment charges:

Overshooting the due date on personal loan repayment attracts late payment charges.

Avoid losing assets:

When you fail to make payments on secured loans for a long time, the bank can sell your assets to recover the loan.

Avoid any legal issues:

The bank may file a suit when you fail to make your personal loan repayments as per the conditions provided in the loan sanction letter.
How Repaying Loans Affects Credit Score?
Repaying loans on time helps you maintain a good credit score. Even if your credit score is low currently, making timely credit repayments will help you improve it.
Every time you default on repaying the loan, details are sent to the credit bureau. This reduces your credit score, making it harder for you to get approval on any future financial assistance.
Getting a loan or a credit card is highly recommended if you have the repayment capacity. This helps you open up your credit score. Remember, even a NIL credit score does not allow you to secure any financial aid. As long as you keep repaying the loan as per the guidelines provided, you will be able to maintain a good credit score.
Also read: What Should Be Your Credit Score For Home Loan
Different Options to Repay Your Loan
Bullet Repayments:
With bullet payments, you only have to repay the interest every month and repay the entire principal amount in one go at the end of the tenure.
Partial Prepayment:
Borrowers also have the option of early loan repayments by paying an amount higher than the EMI. This helps you pay off a larger chunk of the principal.
Also read: How To Use Personal Loan Prepayment Calculator
Foreclosure:
Repaying your loan on time requires some planning in advance. If you have multiple loans, it is recommended that you maintain an excel sheet or check your loan account balance sheet regularly to keep track of your credit repayment.
Final Words
Always try to repay your loans on time, it helps you to manage your monthly budget among other benefits such as improving or maintaining your credit score. You can choose to pay using different options that are available to you to repay the loans.
For instant loans that are easy for you to repay, download the Navi app now. The paperless application process helps you get instant loans to make arrangements for necessary financial resources. You can even find the most affordable loan plans using the easy-to-use EMI calculator available on the Navi app.

FAQs on Loan Repayment
Q1. Does Navi offer an EMI calculator?
Ans: Yes. You can calculate your EMI accurately using the EMI calculator provided on the Navi app.
Q2. What is the interest rate offered by Navi App?
Ans: The interest rate depends on the eligibility criteria fulfilled and varies with each applicant.
Q3. What are the loan repayment options available?
Ans: The EMI will be automatically debited from the bank account whose details you have to provide before you avail of the loan.
Q4. Can I customise the loan based on the EMI affordable for me?
Ans: Yes. You can choose the EMI bracket that is affordable to you. The loan amount will be customised accordingly.
Q5. Can I uninstall the app during the tenure of the loan?
Ans: No. The app must remain on your phone for the loan tenure. In case you are compelled to remove the app, please write to help@navi.com before doing so.
Before you go…
Looking for instant 🚀 personal loans 24*7 anywhere, anytime? Install the Navi app now!
Or, maybe you're looking to buy that house you've been eyeing 🏠 and you need a loan of up to Rs. 5 crores. Install the Navi app now and get your instant in-principle approval right away! Interest rates starting at 6.40% p.a.
How about an affordable health insurance policy 👨‍⚕️ starting at a monthly premium of just Rs. 241? Install the Navi app and get your policy in under 2 minutes
Instead, want to put your savings into action and kick-start your investment journey 💸 But don't have time to do research. Invest now with Navi Nifty 50 Index Fund, sit back, and earn from the top 50 companies.