Financial emergencies can arise at any time. And, during difficult times, bank account savings and premature withdrawal of FDs may not suffice the financial requirements. Thankfully, a salary advance loan can come to your rescue. This loan gives you the necessary funds to meet your financial needs before your next salary is due.
Take a look at the details of the advance salary loan, interest rates, uses, eligibility and how to apply for a salary advance salary loan online. Read on!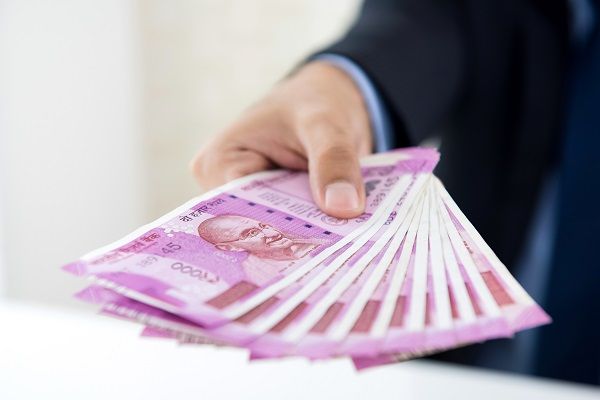 What is a Salary Advance Loan?
A salary advance loan is a type of personal loan that you can avail of for meeting the financial shortfall between your salary and your expenses. If your expenses exhaust your salary income and your next salary is not due anytime soon, you can avail of an instant salary advance loan in India for meeting the financial expenses which occur before the next salary is credited.
Interest Rates and Tenure of Advance Salary Loans
The interest rates for advance salary loans are one of the highest in any category. Unlike other loans, its interest rate is displayed on a per monthly basis or daily basis (for a few lenders). So, even if the displayed interest rate may be in single digits, the APR (Annual Interest Rate) can be quite high.
The monthly interest rates for advance salary loans range from 1% to 6% and the average APR is between 25-50%. The repayment period for these loans is shorter than in other loan categories.
Depending on the lender, the tenure of these loans ranges from a week to 3 years, with most offering tenures below a year. The combination of high-interest rates and short tenures make these loans very costly. Salary advance loans are useful when you borrow a small amount and intend to repay it immediately. 
Uses of a Salary Advance Loan
There are many situations in which you definitely need to make a payment. Such occasions are not foreseeable and thus, you may need the help of an advance salary loan. So, here are some expenses that you can meet by utilising an advance salary loan:
Sudden Medical Emergency
You or your family members might suffer a sudden illness or injury for which you might need funds for treatments. Your salary might not prove sufficient to provide you with the desired funds and so you can avail an instant salary advance.
House Rent
Suppose you find a house to rent but have to pay a deposit amount. Instead of having to let it go, you can opt for an advance salary loan to get the house on rent. 
Also read: How to Apply for Home Loans in India?
Utility Bills
You may have to pay your utility bills to avoid disconnections and other problems. If you are approaching the due date to pay bills, an advance salary can help you out.
Children's School Expenses
You may have planned to pay your children's school fees but unexpected expenses may cause financial problems. Advance salary loans can cover your children's school fees.
Car Repairs
If your car stops working without any warning, you need to get it repaired immediately or you'll be unable to go to the office. This is when you can use the advance salary loan.
Sudden Gifting Needs
If your loved ones are celebrating an important milestone in their life you might need funds to buy them a gift. Moreover, anniversaries and birthdays of your spouse and kids might also result in a surprise party or trip. These gifts, parties and trips incur considerable expenses and you can avail a salary advance to meet such expenses.
Other Unforeseen Expenses
There might be other unforeseen expenses which might arise anytime and if your salary just helps you meet the budgeted expenses, you need additional funds for emergencies. A salary advance loan proves to be helpful in providing funds for emergencies and you can make an application for an advance salary loan in such circumstances.
Differences between Salary Advance Loans and Personal Loans
The following table shows the key differences between advance salary loans and personal loans:
| | | |
| --- | --- | --- |
| Parameters | Advance Salary Loans | Personal Loans |
| Loans offered by | Fewer lenders | Most of the lenders |
| Accessibility | Salaried individuals only | Both salaried and self-employed individuals |
| Usage | Useful for a temporary cash crunch | Can be used for various purposes |
| Rate of interest | One of the highest, usually between 25% to 50% per annum | Higher than only secured loans |
| Loan amount | Small (usually up to 3 times the monthly salary) | High loan amount |
| Tenure | Usually not more than 12-15 months | Usually ranges from 12-60 months |
| Collateral | Salary | None required |
| CIBIL score | Moderate CIBIL score | 750+ |
Also read: What are Pre-Approved Personal Loans: Interest Rates, Benefits And Eligibility
Advance Salary Loan Eligibility
| | |
| --- | --- |
| Age | The minimum age for loan application ranges from 18 to 25 years while the maximum age is, usually, 65 years |
| Occupation | You should have a salaried job or be a self-employed businessman or professional to avail the loan |
| Income | You should have a steady source of income so that the loan can be easily repaid. There is a minimum income criterion that depends on the lender |
| Credit Score | Your credit score should be more than 650 so that the loan can be sanctioned |
Documents Required for Advance Salary Loans
When making an application for an advance salary loan, the following documents are usually needed by lenders
Recent and coloured photograph
Identity proof – any one document from PAN Card, Aadhaar card, Voter's ID Card, driving license, passport, etc.
Age proof – any one document from PAN Card, Voter's ID Card, Aadhaar Card, passport, driving license, etc.
Income proof – salary slips or financial statements of your business
Address proof – any one document from Aadhaar card, Voter's ID card, driving license, passport, utility bills, etc.
Bank statements for the last 3-6 months
However, in order to expedite the process, you can apply for a personal loan through the Navi App wherein these documents are not needed. You only need to provide your PAN and Aadhar Card details along with a selfie. It is an easy and seamless process. Check out the features and benefits of applying for a personal loan on the Navi app below.
Features and Benefits of Personal Loan from Navi
Navi is one of the best personal loan apps which help you avail of a loan instantly, within minutes. Here are the features and benefits of Navi's personal loan app and the loan it offers:
You can get funds sanctioned within minutes of your app download and the amount so borrowed can become an advance salary for you
Navi's personal loan app has simple eligibility parameters to help you avail of the loan easily. It is a completely technology-driven process
You can avail of funds starting from Rs. 10,000 and going up to Rs. 5 lakhs through Navi's app
The repayment period is flexible and you can choose the most suitable EMI to repay your loan in easy instalments
Navi's loan app involves a paperless application for the personal loan wherein you can avail of the loan simply by entering your Aadhaar number and PAN  and clicking a selfie
The loan is unsecured in nature and does not require any collateral security or any third party guarantee
Steps To Apply for Navi Personal Loan
As mentioned earlier, Navi offers the easiest way to apply for a personal loan which can act as a salary advance loan. The steps for applying for a personal loan through Navi are as follows –
Click on the 'Apply' button to apply for the loan.
Provide your details such as your full name, age, marital status and PIN code.
Next, provide your occupational and income details and your PAN card number.
Based on these details, Navi would approve a loan amount. You can, then select the loan you need (within the approved amount limit) and the EMI that you want to pay.
You can also calculate the EMI before completing the application for an advance salary loan. Navi has a loan EMI calculator which helps you calculate the potential EMI of your loan.
Once you have finalised the loan terms, click your Selfie. Then enter in your Aadhaar card number and your parents' full names.
Provide your bank's name and IFSC code. Choose to set up an Auto Debit Mandate on your bank account.
Navi would check your application and eligibility details and if everything is found to be in order, the loan would be sanctioned within minutes.
Limitations of Salary Advance Loans
The following are some of the limitations of salary advance loans In India:
Extremely high-interest rates: The main problem with salary advance loans is their very high-interest rates. With interest rates of around 1.5% to 3% per month, delayed payment or missed EMI could deplete your finances.
Possibilities of a debt trap: If your monthly inflow becomes lower than outflows due to the high EMIs, you could fall into a debt trap. If you do not manage your finances properly or run into unexpected situations, your debt burden can become unmanageable.
Involvement of collateral: There is no question of not paying the loan, as it is secured by your salary. Therefore, if you miss payments, it will be deducted by default.
Over-borrowing: If the loan amount is much higher than the salary amount, borrowers can end up borrowing more than they can repay.
Factors to Consider Before Applying for a Salary Advance Loan
Here are some of the important things you may want to consider before taking a salary advance loan.
You will want to compare the interest rates provided by different lenders.
The lender should allow you to prepay the outstanding amount, with prepayment charges at nominal rates. You should also be able to foreclose your loan.
Check all the additional charges applicable to your loan. This includes processing charges, late payment fees, documentation fees, legal fees, etc.
Use a loan EMI calculator to ensure that your debt burden does not become too high. 
Check if you fulfil the eligibility criteria for the loan and if you can negotiate for better terms. 
The repayment tenure should be enough for you to comfortably repay your loan. 
Final Word
A salary advance loan can help reduce a short-term cash crunch. You can opt for it only if you are in a difficult financial situation. Choose your EMI amounts and tenure wisely. Also, check with various lenders to compare the interest rates. Remember, your credit score must also be over 650 so that you can get a salary advance loan at a lower interest rate. Given the high-interest rates of a salary advance loan, it is best to repay the loan quickly.
FAQ's on Advance Salary Loan
Q1. What is the period allowed to pay off the loan?
Ans: The repayment period differs from lender to lender. Usually, a period ranging from 12 months to 60 months is allowed to pay off the loan that you avail. However, Navi offers you a repayment tenure of up to 36 months to pay off the personal loan that you avail.
Q2. Is making an application for an advance salary loan through advance salary apps safe?
Ans: If you choose a reputed personal loan app, such as Navi, you can safely apply for the loan. There would be no threat of online fraud or theft and you can get the loans instantly.
Q3. What documents are required by Navi to sanction a personal loan that can be used as a salary advance loan?
Ans: Navi requires only your Aadhaar card and PAN Card to sanction the personal loan that you can use as a salary advance loan.
Q4. Is loan foreclosure possible in case of salary advance loans?
Ans: Yes, most lenders allow you to fully or partly repay your salary advance loan before the due date. Some lenders may allow you to foreclose the loan within just 180 days of the loan disbursement. The penalties for prepayment and foreclosure will vary from one lender to another.
Q5. Is there any late fee associated with salary advance loans?
Ans: Yes, if you fail to pay the EMIs on time, a late penalty will be applicable. The amount charged as a late fee will differ depending on the lender.
Before you go…
Looking for instant 🚀 personal loans 24*7 anywhere, anytime? Install the Navi app on Android or iOS now!
Or, maybe you're looking to buy that house you've been eyeing 🏠 and you need a loan of up to Rs. 10 crores. Install the Navi app on Android or iOS now and get instant in-principle approval right away! Interest rates starting at 6.71% p.a.
How about an affordable health insurance policy 👨‍⚕️ starting at a monthly premium of just Rs. 241? Install the Navi app on Android or iOS now and get your policy in under 2 minutes.
Instead, want to put your savings into action and kick-start your investment journey 💸 But don't have time to do research. Invest now with Navi Nifty 50 Index Fund, sit back, and earn from the top 50 companies.