Issued by the Unique Identification Authority of India (UIDAI), Aadhaar is a verifiable 12-digit identification number assigned to residents of India. During Aadhaar enrolment, individuals can declare their mobile number and register it with the card. By doing so, they can get access to several online services.
However, if a mobile number-Aadhaar link procedure is incomplete, follow the steps to know how to register a mobile number in an Aadhaar card.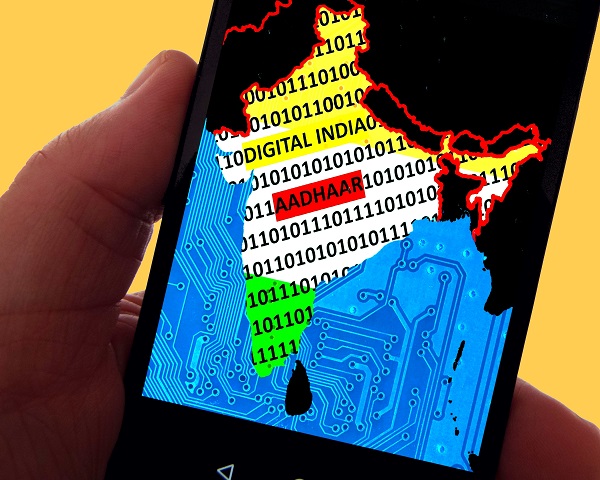 Steps to Link Mobile Number to Aadhaar Card
Step 1
Visit the nearest Permanent Enrolment Centre. Finding an enrolment Centre is possible by visiting the official website of UIDAI and navigating to the "Locate an enrolment or update Centre" option.
Step 2
Place a request with an operator at the enrolment Centre.
Step 3
In case of document verification, a verifier appointed by the UIDAI or a registrar present at the enrolment or update Centre will verify the documents as per the Demographic Data Standards and Verification Procedure (DDSVP) committee recommendations.
Step 4
The operator will make an entry of the details into the client software.
Step 5
An applicant's biometric details will be verified.
Step 6
After confirmation, an acknowledgement slip will be generated. The receipt consists of an Update Request Number (URN) that may be used to track the status.
Also read: List Of Supporting Documents Required For Aadhaar Card Registration
UIDAI Modes for Assisted Updates
Client standard update
Fields: Update of biometric, demographic and local language fields
Identity authentication: Back-end biometric check
Document verification:
Verification for fields requiring documentary evidence
Verified by UIDAI assigned verifier or enrolment or update centre registrars
DDSVP Committee recommendations followed as a verification procedure
Form filling and acknowledgement:
The operator fills up the form and checks spellings, language, transliteration etc. and provides biometric sign off against every Aadhaar update request
Residents receive an acknowledgement slip with URN
Update Client Lite (UCL)
Fields: Update demographic fields, photos and local language
Identity authentication: Biometric check
Document verification:
Fields requiring documentary evidence are verified
UIDAI appointed verifier or registrar of enrolment or update centre carries out the verification
The verification procedure is in line with DDSVP Committee recommendations
Form filling and acknowledgement:
Filled up by an operator who provides biometric sign off against every update, and the resident receives the acknowledgement slip that contains the URN
Authentication User Agency (AUA) Point of Presence update
Fields: Update of demographic fields
Identity authentication: Biometric authentication on AUA device, additional factors might also be involved as per the UIDAI, such as mobile OTP for taking requests of updates
Document verification:
Based on a registrar's verification and resident authentication, UIDAI will accept update requests.
Collection of electronic or scanned document copies may be done online for auditing.
Form filling and acknowledgement
A registrar's operator initiates this process on a device that includes a biometric authentication feature (Micro-ATM).
The acknowledgement slip containing the URN may be a print receipt, an SMS or an email based on the request type. 
How to Verify Aadhaar Mobile Number?
Log in to the UIDAI website.
Navigate to the 'Aadhaar services' drop down and select 'verify the email or mobile number.'
Enter details such as the Aadhaar number, email ID, mobile number and security code.
Submit the OTP generated.
Select the 'verify OTP' option.
A green tick will appear on the screen in case of successful verification.
How to Update Mobile Number in Aadhaar Card?
In case individuals change their mobile number or do not use a number that is already linked to the Aadhaar, they can update the new number by visiting the UIDAI's official website and following the aforementioned steps. 
Also read: All You Need To Know About The Aadhaar Card Correction Form
Final Word
Although knowing how to register a mobile number in an Aadhaar card is not a mandatory procedure, it enables an individual to avail of online services concerning Aadhaar. Hence, one might consider following the process of adding mobile numbers to Aadhaar. In this regard, referring to this piece can be a good start.
Frequently Asked Questions
Q1. What are the documents required for registering mobile numbers in Aadhaar?
Ans: An applicant need not furnish any document to update or register a mobile number in Aadhaar. Only the properly filled Aadhaar update Form that contains your current mobile number needs to be submitted.
Q2. Is there any fee for registering my mobile number in Aadhaar?
Ans: Applicants must pay a fee of Rs. 25 when they visit the Aadhaar Enrolment Centre for registering or updating their mobile number in Aadhaar. They need to pay this fee every time they go for mobile number updates. 
Q3. Can I register more than one mobile number with the Aadhaar?
Ans: No, individuals cannot register multiple phone numbers with the Aadhaar card. One can enrol a single mobile number with the Aadhaar during the first-time Aadhaar application process or later by visiting the Permanent Enrolment Centre. That said, note that one can register the same mobile number with different Aadhaar cards. 
Q4. What are the Aadhaar services available if I link my mobile number to the card?
Ans: One can get access to the following online services by registering a mobile number with Aadhaar:
Aadhaar number verification
Verification of email or mobile number
Virtual ID generator
Retrieve AAadhaar
Aadhaar paperless offline e-KYC
Lock or unlock biometrics
Individuals not linking their phone numbers to Aadhaar cannot get the benefits of these services. 
Q5. How long does it take to update a mobile number on an Aadhaar card?
Ans: Generally, updating a mobile number on an Aadhaar card takes around 90 days. Nonetheless, individuals will receive a confirmation message on successful registration. To further track the status of the update, one can visit the official website of UIDAI. 
Before you go…
Looking for instant 🚀 personal loans 24*7 anywhere, anytime? Install the Navi app now!
Or, maybe you're looking to buy that house you've been eyeing 🏠 and you need a loan of up to Rs. 5 crores. Install the Navi app now and get your instant in-principle approval right away! Interest rates starting at 6.40% p.a.
How about an affordable health insurance policy 👨‍⚕️ starting at a monthly premium of just Rs. 241? Install the Navi app and get your policy in under 2 minutes
Instead, want to put your savings into action and kick-start your investment journey 💸 But don't have time to do research. Invest now with Navi Nifty 50 Index Fund, sit back, and earn from the top 50 companies.